Before Chris Holtmann ever coached a game at Ohio State, Gene Smith talked to him about the possibility of scheduling Cincinnati. They hadn't faced off in the regular season since 1921.
A little more than a month away from the 2017-18 season opener, the idea was made a reality. A year later, the Buckeyes topped the Bearcats at the newly renovated Fifth Third Arena, and the following season they played host to Cincinnati, sweeping the home-and-home series with an eight-point victory.
"It certainly wasn't a contingency upon my hiring that I had to play Cincinnati, but we did it and it worked out really well for us, honestly, in what were two competitive, highly entertaining games," Holtmann said on the latest edition of Real Pod Wednesdays.
At the time, it was a big deal.  Fans on both sides wanted the home-and-home series – they quite literally nearly had to wait a century since the last time it happened – and the programs got it done. 
With those two games versus Cincinnati out of the way, what's next? Well, nothing. At least, not next season. The Buckeyes released their 2020-21 schedule earlier this week. A matchup with Akron at the Schottenstein Center on Nov. 19 is the only in-state game on tap.
"If you're asking about mid-majors in the state, we're playing Akron this year, we played Kent (State) last year, we played Youngstown State," Holtmann said. "We're open to doing that and we intend to do that every year."
Holtmann also said the Buckeyes plan to take on a Division-II or Division-III team based in Ohio every year for its preseason exhibition open to the public. He scheduled Wooster in 2017 and Cedarville in 2019, with a scrimmage against UNC Pembroke – which featured former Buckeye head coach Eldon Miller working as a volunteer assistant on his son's coaching staff – in 2018.
When, though, might Ohio State set up games versus Cincinnati, Dayton or Xavier? That's where it gets quite a bit more complicated.
"If you're asking about schools like Dayton and Xavier, which I'm guessing you or our fans or other teams' fans may be asking about, then absolutely we would consider that," Holtmann said.
David Egelhoff, Ohio State's director of basketball operations, has pushed the staff to consider an event similar to the Crossroads Classic that Holtmann coached in at Butler, he said in an interview on 610 WTVN. Xavier athletic director Greg Christopher even endorsed a proposal tweeted out by 270 Hoops' Zach Fleer a few days ago, offering to host such an event.
Would be happy to host at Cintas. https://t.co/h88GYoblf8

— Greg Christopher (@GChristopherXU) May 5, 2020
That, though, has proven especially difficult to logistically set up considering the annual games the Buckeyes play, Holtmann said.
Every year going forward, he told Eleven Warriors, he plans to have Ohio State play in an early-season tournament. The Buckeyes will participate in the Battle 4 Atlantis in the Bahamas on Nov. 25-27 later this year, which will have them play three games in three days. The following season, they'll play two games in a yet-to-be-announced tournament. Then, they'll be in the Maui Invitational early in the 2022-23 season.
Along with those upcoming exempt tournaments, Ohio State also has a couple of other yearly games – the CBS Sports Classic and the Big Ten/ACC Challenge – it'll continue to play in. It also partakes in the Gavitt Games, which is informally known as the Big Ten/Big East Challenge.
Playing in those games, he said, makes any sort of tournament exceedingly difficult to set up.
"I do think, potentially, a one-off with one of those teams, whether it's a Dayton or a Xavier or a Cincinnati again, would make sense if it fits," Holtmann said on 610 WTVN.
If it happens, Holtmann said, it wouldn't be a "goodwill gesture."
"This has to be beneficial for both programs," he said.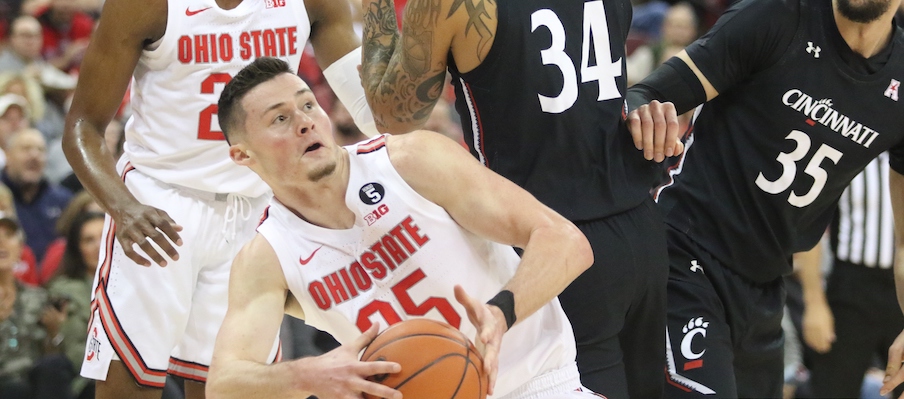 From his perspective, Holtmann says that when scheduling non-conference games, he wants to do so with as many teams expected to make the NCAA tournament as possible. That thinking extends to when he's considering potential in-state out-of-conference opponents, such as Dayton, Xavier and Cincinnati.
"Really, that's a major criteria for me is are those teams, if we're going to play in a home-and-home, then are those teams projected to be an NCAA tournament team, because why else would you play them? You need to build a non-conference schedule that gives you a chance to either get you to the NCAA tournament or hopefully get a good seed," Holtmann said on Real Pod Wednesdays. "And the only way you do that nowadays, they've proven it, the only way you do that nowadays is by scheduling other NCAA tournament teams. You actually get penalized if you don't. So that's a really big criteria. It's why the one with Cincinnati made sense."
When the Cincinnati home-and-home series was set in the fall of 2017, the Bearcats had made the NCAA tournament seven years in a row under Mick Cronin. John Brannen, Cronin's replacement, had the Bearcats on the March Madness bubble in his first season leading the program before the postseason got canceled.
Dayton, which ended last season ranked No. 3 in the AP top-25 poll, would've made the NCAA tournament after missing it in Anthony Grant's first two seasons. Xavier was likely in the field of 68 teams as a low seed, which would have marked second-year head coach Travis Steele's first tournament appearance while leading the Musketeers.
"I think we've proven with our actions that we will play teams, we'll play good teams, we'll play good teams in the state," Holtmann said.
Next season, Ohio State fans will have to settle for Akron. 
In the future, don't rule out Dayton, Xavier or Cincinnati. But if those games happen, don't take them for granted. Unless something significant changes, they won't come along every year.