Seasons don't get much more turbulent than the one Ohio State's currently navigating.
The Buckeyes began with an 11-1 record, proceeded to lose six of their next seven games then won four of their following five games. With a showdown against Purdue one day away, they're currently right back where they were at this point a year ago with a 16-8 overall record and 6-7 mark in the Big Ten. 
With the end of the regular season just 23 days away, we're taking a look at what all 10 healthy and eligible players on the roster have done so far and what Ohio State needs from each of them down the stretch.
Let's begin with the upperclassmen.
Senior forward Andre Wesson
What he's done: Few players have been quite as consistent as Wesson, the team's only senior. He's averaging nine points, four rebounds and 1.8 assists in 29.5 minutes per game. In Big Ten play, even when the Buckeyes were mired in their January slump, he was one of their better two-way players. In conference play, he's hitting 47.9 percent of his 3-pointers, the top mark by any player in the Big Ten.
What Ohio State needs down the stretch: When Wesson plays within himself and his role, he's most dangerous. When he tries to do too much off the bounce offensively, he can sometimes make mistakes – as evidenced by him having three or more turnovers in three of the past four games. In the final month of the regular season and beyond, the Buckeyes will rely on his three most effective attributes – 3-point shooting, physicality and defense – to take them where they want to go.
Redshirt junior guard CJ Walker
What he's done: For the majority of this season, Walker split time at point guard with DJ Carton. But with Carton on a leave of absence, he's turned into the full-time facilitator. He's had a bit of an up-and-down season, averaging 7.5 points and 3.2 assists compared to 1.8 turnovers per game. Walker has struggled to find his shot within Big Ten play, hitting 40.7 percent of his 2-pointers and 22.5 percent of his 3-pointers in conference games. 
What Ohio State needs down the stretch: Potentially without Carton the rest of the season, Walker has a boatload of pressure on him to produce. Ohio State, at the moment, doesn't have another true point guard on its roster other than him. He needs to continue to facilitate the offense with efficiency, which he has done adequately in Carton's absence. Importantly, the Buckeyes also need him to relocate the shooting touch he showed in the first couple months of the season.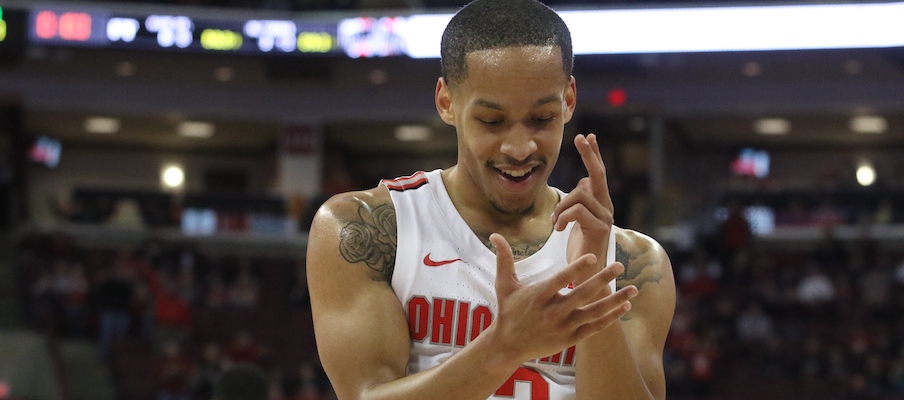 Junior forward Kaleb Wesson
What he's done: As the season has progressed, Wesson has continued to marry the skills he relied on as a near-300-pound center with those he now possesses with a trimmer body. He leads the team in both scoring (14.1 per game) and rebounding (9.4 per game), hitting 45.8 percent of his shots from the field and 42 percent of his 3-pointers. Sometimes, he doesn't get the credit he deserves for putting together such varied offensive performances without a semblance of a consistent No. 2 scoring option on offense. He's also the lynchpin of a defense that has played notably worse when he's off the court. 
What Ohio State needs down the stretch: While Wesson's added 3-point shooting has been a welcomed addition to the offense, he needs to continue to finish stronger at the rim and convert with better touch in the paint. If he can make strides as a low-post scorer, he'd make his outside shooting even more dangerous. Beyond that, Wesson doesn't have to change much. He'll remain the No. 1 option on offense and a key interior defender.
Junior forward Kyle Young
What he's done: Nobody in Ohio State's frontcourt has nearly as much energy as Young – when he's healthy. He impacts games in various ways that most don't, grabbing offensive rebounds and making every hustle play he can. Chris Holtmann rarely runs any sets designed for him to get the ball, though that hasn't stopped him from finding ways to impact games. Young averages 7.3 points and 5.8 rebounds in 22.9 minutes per game.
What Ohio State needs down the stretch: As much as anything, Ohio State has to hope that has stays healthy. Holtmann has expressed some recent concern in the health of his right leg, which had a stress fracture last year that kept him out multiple games and slowed his production even when he returned to the court. Without much experienced depth in the frontcourt, Holtmann needs a healthy Young in the postseason. 
Sophomore guard Luther Muhammad
What he's done: For the second year in a row, Muhammad started out strong and then had his performance dip as the season progressed. He remains a starter due to his defensive prowess and length, but his offensive metrics aren't particularly pretty. The sophomore averages 6.2 points, 1.8 rebounds and 1.4 assists in 23 minutes per game. He has hit 36.3 percent of his shots and 33.3 percent of his 3-pointers. In conference games, both shooting percentages are even lower.
What Ohio State needs down the stretch: Like Andre Wesson, Muhammad's at his best when he playing under control and not trying to do too much with the ball on offense. When he puts the ball on the deck or finds himself in transition, he has a tendency to turn it over or make a poor decision. In the next few weeks, he has to relocate his outside shooting stroke, minimize poor decisions with the ball and fall back on his defense. Also, similarly to Young's situation, Muhammad needs to stay healthy, especially with almost nonexistent backcourt depth. He's currently dealing with shoulder injuries that have forced him to wear a brace during games.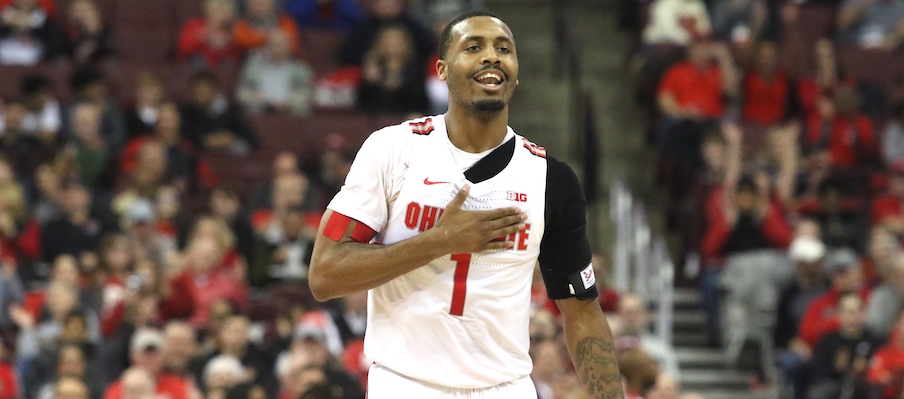 Sophomore forward Justin Ahrens
What he's done: For the first couple months of the season, Ahrens didn't play much as he recovered from an offseason back injury. Between the season opener and the loss to Indiana on Jan. 11, he averaged 2.5 points in 9.7 minutes per game. Since then, he has played at least 12 minutes in every game, averaging 5.7 points per game.
What Ohio State needs down the stretch: Holtmann won't be able to ride Ahrens in every game because he doesn't fully trust the sophomore's defense yet; that's why he took him out of the second half of Wednesday's win against Rutgers. But Ahrens is quite possibly the best outside shooter on the team. Drilling 43.8 percent of his shots from behind the arc, Ohio State will need his range late in the season.
Sophomore guard Duane Washington Jr.
What he's done: After seeming to turn the corner early in the season as a consistent three-level scorer, Washington has spent the better part of the past two months mired inefficiency on offense. When he's hot, he's one of the team's top scorers. Too often recently, though, he has battled questionable shot selection. He hit 50 percent or better from 3-point range in seven of the first nine games of the season but has shot 32.1 percent from behind the arc in Big Ten play. In 23.3 minutes per game, Washington averages 10.8 points, 2.4 rebounds and 1.5 assists.
What Ohio State needs down the stretch: Washington's ability to score at all levels legitimately can swing games. That makes him so important to the Buckeyes, who have lacked consistent secondary scoring options beside Kaleb Wesson for most of the season. Washington playing with increased efficiency would be a significant boon to the offense. He also will play point guard at times, spelling Walker while Carton's away from the team.
Freshman center Ibrahima Diallo
What he's done: Diallo has played sparingly, appearing in only six games and averaging 1.3 points and 2.2 rebounds per game. Since he has played in at least one game, he's ineligible for a redshirt. 
What Ohio State needs down the stretch: It's clear by now that Diallo won't have a significant role on this year's team – provided Kaleb Wesson stayed healthy. Should a disaster scenario strike, the Buckeyes might need him this season, meaning he has to stay ready. Most likely, though, he's preparing for next year when Wesson could potentially leave and he'd step into a larger role.
Freshman forward Alonzo Gaffney
What he's done: Gaffney has played in 16 of 24 games, sometimes seeing the court during meaningful minutes but typically being relegated to late-game blowouts. The freshman averages 1.9 points and 1.5 rebounds in 7.1 minutes per game. It doesn't take a genius to notice his athleticism and raw potential, which made him a top-50 overall recruit, but he's in the nascent stages of development. Gaffney turns the ball over at the highest rate on the team and is currently at a weight disadvantage compared to most forwards in the Big Ten.
What Ohio State needs down the stretch: Not a regular in Holtmann's rotation, Gaffney won't be counted on in a major way. Like Diallo, though, he'd be turned to should injuries continue to mount. Gaffney hasn't turned the ball over in the past five games, which is a sign of progress that he'll continue to need to make.
Freshman forward E.J. Liddell
What he's done: The potential for Liddell to turn in a Jae'Sean Tate-esque career is evident, but he's certainly in the early stages. In his first season as a Buckeye, he's averaging 6.1 points and 3.3 rebounds in 15.5 minutes per game. He's hit 54.9 percent of his 2-points but is only 4-of-21 from beyond the 3-point arc. On the defensive end, he has a knack for swatting shots, averaging 0.9 blocks per game.
What Ohio State needs down the stretch: Liddell's role isn't expected to change at all in the coming weeks. He will continue to serve as Young's primary backup with the versatility to find spots in lineups at different positions. Like most freshmen, he's had plenty of positive moments to go along with sequences that show how much he has to grow. In the next weeks, Liddell will have to continue to adjust his offensive game to what Ohio State needs down low and put himself in better positions defensively.