For the second year in a row, Chris Holtmann started the 2019-20 season off 11-1.
In what was thought to be Holtmann's most talented Buckeye team yet, Ohio State's expectations were at a three-year high. After wins over Cincinnati, Villanova, North Carolina, and Kentucky, they skyrocketed through the roof. The Bucks rose to No. 2 in the AP Poll and were the top team in Ken Pomeroy's advanced rankings. 
Similar to a year ago, however, things started to fall apart after the twelfth game. Ohio State has lost six of its last eight and plummeted out of the top 25 a month after being heralded as one of the best two teams in the nation. 
The Buckeyes' incredible start of the season relied on its insane shooting percentage (49.3% through 12 games), which should have been enough to alarm the nation of something unsustainable. Furthermore, Ohio State's opponents were shooting just 35% and under 30% from the three. 
Since then, the numbers have flipped; the Bucks are shooting under 40% from the field and their opponents are shooting nearly 43% in the last eight games. The local team has won just two games in which they have shot a lower percentage than their opponents.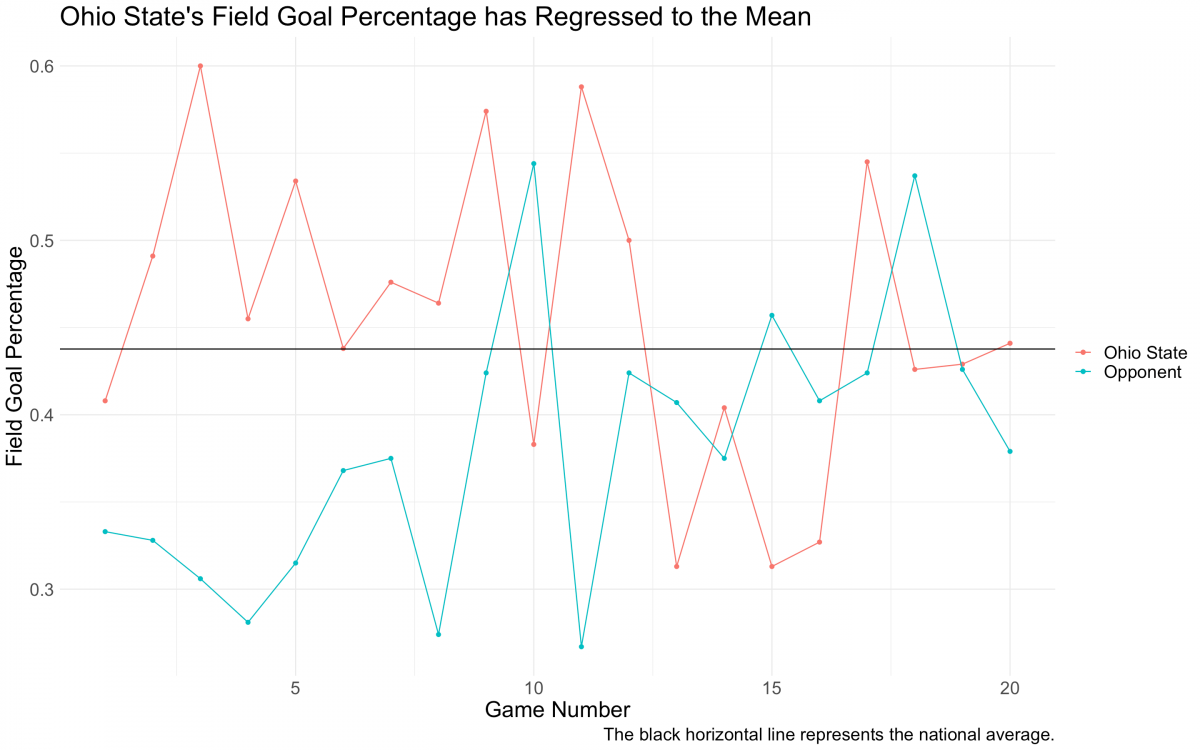 In all honesty, this is not much of a surprise. Ohio State's offense, despite adding talented players this offseason and an additional year of development for the younger players, is still heavily reliant on Kaleb Wesson.
As for the hot shooting at the start of the year, it can not be wholly attributed to a better offensive scheme or significantly better shooting by the backcourt; shooting percentage is a factor of shot selection, an aspect that Ohio State has struggled with all season long. 
This quote from Chris Holtmann (h/t @AdamJardy) stuck out to me last night. I agree with CH that the shot quality was better last night than it was during the past 3 games.

Last night: 31.3 FG%, 39.8 expected FG%
Previous two losses: 40 FG%, 33.8 expected FG%

But... pic.twitter.com/hHQSYqODdB

— Neil Johnson (@neilmjohnson) January 8, 2020
...Ohio State's ability to make shots over expectations. On the season they are actually shooting 46%, which is 6.8% over expectations, and would rank 52nd best in the country.

So while they did take better shots last night, their selection is still relatively suboptimal.

— Neil Johnson (@neilmjohnson) January 8, 2020
With such poor shot selection, it was only a matter of time before Ohio State's hot shooting faltered. The above tweets came after three straight losses to West Virginia, Wisconsin and Maryland. Since then, Ohio State's shot selection and, as a result, its shooting percentage has reached new depths. Today, the Buckeyes are sitting on the NCAA Tournament bubble and are tied for eleventh in the Big Ten. 
Ohio State's lack of an offensive identity has handicapped the team for much of the season, but it is not too late to turn it around. After last year's midseason drought, C.J. Jackson and Keyshawn Woods came alive to give Kaleb Wesson the support he needed to go on a late-season push. If Duane Washington, C.J. Walker or D.J. Carton can find their early-season magic once again, the Buckeyes should be dancing in no time.