Over the next two weeks, Eleven Warriors is taking a look back at Ohio State athletics throughout the 2010s.

To begin the review of the past 10 years of college basketball in Columbus, we put together an All-Decade team that has five starters, eight players on the bench and a coach. We scanned recent history, picking the 13 players who had the greatest impact on their respective Ohio State teams throughout their years playing for the Buckeyes.
Here's Ohio State's All-Decade team of the 2010s.
Starting Five
Aaron Craft (2010-14)
Ohio State adored loved him. Every opposing fan base despised him.
Welcome to Aaron Craft's four years as a Buckeye.
The native Ohioan started 113 of 148 games and earned a spot on the Big Ten's All-Defense team all four seasons, becoming the Big Ten Defensive Player of the Year in both 2012 and 2014. Along with his prowess on that end of the court, Craft averaged 8.9 points, 4.7 assists and 3.3 rebounds in 32.6 minutes per game. His counting stats weren't as large as anybody else's on the All-Decade team, but his impact was.
The future doctor was a second-team All-Big Ten selection in 2013 and third-team All-Big Ten pick in 2014. Craft's Ohio State teams went 119-29, appearing in the NCAA tournament each season and reaching the Sweet Sixteen in 2011, Elite Eight in 2013 and Final Four in 2012.
D'Angelo Russell (2014-15)
It only took one year in Columbus for D'Angelo Russell to make his mark.
The one-and-done chose to make Ohio State his home despite pursuit from what Thad Matta called the "cheating bastards" who came after him late in the recruiting process. In that single season, he both led the Buckeyes in points (19.3) and rebounds (5.7) per game while helping them to a 24-11 record.
The post-season awards came in bunches before he left to become the No. 2 overall pick in the 2015 NBA Draft by the Los Angeles Lakers. Russell was a first-team All-American, first-team All-Big Ten selection and Big Ten Freshman of the Year, also winning the Jerry West Award, which is given to the nation's best shooting guard.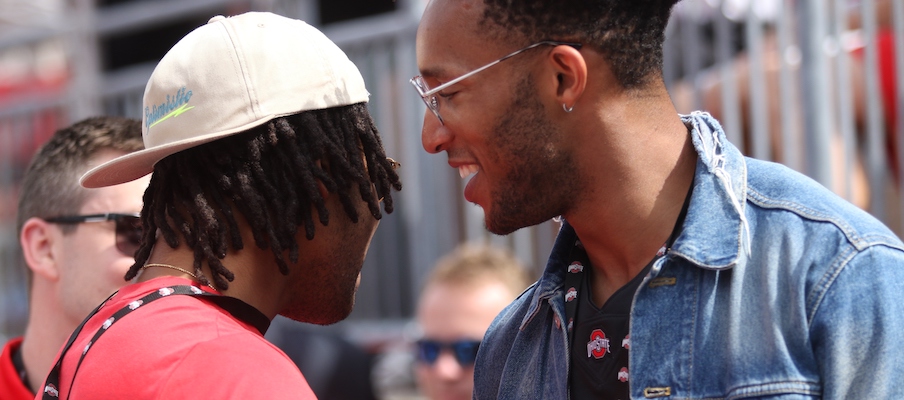 Evan Turner (2010)
We're cheating a bit with this inclusion since Evan Turner's career only spanned a few months of the 2010s before he left for the NBA, but based on his performance in the second half of his junior season, we just couldn't leave him off.
After returning on Jan. 6, 2010, from an injury that kept him out of action a month, Turner led a then-unranked Ohio State into the top five of the Associated Press top 25, helped win a Big Ten tournament championship, secure a No. 1 seed in the NCAA tournament and reach the Sweet Sixteen. Not bad, huh?
Oh, and he did this to Michigan. The game-winning shot began a 72-hour span that cemented his legendary status. The next day, he had 31 points, 10 rebounds and six assists in 49 minutes to beat Illinois before a 31-point, 11-rebound, six-assist performance the following day to beat Minnesota and win the Big Ten title.
Turner technically played 23 games in the 2010s. Including the eight games before New Year's Day, the do-everything guard earned first-team All-American honors by averaging 20.4 points, 9.2 rebounds and six assists in 35.8 minutes per game while hitting 51.9 percent of his shots and 36.4 percent of his 3-pointers. The Ohio State Athletics Hall of Famer also won the John Wooden Award, Naismith Award and Big Ten Player of the Year award that season before the Philadelphia 76ers made him the No. 2 overall pick in the 2010 NBA Draft.
An All-Decade starter lock.
Keita Bates-Diop (2014-18)
In Chris Holtmann's first year in Columbus, Ohio State eschewed preseason projections that had the team picked to finish near the bottom of the Big Ten and instead went 25-9 to come in second in the conference. A finally healthy Bates-Diop had much to do with the surprisingly successful season.
In a redshirt junior 2017-18 season that culminated with him leaving to pursue the NBA, Bates-Diop averaged a team-high 19.8 points and 8.7 rebounds in 33.1 minutes per game. He was named the Big Ten Player of the Year and was a consensus second-team All-American for what was both a breakout performance for himself and the Buckeyes. 
This was one of the best individual seasons of the decade.
Bates-Diop had shown flashes of what was to come earlier in his career, but youth and an injury held him back. As a sophomore in 2015-16, he started all 33 games and put up 11.8 points per game, adding 6.4 rebounds per game. The next year, Bates-Diop played only nine games due to a stress fracture in his left leg. Then came his standout season that turned him into an NBA player.
Jared Sullinger (2010-12)
No Buckeye had a more dominant pair of 2010s seasons than Jared Sullinger in 2010-11 and 2011-12, both of which netted him consensus first-team All-American honors. 
A native of Columbus who was once rated the No. 4 overall recruit in his class, Sullinger seamlessly translated his game from Northland High School to Ohio State. In Sullinger's first season, he was named the Big Ten Freshman of the Year after averaging 17.2 points and 10.2 rebounds in 31.7 minutes per game, shooting 54.1 percent from the field. Ohio State went 34-3 before its devastating loss to Kentucky in the Sweet Sixteen.
Opting to return to school for his sophomore season, Sullinger had a nearly identical stat line of 17.5 points and 9.2 rebounds in 30.4 minutes per game. He hit 51.9 percent of his shots, leading the Buckeyes to a 31-8 record. They eventually made the Final Four before losing to Kansas by two points.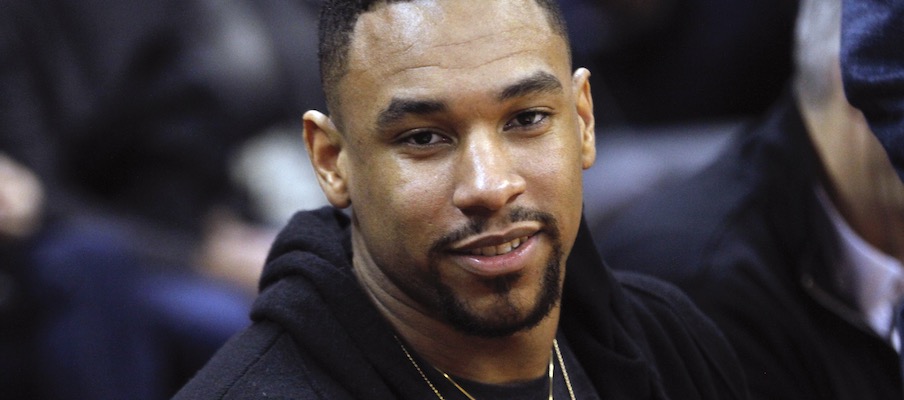 The Bench
Deshaun Thomas (2010-13)
If we had opted to leave Turner off the All-Decade team, Deshaun Thomas likely would have been in the starting five due to his standout three-year career as a Buckeye.
The pure scoring forward went from averaging 7.5 points as a freshman to 15.9 points as a sophomore to 19.8 points as a junior, eventually choosing to end his time in Columbus a year early in order to pursue a professional career. Playing on two teams that won the Big Ten, including one that reached the Final Four, Thomas lived up to his billing as a five-star recruit from Indiana.
The one-time McDonald's All-American earned second-team All-Big Ten status in 2011-12 before becoming a third-team All-American in 2012-13. When Thomas ended his career, he ranked ninth in Ohio State history with 1,628 points, which included 733 points as a junior, the third-most ever in a single season by a Buckeye.
William Buford (2010-12)
With a career that spans both the 2000s and 2010s, William Buford played long enough in the most recent decade to have a spot on this team.
One of the many five-star prospects on this team, Buford hailed from Toledo and made the most of his career at Ohio State. He averaged double-digit points in all four seasons as a Buckeye, putting up between 14.4 and 14.5 points per game in each of his final three years in Columbus. 
Buford was a third-team All-Big Ten pick in 2010 before becoming a second-team All-Big Ten selection as an upperclassman in both 2011 and 2012. 
Jon Diebler (2010-11)
With the smoothest shooting stroke of the decade, Jon Diebler has the aptest nickname of anybody of the 2010s: Threebler. Technically, he only played a season and a half in the decade. But given his importance to a pair of teams that won Big Ten titles, he's a no-brainer selection.
Playing 37.2 minutes per game as a junior, Diebler averaged 13 points and 2.8 rebounds per game while hitting 42 percent of his triples, attempting 7.5 shots from beyond the arc per game. The next year he had 12.6 points and 2.6 rebounds in 35.7 minutes per game, hitting a ridiculous 50.2 percent of his 3-point attempts, which set the program record.
Diebler, who led the Buckeyes in 3-point percentage each of his final two seasons, once made a Big Ten record 10 3s in a game and twice hit nine consecutive 3-pointers. He ended his career having set an Ohio State record with 900 3s attempted and a Big Ten record by making 374 of them.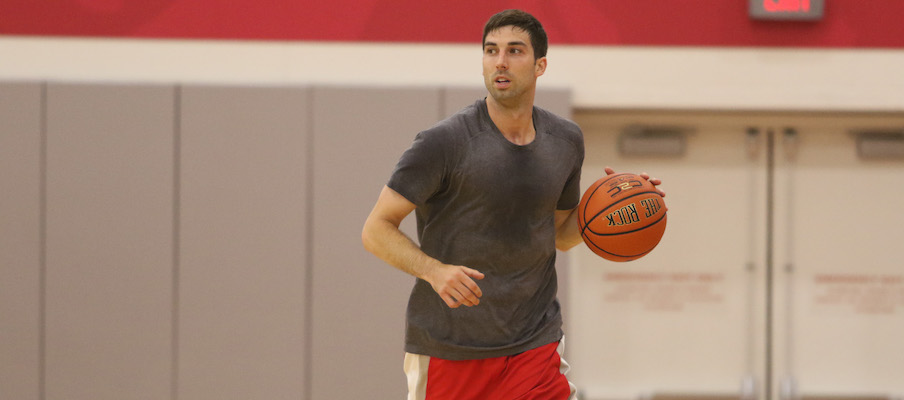 David Lighty (2010-11)
Like Diebler, David Lighty's career spans into both the 2000s and 2010s. Both classmates, though, played such important roles on their teams that they couldn't be left off.
The Cleveland native started every game after his freshman season. As a redshirt junior, Lighty averaged 12.6 points, 4.5 rebounds, three assists and 1.6 steals per game. In his final year, he had 12.1 points, four rebounds and 3.3 assists per game as a starter on a team that went 34-3. That year, he was a second-team All-Big Ten selection and a pick on the conference's All-Defense team. 
Lighty also was named a Lowe's Senior CLASS Award first-team All-American, which honors the nation's best seniors.
Jae'Sean Tate (2014-18)
As the best player on Thad Matta's last team and the unquestioned leader of Chris Holtmann's first team, Jae'Sean Tate has a spot on the All-Decade team.
The Pickerington Central product earned honors from the conference all four years, ending up on the All-Freshman team then becoming honorable mention All-Big Ten the next two seasons before the coaches voted him second-team All-Big Ten as a senior. He averaged 11.7 points and six rebounds in 129 games, which included 110 starts.
Tate's role grew every year until the point when he led the Buckeyes with 14.3 points per game as a junior. His last year, though, Ohio State's offensive reliance on him decreased as Bates-Diop got healthy, making Tate the emotional heartbeat of the team while averaging 12.3 points and 6.2 rebounds per game.
LaQuinton Ross (2011-14)
LaQuinton Ross earned a spot on the All-Decade team due to his steady rise, culminating in him leading the Buckeyes in both scoring and rebounding as a junior before going pro.
After playing sparingly as a freshman in 2011-12, the guard has an uptick in time on the court in his second year, averaging 8.3 points and 2.9 rebounds in 16.9 minutes off the bench. He had a game-winning 3-pointer to beat Arizona in the Sweet Sixteen. Then came his breakout year.
Ross put up a team-high 15.2 points per game as a junior adding 5.9 rebounds per game on a team that needed his scoring presence. He was a third-team All-Big Ten pick that season.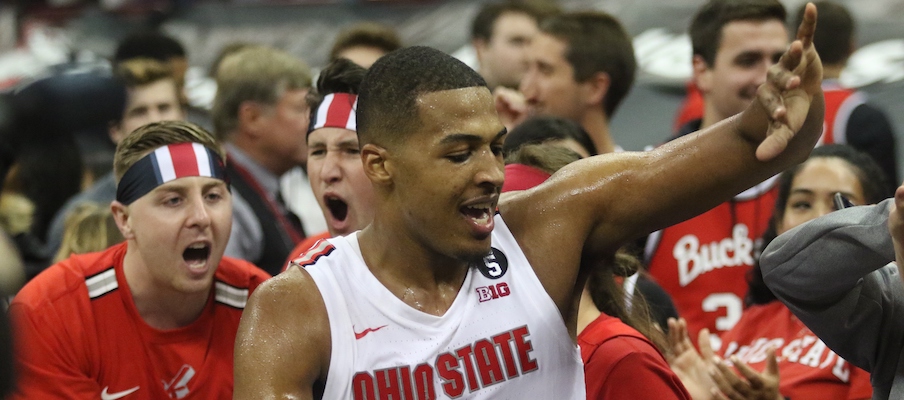 Kaleb Wesson (2017-2019)
His career still has at least a few more months, if not one more year, but Kaleb Wesson has already earned a spot on this year's All-Decade team.
The 6-foot-9 forward from Westerville chose to play for his hometown team, and that decision has paid off for both and the team. The junior has averaged double-digit points per game in all three seasons, beginning with a standout freshman year in which he started 30 games while putting up 10.2 points and 4.9 rebounds per game, culminating in a Big Ten All-Freshman team selection.
As the sole consistent offensive option on an NCAA tournament team as a sophomore, Wesson helped make up for the loss of Keita Bates-Diop and Jae'Sean Tate by putting up averages of 14.6 points and 6.9 rebounds per game. Ahead of his ongoing junior season, Wesson lost 30 pounds and extended his shooting range, further diversifying his game. Midway through the 2019-20 season, Wesson has averaged 14.5 points and 9.3 rebounds per game, while also seeing upticks in assists per game, blocks per game and his 3-point percentage.
As Ohio State's best player in each of the past two seasons, Wesson was an easy selection.
Lenzelle Smith (2010-14)
There was some debate over who should earn the 13th spot on the All-Decade team, with C.J. Jackson the stiffest competition. But Lenzelle Smith having a role on some of the best Ohio State teams of the 2010s earned him the nod.
Smith came off the bench as a freshman, averaging just 4.6 minutes in 20 games. The next year, though, he vaulted into the starting lineup alongside Sullinger, Thomas, Buford and Craft, and put up 6.8 points and 4.6 rebounds in 25.4 minutes per game.
Smith's role steadily increased, with him scoring 9.2 points per game as a junior then 11 points per game as a senior. 
Head Coach
Thad Matta (2010-17)
In his 13-year career as Ohio State's head coach, Thad Matta raised the standard of Ohio State basketball before Gene Smith opted to move on from him in 2017 following a couple down seasons.
Under Matta, the Buckeyes made the NCAA tournament in 2010, 2011, 2012, 2013, 2014 and 2015, reaching the Final Four in 2012. They won the Big Ten tournament three times and captured the Big Ten regular season title three years, as well.
Ohio State's record worsened each year during the 2010s, leading to the end of Matta's tenure. Yet despite Holtmann's success, Matta's still the clear pick. Including the entire 2009-10 season, he went 210-77 in the decade.