TULSA, Okla. – Ohio State's players and coaches packed enough clothes to get them through Sunday, and they'll make use of them.
| Who | Where | When | TV |
| --- | --- | --- | --- |
| Houston (32-3, 16-2) | BOK Center (Tulsa) | 8:40 p.m. | TNT |
The 11th-seeded Buckeyes pulled of a 62-59 upset of sixth-seeded Iowa State, advancing to the second round of the NCAA tournament where they'll take on third-seeded Houston at 8:40 p.m. Sunday in Tulsa with a Sweet 16 berth on the line.
"You can think about all the toughest and toughest-minded teams we've played in our league," Chris Holtmann said. "Houston is right there, if not better. That's who they are. They play with an edge and hungry all the time."
Unlike Ohio State, which began the regular season with a 12-1 record before collapsing in January and playing sub-.500 basketball for the remainder of the spring, Houston only lost three games the entire season, racking up a 32-3 record. 
It didn't lose a single game in the calendar year of 2018 before losing to Central Temple on Jan. 9. After the first defeat of the season, the Cougars didn't lose again until a defeat to Central Florida by five points on March 2 then a lost game, 69-57, to Cincinnati on March 17. 
For Houston everything begins with defense and effort, a familiar style to those who follow Ohio State.
"Coach always talks about 50-50 balls," Houston forward Breaon Beaty said. "Those can win or lose games. Whether you're diving on the floor, going to get offensive rebounds, whatever, can determine the game. Coach always presses that it's the little things that people don't see that don't show up on the stat sheet that really could determine the game. I think our culture decides most of our wins for us because that's what we're built on: getting loose balls, diving on the floor, crashing the glass relentlessly. That's what coach preaches, and that's what we've got to stick to."
Had that quote not been cited, it would've been difficult to tell which coach preached hustle, focus and mental toughness. It could've been either Kelvin Sampson or Holtmann.
Both the Buckeyes and Cougars rely on out-hustling and out-working opponents, making for what should become a physical, high-effort struggle.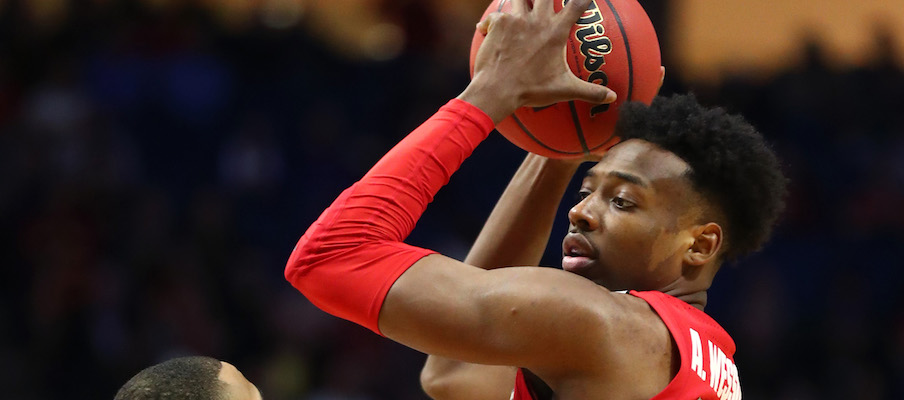 Opponent Preview
Statistically, few teams are more difficult to score on than Houston. 
The Cougars allow 61.1 points per game (sixth in the country) and have the nation's best opponent shooting percentage (36.5). Sixteen teams – including Georgia State, which Houston beat 85-69 in the first round of the NCAA tournament – have scored fewer than 60 points versus Houston.
"They're a very good defensive team, and a lot of that comes from, I think, Kelvin (Sampson) and his mindset and his approach and his tough-minded," Holtmann said. "But you also have to have great individual defenders, and they do."
The Cougars attack. They turn up the pace, run when they can and will make the game as frantic and physical as they can.
"We're just a bunch of dogs," Galen Robinson Jr. said. "We're ready for anything that anybody may throw at us."
Houston doesn't have an abundance of size, especially at guard and on the wing. It starts three players who are 6-foot-3 or shorter, but the lack of length that has bothered the Buckeyes at times this year hasn't prevented the Cougars from playing defense at a high level.
Corey Davis Jr., a 6-foot-1, 190-pound guard, leads Houston with 16.7 points per game this season, and he's been tough to stop recently. Davis dropped 26 points against Georgia State on Friday, hitting 7-of-17 3-pointers and adding six assists.
"He can deck it, he can do other things, he passes it well, but shooting is a strength for him," Holtmann said.
Armoni Brooks averages 13.6 points per game and, along with Davis who shoots 38 percent from beyond the arc, is a 3-point weapon, hitting 39.3 percent of his triples. Brooks and Davis average a combined 16.1 3-point attempts per game.
Breaon Brady will be Houston's best chance to slow down Kaleb Wesson. He has dealt with tall, physical matchups, noting on Saturday that he has guarded Tacko Fall. Brady, a 6-foot-8, 260-pound forward from Akron, averages 6.8 points and four rebounds.
"Ohio State has a lot of size, man, a lot of size, and they've got good players. Like I said, they're in a good conference," Breaon Brady said. "But none of that means anything when you're going up against a team that plays as hard as we do."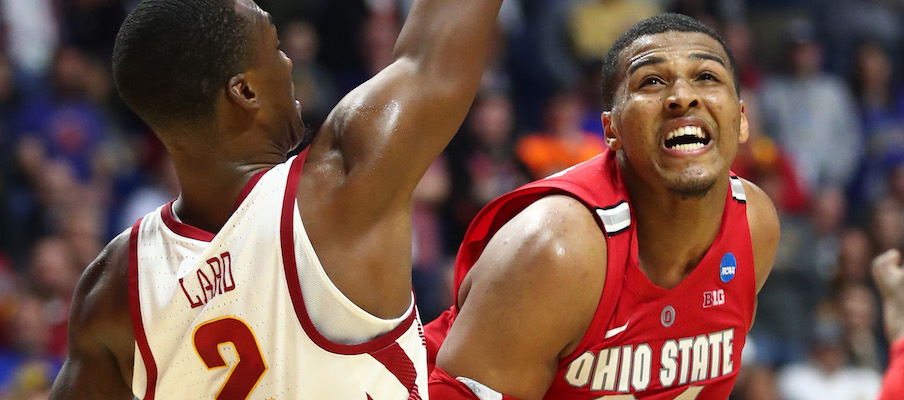 Ohio State Preview
Kaleb Wesson had 21 points and 12 rebounds in the opening-round win against Iowa State, and he'll have to have a similarly successful performance against Houston to send the Buckeyes into the Sweet 16. However, how he get his points and boards could change, for Houston watched Wesson damage the Cyclones inside and likely will send help defenders to Brady and pressure Wesson not to beat them.
"Watching Iowa State and Ohio State, that was a hard matchup for Iowa State because they had nobody to guard Wesson," Sampson said.
Wesson, who Holtmann said had the best hands of any big man in the country on Saturday, must deal with the pressure from the Cougars and find open players to target with passes if he's overwhelmed.
Most importantly, though, he has to avoid foul trouble. It has been a reoccurring theme this season, but the easiest way to beat the Buckeyes has been to get him off the court with a couple early fouls.
"He needs to be able to score the ball for us, but he's going to need to (contribute) in other ways, as well," Holtmann said. "He's going to need to have another game, and this is the challenge, he needs to put another game together of that caliber performance and where he can stay out of foul trouble. He needs consistency in that area."
Keyshawn Woods has stepped up recently, scoring in double figures in four of the past five games. With the way he's playing, Galen Robinson Jr., one of the best defenders in the country, might match up against him.
C.J. Jackson didn't like how he played in round one, and he has a shot to redeem himself. He'll likely match up with Davis on defense, and he'll be guarded tightly on the other end of the court. In order for Ohio State to win, Jackson has to avoid turnovers and put together a solid defensive effort.
How It Plays Out
Houston poses significantly different challenges than Iowa State, which Ohio State beat to advance to the second round, but the line stayed the same. The Cougars are 5.5-point favorites, having lost half as many games this season as the Buckeyes dropped in January.
Wesson, as always, has to stay out of foul trouble for the Buckeyes to have a chance, and Houston can score a lot in spurts, as it showed in the second half versus Georgia State. If Wesson stays on the court and figures out a way to attack Houston's defense, Ohio State has a chance to pull the upset.
But Woods and the Buckeyes' guards will face one of their stiffest challenges of the season. Houston was dialed in on Friday, responding well to its conference tournament loss to Cincinnati, and could increase the pace to a level that determines the outcome.
Prediction: Houston 69, Ohio State 64