TULSA, Okla. – Keyshawn Woods has become completely unrecognizable.
Sure, he's the stoic-looking yet intense guard with the beard that makes him look older than the average student. But his on-court play? It looks nothing like what it did a couple months ago.
Including his 19-point performance in Ohio State's first-round NCAA tournament win in his team's 62-59 win against Iowa State on Friday, Woods has scored 53 combined points and hit 19-of-37 shots in his past three games. During a 10-game stretch from mid-December to the end of January, Woods scored 50 combined points, making 19-of-58 shots.
As Woods struggled, even Holtmann wasn't sure how to get him out of the rut.
"He was so good for us early (in the season)," Holtmann said. "I might not have done a good job in terms of just changing the lineup back-and-forth. He told me he wanted to come off the (bench). Maybe I should've just left him in the starting lineup. But he's played with more juice these last two weeks, and he's played so confidently. He's led our team in such a unique way that I don't know that I've had a fifth-year guy kind of take the reins of a team as much as he has."
Woods scored in double figures five times in the first 26 games, but he has cracked 10 points six times in the past eight games.
"Body feeling good. Mentally, I'm feeling good," Woods said. "I just want to win. I want to keep playing. I don't want my team's season to end. And then I've got them pushing me. They've been telling me to be aggressive since I got here. They asked for it. They got it."
So, why'd it take so long to be more aggressive?
"I don't know," Woods said. "I'm just happy it's here."
In the past, Woods has been described as a thinker, bordering on overthinking. He hasn't wasted his time doing that recently.
Instead, Woods has transformed into the secondary scorer off of Kaleb Wesson that the Buckeyes have been able to rely on. In January and February, Ohio State didn't have a steady second option, but its redshirt senior guard has turned into exactly what the team needed.
"When I'm aggressive, I help my team out," Woods said. "They see me aggressive and they see what I'm doing, especially being the veteran, they pretty much see what I'm doing and do it themselves. And then making sure, making the right plays regardless if I'm being aggressive to shoot or being aggressive to get in the paint to make a play for somebody else. They just always want me to be aggressive at all times. That's just my mentality right there."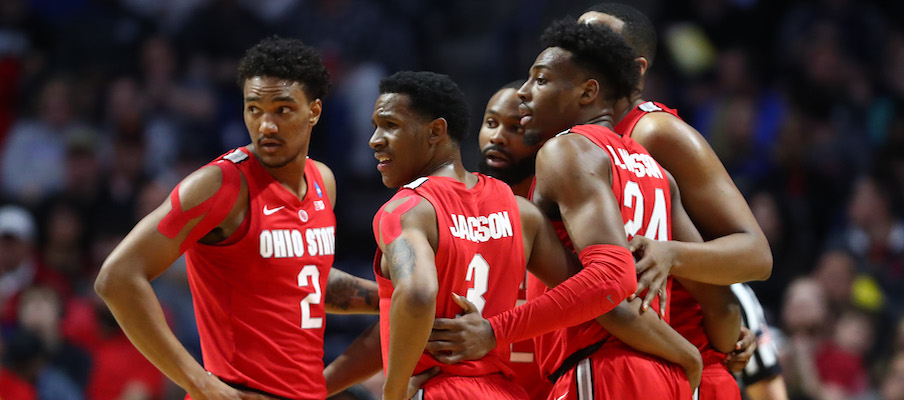 Woods had seven points in the final 3:08 of Friday's game.
"We were trying to go to him or Kaleb every moment in the last three minutes," Holtmann said. "We couldn't always get the ball where we needed to, but we tried to go to those guys."
Even just one month ago, no one would have guessed the coaches would be targeting Woods in late-game situations for consistent scoring.
Holtmann Takes On The Doubters
Don't think Holtmann didn't see the predictions.
He noticed last year when Ohio State avoided falling victim to an upset in the first round, beating South Dakota State by eight points. In his on-camera post-game interview, he called out the non-believers: "I just want to think all the fine, smart, clever journalists that didn't pick us. We've got some great ones out there, and trust me our guys were aware of that, so appreciate that."
never has a coach been so smug about beating a 12 seed pic.twitter.com/pEGTqloiEr

— Mike Tunison (@xmasape) March 15, 2018
Holtmann spotted the doubters again leading up to the Buckeyes' game versus the Cyclones, and he nearly had a repeat of last year's comments.
"I promised myself I would not do it, and when I got interviewed after the game, I was so close. I was so close," Holtmann said. "And I was going to call out one individual in particular. And I had a couple coaching buddies who wished me good luck and they said at the end of it whatever you do, do not repeat your postgame performance after the South Dakota State game last year. So I said I wouldn't do that."
To Holtmann, everything about the victory was sweet, and he admitted it was even more enjoyable than Ohio State's first-round win against South Dakota State last season.
"I just think given the nature of our season, given kind of being on the bubble, the bubble talk," Holtmann said. "I get so angry when I read some of these – it's none of you guys in here. National writers who put out there, 'Well, they can't do this, and they can't do that, and they've lost this, and they've lost that.' It just drives me nuts. I really do feel like we played well in the last week-and-a-half. But given the fact that we had a tough January and then we had some bumps in the road in February and March. That's, I think, why it makes it so sweet. And obviously we played a team seeded quite a bit higher than us."
Musa's moment
Musa Jallow remained ready, and it wasn't easy for him.
Instead of being guaranteed steady minutes, Jallow has played sporadically. In 10 games, he played fewer than 10 minutes, and he played more than 20 minutes in only 12 games. Against Northwestern in the second-to-last game of the regular season, he played just one minute. 
"The coaches talked to me every single day after every game, just in my ear to stay ready and what I can do to be prepared for the next game," Jallow said. "So they really helped me with that."
The preparation paid off with an 11-point, six-rebound, three-steal performance against Iowa State that featured an alley-oop and a 5-for-5 shooting performance.
"I just feel like I was ready for it," Jallow said. "Working all year, stayed ready through the ups and downs. I was ready for that."
That's a BIG Buckeyes JAM! #MarchMadness | @OhioStateHoops pic.twitter.com/RHRPZ8hKeA

— NCAA March Madness (@marchmadness) March 23, 2019
When Wesson returned from his suspension that sidelined him at the end of the regular season, Holtmann realized he wanted to get Jallow on the floor more to help defend wings and rebound.
Jallow, who averages 2.8 points per game, isn't known for his scoring ability. His increase in minutes came with a reduction in the role of Justin Ahrens, who shoots well but is raw defensively. But that was a trade Holtmann was willing to make.
"We're seeing glimpses where his athleticism becomes more apparent, and that's what we've been fighting to kind of see all year is him to use his athleticism," Holtmann said.
Careers Continue
If you think it has looked like Woods is playing like someone who doesn't want his college career to end, you'd be right.
And though C.J. Jackson struggled on Friday by hitting 1-of-8 shots for two points, he feels the same way.
"I'm not too happy about my performance today, but my teammates picked me up," Jackson said. "Musa had a great game, Kaleb, Keyshawn obviously. Andre made big contributions. So when that happens, that's definitely a sigh of relief."
Jackson, Woods and Joey Lane have at least one more game in Scarlet and Gray.
Locked In
In his sixth season as head coach, Tim Craft did what Holtmann couldn't do in three seasons at the helm of Gardner-Webb: make the NCAA tournament.
The Runnin' Bulldogs tied for third in the Big South in the regular season before beating High Point, Campbell and Radford to claim the conference tournament crown and earn a berth into the NCAA tournament. In the team's first-ever appearance in the field of 68, 16th-seeded Gardner-Webb drew top-seeded Virginia – which lost to a No. 16 seed last year – as a first-round opponent.
At the team's hotel earlier in the day on Friday, Holtmann locked into his former program's game and saw the Runnin' Bulldogs pull ahead to take a lead at halftime before eventually falling, 71-56.
"I watched every moment of the Gardner-Webb game," Holtmann said. "I gave myself that two-hour window to not worry about anything else but watching the school that gave me my first head-coaching job. I texted Chuck Burch, the AD, good luck, and he and I talked this week. I texted Tim Craft and the SID before the game. I watched every moment of it, and I was believing. I was believing at halftime. I was a believer."
Holtmann's other former team, Butler, lost in the first round of the NIT on Wednesday.