Friday's game against Michigan State did not go as the Buckeyes hoped, but the loss is unlikely to keep them out of the NCAA Tournament.
Ohio State entered the Big Ten Tournament matchup with the Spartans as a near-consensus NCAA Tournament team after Thursday afternoon's win over Indiana. The Buckeyes found themselves in 112 of the 117 bracket projections sampled on bracketmatrix.com, with an average seed of 11.16.
Even with the loss, that's unlikely to change drastically given that many of the teams Ohio State would have to fall behind in order to miss the NCAA Tournament lost either on Thursday or earlier and could not improve their resume any further.
Here's a look at the bubble situation entering Friday's games from ESPN's Joe Lunardi: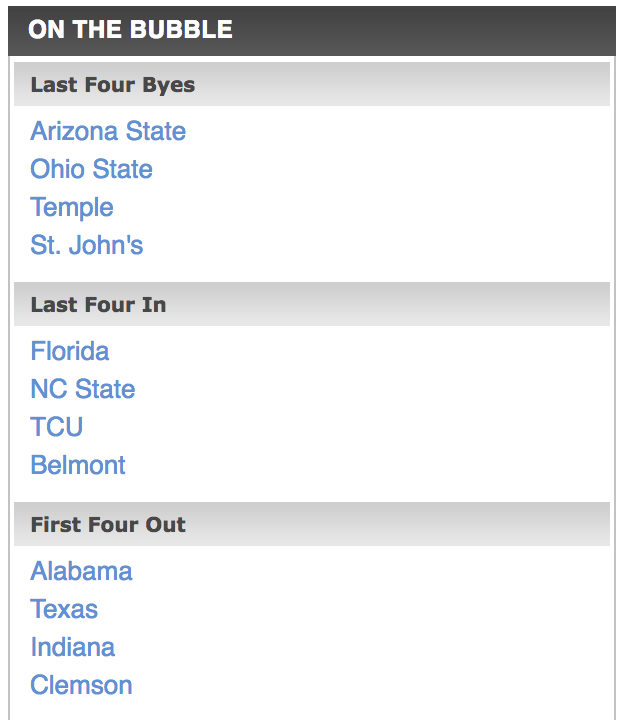 St. John's, NC State, TCU, Belmont, Texas, Indiana and Clemson all lost before Friday and can't improve their resume anymore. Ohio State's loss in an extra game to a top-10 opponent isn't likely to move the Buckeyes out of the tournament field behind those teams, even if it wasn't an especially close game down the stretch.
Unexpected conference tournament winners could complicate the situation a bit, such as Rhode Island eliminating top-seeded VCU from the Atlantic 10 Tournament and forcing the Rams into an at-large slot, but it's unlikely that happens enough to eliminate Ohio State from the field entirely.
Based on the projections, the likely worst-case scenario for Ohio State is a play-in game in the First Four, but the Buckeyes seem well positioned to avoid that as well.