Ohio State might have secured an at-large bid into the NCAA tournament by beating Indiana on Thursday, but it could relieve any remaining uncertainty by toppling Michigan State on Friday.
| Who | Where | When | TV |
| --- | --- | --- | --- |
| No. 6 Michigan State (25-6, 16-4) | United Center (Chicago) | 12:30 p.m. | BTN |
In what many analysts viewed as essentially a play-in game for the NCAA tournament, the Buckeyes downed the Hoosiers, 79-75, by staving off a second-half comeback in their first game of the Big Ten tournament. But given the nature of the bubble, no one can quite be sure whether they locked up a spot or not.
"I hope we're in, but if we win tomorrow, I feel like we're definitely in," Keyshawn Woods said after the win against the Hoosiers. "We've just got to keep it going and keep bringing the same effort that we had tonight to tomorrow."
Eighth-seeded Ohio State will take on top-seeded Michigan State at 12:30 p.m. Friday at the United Center in Chicago, and the winner will face either Wisconsin or Nebraska on Saturday in the tournament semifinals.
The Buckeyes and Wolverines are both intimately familiar with each other.
Michigan State handed Ohio State its second loss of the season on Jan. 5 to end the team's 12-1 start to the season and begin a dismal beginning to 2019. After the game, Kaleb Wesson said he felt the Buckeyes were on the same level as the Spartans. But in a rematch a month later, Michigan State won again, this time by 18 points.
"We know what type of team they are," C.J. Jackson said. "Like you said, we played them a couple times this year, and we'll definitely be ready tomorrow at 11:30."
Woods said no one expects Ohio State to win, and he's correct. As of early Friday morning, the Buckeyes were 11-point underdogs to the Spartans who are one game away from completing the season sweep.
"You always want to play to play a team that beat you twice," Woods said. "It's another game for us, it's an important game for us because, you know, you've got to win if you want to keep advancing in the tournament. So we've just got to get prepared tonight to play against Michigan State."
Opponent Preview
Michigan State doesn't have many weaknesses.
The Spartans have top-15 adjusted offensive and defensive efficiencies and top-15 offensive and defensive effective field goal percentages. They have wins against Texas, Florida, Purdue, Maryland and Wisconsin, along with a pair of victories versus Michigan. 
"I've watched them a little bit, but not as much (recently) honestly," Holtmann said. "They had Nick Ward both times. He went out the second half of our game. I don't know what his status is now. They're terrific. They're an elite team. Can get to a Final Four. Can win a national championship. They're deserving of everything that's come their way. We'll need to play exceptional basketball for 40 minutes. We're excited about the opportunity."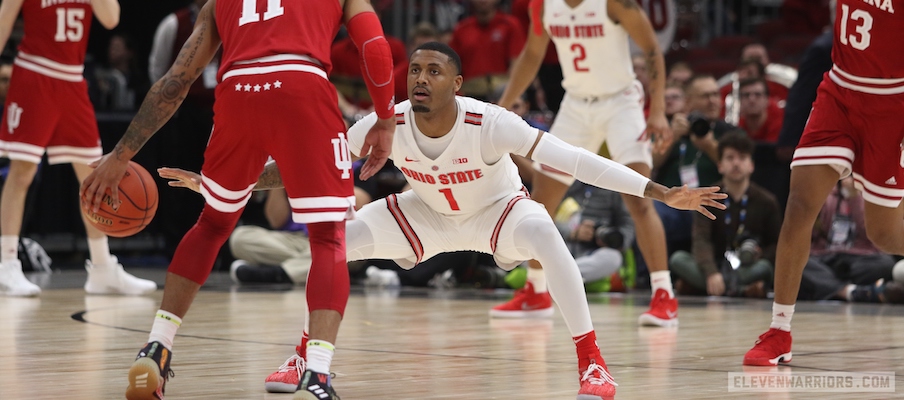 Big Ten player of the year Cassius Winston leads Michigan State with 19 points and 7.6 assists per game while conducting the offense. He shoots 47.1 percent from the field and 41.3 percent from beyond the 3-point arc. When he's feeling himself, he's hard to stop, as Ohio State found out.
Winston torched the Buckeyes for 25 points in the first meeting, then they held him to 13 points (3-of-15 shooting) in the second matchup. Part of an "exceptional" performance, as Holtmann said Ohio State needs, includes C.J. Jackson and Luther Muhammad containing Winston. 
Nick Ward is expected to play after missing every game since beating Ohio State in mid-February with a broken hand. The 6-foot-9, 245-pound Ohio native who averages 15.1 points and 6.7 rebounds per game will once again battle with Kaleb Wesson in the post. Joshua Langford also averages double figures, scoring 15 points per game.
Ohio State Preview
Rarely this season has Ohio State had high-level performances from Kaleb Wesson, C.J. Jackson, Keyshawn Woods and Andre Wesson in a single game, but that's exactly what happened in the team's win versus Indiana.
To have a chance to knock off Michigan State, those veterans have to come through again.
After a three-game absence while serving a suspension for violating an athletic department policy, Kaleb Wesson played 34 minutes, scoring 13 points and snagging 13 rebounds. The minutes might be tougher to play due to Ward matchup up on him, but Wesson is one of the keys for the Buckeyes.
Luther Muhammad, who had been engulfed in a 6-for-49 stretch dating back nearly 10 games, came off the bench on Thursday and knocked down a pair of important 3-pointers. Whatever he can offer will aid the Buckeyes. 
The Buckeyes utterly collapsed offensively in the second half against Michigan State in February, and they can't afford to have that happen again. Thus, Wesson and Jackson, among others, have to ensure Ohio State avoids prolonged scoring ruts.
How It Plays Out
Most people picked Indiana to beat Ohio State, and almost no one will pick the Buckeyes to take down the Spartans.
However, Ohio State has proven it can hang with Tom Izzo's squad. In the first half of each Buckeyes-Spartans matchup this season, the teams have kept the game close before Michigan State pulled away in the second half. As Holtmann said, Ohio State needs an "exceptional" performance to beat the Spartans, and that might be more likely to happen than some people imagine. Still, I'm picking Michigan State to edge out the Buckeyes.
Prediction: Michigan State 78, Ohio State 73