Most seasons, Ohio State would be clearly on the outside of the NCAA tournament picture looking in.
Not in 2019.
The Buckeyes have a 6-11 record in the calendar year of 2019 and have lost back-to-back games by 35 points to Purdue and by 18 points to Northwestern. Still, they find themselves squarely in the mix of teams competing for an at-large bid into the Big Dance, even though what happened versus the Wildcats diminished their odds.
Entering Wednesday, all but one of the brackets aggregated by Bracket Matrix had Ohio State in the field of 68. With just two regular-season games and the Big Ten tournament remaining, the team's chances of making the NCAA tournament looked relatively promising. The Buckeyes endured a five-game losing streak in January and haven't looked particularly dangerous recently, but their 12-1 start to the season and nearly .500 play in the conference boosted the tournament chances.
Then came the 68-50 loss to the Wildcats on Wednesday. 
Losses happen. Many are explainable. Even the 86-51 blowout defeat against Purdue in West Lafayette, Indiana, had simple reasoning: the Boilermakers seemingly couldn't miss any shots, and the Buckeyes were playing their first game without Kaleb Wesson, serving an indefinite suspension for violating athletic department policy. 
Ohio State doesn't have any reasonable justification for what happened in Evanston, Illinois, against Northwestern, which had lost 10 games in a row. NCAA tournament-worthy teams typically don't lose to the worst team in their respective conference just one week from the conference tournament beginning. 
But that's exactly what happened on Wednesday.
The Buckeyes didn't make a field goal for over eight minutes to begin the game and entered halftime with just four made shots from the field. A second-half rally fell short by five points when Northwestern responded with a 10-0 run to take a 15-point lead with six minutes remaining.
"We took some bad shots," Chris Holtmann said. "At the same time, we missed some open ones."
Andre Wesson, Luther Muhammad and Jaedon LeDee combined to miss all 16 of their shots. Ohio State hit only 17-of-64 shots and just four-of-26 3-pointers.
The Buckeyes had just nine turnovers, but they helped lead to Northwestern accumulating 15 fast-break points. Without Kaleb Wesson for the second game in a row, they had nowhere to turn on offense.
"Their size presented some problems for us," Holtmann said. "We tried to play inside-out. That didn't really work. I thought our turnovers really hurt us. It fueled some of their offensive plays there in transition. I thought that was what I was most disappointed about."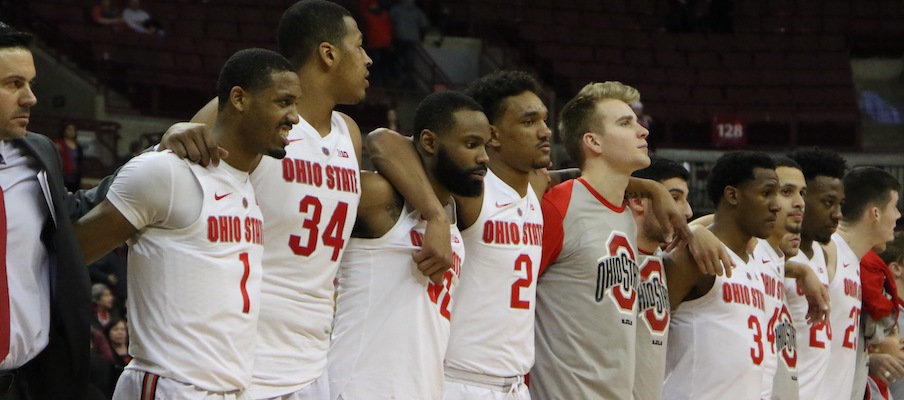 The 18-point defeat to the team that had locked up the 14th seed in the Big Ten tournament came at quite the inopportune time.
Ohio State is now 18-12 with an 8-11 record in the Big Ten with one more regular-season game remaining, a matchup with No. 21 Wisconsin on Sunday at home.
Holtmann hasn't given any indication of whether he anticipates Wesson returning, so it's fair to assume he likely won't play versus the Badgers, increasing the possibility of a three-game losing streak to end the regular season. Even with the bubble about as bad in totality as it can be, a loss leading to an 18-13 overall record and an 8-12 conference record to end the regular season would likely put the Buckeyes on the outside of the tournament picture, necessitating a win or two in the Big Ten tournament.
For months, Ohio State has remained in projected brackets despite not looking like a tournament-level team on the court, and that appears to be catching up with it.
Injuries and Wesson's suspension have hit hard, too. Dererk Pardon, Northwestern's starting center, scored 18 of his 20 points in the second half of Wednesday's game, taking advantage of a frontcourt bereft of depth.
Not only was Kaleb Wesson missing, but Andre Wesson battled through foul trouble and Kyle Young toughed out a pair of injuries to play 26 minutes. Holtmann said Young suffered a sprained ankle on either Monday or Tuesday, adding to the stress fracture in his right leg that held him out of four games a couple months ago and continues to keep him out of the majority of practices. C.J. Jackson also didn't start and is hurt, too, according to the Columbus Dispatch.
Despite the injuries and Wesson's suspension, Ohio State desperately needs a win to remain in the NCAA tournament picture. How it plans to pull that off with Young and Jackson hobbled and Kaleb Wesson likely out is anyone's guess.
But in order for the Buckeyes to make the NCAA tournament, they can't afford to remain in the losing column.