To call Northwestern a defense-first team wouldn't do justice to how porous their offense has been. The Wildcats have cracked 60 points just once in the past seven games and have the 310th-best shooting percentage in the country (40.9 percent). Only one of their top eight scorers shoots better than 40 percent from the field, and they have the worst adjusted offensive efficiency in the Big Ten.
Thus, entering Wednesday night's game against Northwestern, Chris Holtmann knew Ohio State just had to find offense somewhere to pull out a victory. The Wildcats' ineffective offense combined with his team's stout defense didn't seem like it would equate to a bundle of points, but the Buckeyes had struggled to score, as well.
For the first half, offense on both sides of the court was sparse, with neither team shooting better than 38 percent. The score was just 24-20, with Ohio State holding a slight edge, at halftime. But as the second half progressed and the Buckeyes took over, eventually winning 63-49, their offense came alive.
Ohio State's shooting percentage improved from 37.5 percent in the first half to 53.3 percent in the final 20 minutes. The group assisted on 12 of 16 made field goals with seven different players accounting for at least one assist. The Buckeyes had 18 assists and only eight turnovers for the game, with an impressive 12-to-1 ratio in the second half.
For a team that just scored 44 points – the program's fewest in nearly a decade – in a deflating loss to Michigan State, that offensive efficiency was a welcomed sight.
"(The Wildcats) do other things (rather than focus on turnovers) to affect you in terms of their positioning, although they really did pressure us tonight more than maybe we anticipated, which is why we tried to back-cut them some," Holtmann said. "But I thought our guys were just a little bit more conscientious. And listen, I've talked about it. They would tell you that's the No. 1 thing I've talked about really since the first two weeks of the season. So as you can tell, it's obviously fallen on deaf ears. But I'm pleased with tonight what their approach was and their mindset in that area."
Holtmann said Ohio State's players did a better job not forcing action offensively and making "really good decisions" in the second half.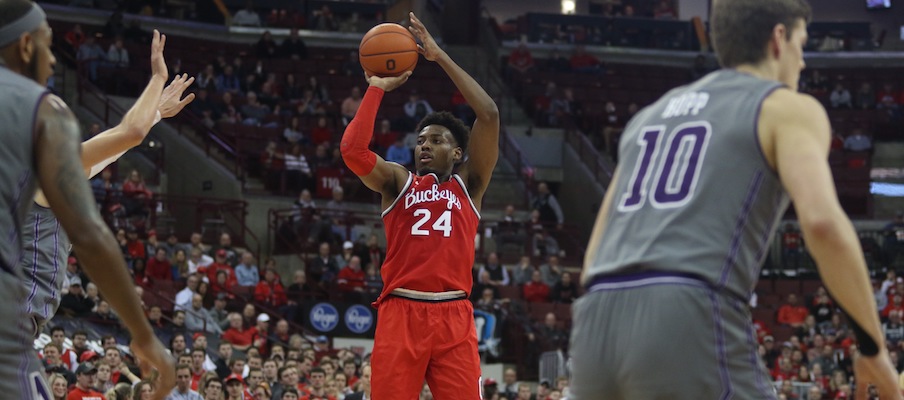 Entering the game, Holtmann knew Northwestern would attack 6-foot-9, 270-pound forward Kaleb Wesson with multiple defenders. Chris Collins wanted someone else other than Wesson to beat his team, but the big man forced him out of the strategy in the first half with crisp passes to open defenders while also scoring nine points in the opening 20 minutes.
Wesson continued his strong play into the second half and finished with 22 points, making 8-of-14 shots. He also had a team-high eight rebounds and four assists in 33 minutes with just a single foul. On the other end of the court, Northwestern big man Dererk Pardon had just eight points.
"I thought Kaleb was really good the whole night on both ends, I really did," Holtmann said. "I thought Kaleb was assertive. We have worked with him, again, from the beginning of the year about passing out of double teams because it's a hard thing for a guy to get when you're having another 6-9, 6-10 long guy coming at you. It can be really difficult. So his decision-making needs to be a little bit quicker – it was tonight. I thought our guys did a better job cutting tonight, and then it did, I think, take them a little bit out of that."
Following the game, which had more bright spots about Ohio State's offense than any in the past couple weeks, Holtmann said what's obvious to everyone who has watched his team play: "We're, by no means, an offensive juggernaut."
As the Buckeyes continue their stretch run in search of an at-large bid into the NCAA tournament, there's a ceiling on their offensive production. After 26 games, that's clear.
"We're probably where we are because of our team defense, honestly," Holtmann said. "That has kept us in games and given us a chance this season."
But in order to pull off the late-season upset or two that will likely be needed to earn a spot in the field of 68, Ohio State can't simply rely on its defense.
The Buckeyes don't need otherworldly offensive performances against their four upcoming ranked opponents, but they need showings on offense like Wednesday's second half against Northwestern to beat those in the upper echelon of the Big Ten.