Prior to dropping an 86-77 loss to Michigan State on Saturday, Ohio State had lost just one game. Syracuse beat the Buckeyes, 72-62, in late November.
Following the Orange's defeat, Ohio State won its next six games, including wins versus UCLA, Minnesota and Illinois. A six-game post-loss win streak would be significantly more difficult after the team's second loss of the season, since that stretch includes games against Iowa, Michigan, Purdue and Maryland, but Chris Holtmann's team hopes for something similar.
"This is life in a power conference," Holtmann said on Tuesday. "You're going to go through some bumps and bruises. Last year, our leadership was outstanding in response to a loss. I think this group has that potential."
The Buckeyes' chance for a rebound comes Wednesday night in New Brunswick, New Jersey, when they take on Rutgers at 7 p.m. The matchup will be Ohio State's first road Big Ten game of the season, having played three home conference games.
Last season, the Buckeyes dropped back-to-back games just twice, and they haven't lost two games in a row this season.
"Once you get between the lines, there are no do-overs," Kyle Young said. "After the game, we are right back to preparing. We don't look ahead. We focus on that game. It's the amount of preparation the coaches help us put in. It's staying focused on the next game and just continuing to get better and not allowing that to happen."
No one on Ohio State was under the illusion that the Michigan State game would be easy, including Luther Muhammad. He guarded Cassius Winston, who couldn't get much offense in the first half before dropping 16 points in the final 20 minutes.
"After the game, you can't get any game back," Muhammad said. "Once you're in between the lines and the lights are on, there is no turning back. It's just a learning experience. Every loss is not a loss. I look at it as we have to learn as a team and just get better."
Opponent Preview
Rutgers, led by Steve Pikiell in his third year as head coach, knows what it's good at, which has won the team games, but also has severe deficiencies that have held it back.
Led by 6-foot-7, 240-pound forward Eugene Omoruyi, the Scarlet Knights try to beat opponents with size and physicality. They stayed with Michigan State for most of their matchup with Tom Izzo's team earlier this season, but ultimately let it slip away in the second half, just like the Buckeyes. Holtmann said he view Rutgers' size favorably to Michigan State's.
"We went into this game here, the prior Michigan State game, talking about how tough these next two opponents, how physically tough they are, which is a bit unusual," Holtmann said. "But I think our guys, after having watched them play Michigan State, have a great appreciation for how physical they are."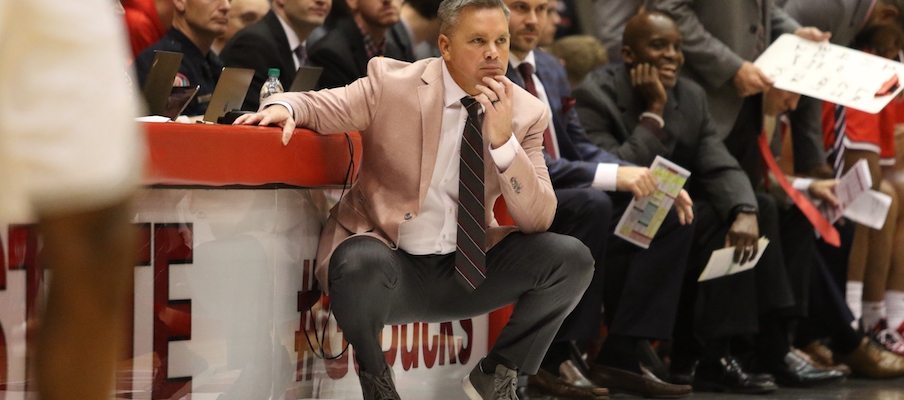 Rutgers starts 7-foot- Shaquille Doorson and 6-foot-10, 190-pound Issa Thiem, along with Omoruyi. Both backcourt starters, Gio Baker and Peter Kiss, are at least 6-foot-4.
The all-around size has let to an average rebounding margin of plus-5.7 this season. Omoruyi leads the team with eight rebounds per game, but Doorson and Myles Johnson also average more than five per contest.
"They're big. They're extremely physical. They're very tough," Holtmann said. "Omoruyi is a mismatch issue, and Gio Baker as a sophomore, he was really good last year for them. He's really come into his own as a guy on the ball that presents a lot of problems because of his ability to make shots and drive it and attack and get others involved. Certainly, their collective size is a concern."
Omoruyi leads Rutgers with 15.7 points per game, hitting 47 percent of his shots, and will be the key player for Ohio State to stop.
Geo Baker is the only other player averaging double-digit points, scoring 13.1 points per game, but hitting just 35.9 percent of his shots from the field. He shoots more 3-pointers than any player on the team and has made 35.6 percent. Baker also leads the team with 4.8 assists per game.
Despite an above-.500 record, the Scarlet Knights' shooting percentage (40.7) is worse than their opponents' (41.8) this season. They hit just 31.1 percent of 3-pointers.
Ohio State Preview
Kaleb Wesson has always had the potential to be the total package as a big man. Recently, though, he's coming into his own on both sides of the ball.
In all but two games this season, Wesson has scored double-digit points. He has scored at least 25 points twice in the past four games, and he has two double-doubles in the past five games. Wesson's next step, in Holtmann's mind is to have similar games with consistency. He flashed this ability last year, but tired as the season progressed and his production and efficiency fell.
"I think the validation will come in the consistency of effort," Holtmann said. "I think Kaleb has a chance to become a really special player. I really do. He's worked exceptionally hard, improved his fitness, but he knows that consistency in terms of his impact."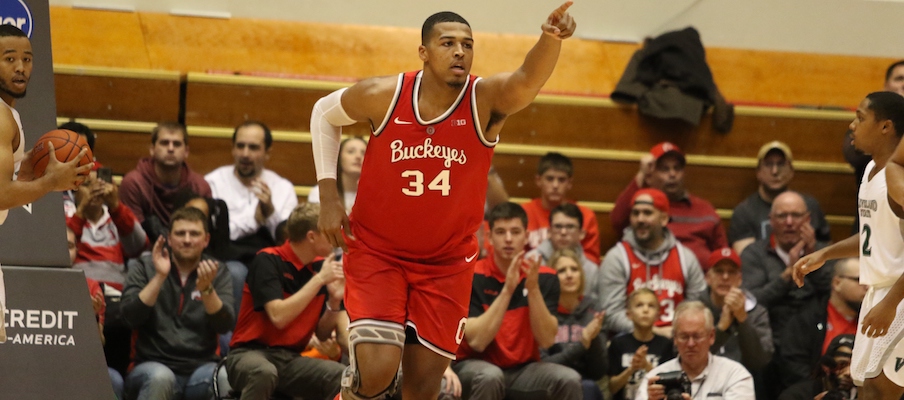 With Rutgers utilizing a 7-foot center and having ample size elsewhere in the lineup, Wesson will have to fight off multiple defenders for his points more than he did against Michigan State and Nick Ward, who guarded him one-on-one for much of Saturday's game.
The desired consistency will be put to the test against Rutgers.
"We play a very good team in terms of defending the post on Wednesday," Holtmann said. "They're very good. They're very physical. They're big. They're bigger than Michigan State. But I think for Kaleb, it's his ability to impact both ends and to consistently do that is what determines kind of who you are. He'd be the first one to tell you that he's not going to rush to judgements after a good game or two. It's the consistency of effort."
How it plays out
In order to keep Rutgers out of the game, Ohio State must control the boards. Baker can get hot and Omoruyi is an efficient offensive player, but if the Buckeyes can keep the Scarlet Knights from extending their possessions with offensive rebounds, they should be able to bounce back from the Michigan State loss with a win.
Of course, that's no sure thing, considering the size difference. Wednesday's game will be important for both Young and Andre Wesson, considering the need to stop Omoruyi and to get on the glass. It might not be pretty, but I think Ohio State's defense and more efficient scoring will be enough to get the win.
Prediction: Ohio State 73, Rutgers 65