Chris Holtmann might have known what was going to happen. At the very least, he had an inclination.
Sitting at the same podium that he answered questions at following Ohio State's 86-77 loss to Michigan State on Saturday, he called the Spartans "as impressive as any team I've seen in my short time here" before saying "this team right now is not quite there yet."
"You can take video from our games and see that, recent games where we've got a ways to go," Holtmann said on Friday.
He doubled down after his team's second loss of the season and first to a Big Ten opponent.
"We're not there yet," Holtmann said on Saturday. "We're certainly not there yet. You let a team shoot 76 percent on your home floor and score 50 points (in the second half), then you've got a long ways to go. That's a fact for us."
To him, Saturday's loss was just the latest piece of evidence of there being room to grow.
During Holtmann's 1 1/2-year tenure as Ohio State's head coach, he has never been satisfied, constantly focused on building the program. It's in a solid spot, but Holtmann expects much, and that's not a bad thing.
After shocking most of the country with a 25-9 record and a second-place finish in the Big Ten last season and opening this season 12-2 with road wins against Cincinnati and Creighton, Holtmann doesn't think his program is on the level of Tom Izzo's yet.
Still, for most of Saturday's game, Ohio State played Michigan State tight.
After a 10-0 run near the end of the first half that led the the Schottenstein Center getting louder than it had been the entire season, the Buckeyes entered halftime with a seven-point lead. A little more than five minutes into the second half, Ohio State lost the lead. Both teams went back-and-forth the remainder of the half until the Spartans went on an 8-0 run to pull out to a seven-point lead that was soon extended to 10 points.
The Buckeyes had a shot to win, and Kaleb Wesson, the game's leading scorer with 25 points, doesn't see much of a gap between the teams.
"Truly, I don't think we should've lost the game," Wesson said. "I mean, I don't think they're any better than we are. We just had mishaps that happened late in the game that cost us the game, but I don't think there's any huge step or level that we need to take to be a team like that."
He might be right. Ohio State is a good team – better than most people thought before the season – in a good conference who happened to lose to a good team. But Saturday also showcased the limits of the team.
Michigan State exposed an issue that has bothered the undersized Buckeyes for much of the year, outrebounding Ohio State, 37-26. Beyond Kaleb Wesson, scoring options aren't overly consistent. Turnovers have been a problem this year, even though they weren't on Saturday.
The Buckeyes had three freshmen, an 18-year-old sophomore and a graduate transfer in the game with 51 seconds remaining, highlighting what can happen to this team when something goes wrong. Kaleb and Andre Wesson had fouled out and cramps hindered C.J. Jackson, so Holtmann had to go with a lineup that he soon realized had "too much youth."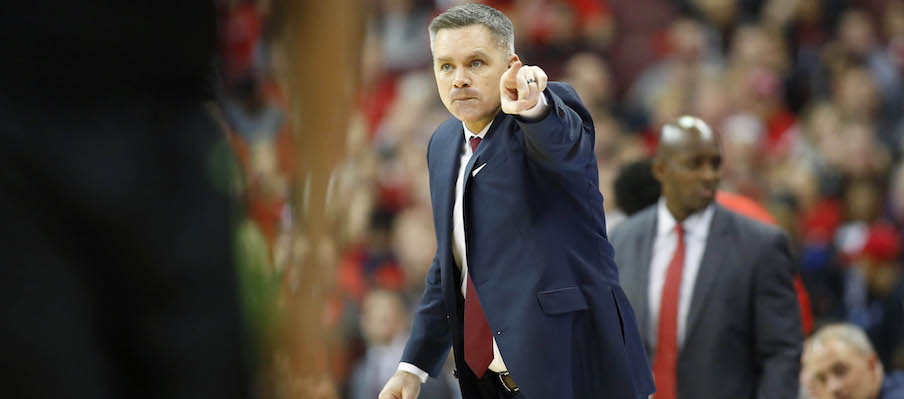 Holtmann had no choice, though. He had to play with who he had, and his limited options at the time weren't ready. 
"It hurts us, without taking away anything from Michigan State," Holtmann said. "I think it does hurt us."
If Ohio State was at a point where Holtmann felt more comfortable with the types of players he went to late in Saturday's game, he might feel better about comparing his program to Izzo's. If the Buckeyes didn't have a dearth of big men, he might feel more comfortable. But he's not there yet.
Holtmann also wants Ohio State's basketball program to reach the level of consistency that simply isn't possible to do in less than two years. He desires a Michigan State-esque expectation.
"It is amazing how consistently they perform year in and year out," Holtmann said. "And we know how hard that is to do at an elite level. It's every year they're top five, top 10."
Ohio State and Holtmann were rightly pleased about finishing last season with just nine losses.
In his 24-year tenure at Michigan State, Izzo's teams have had nine seasons with fewer than nine losses and four seasons with nine losses. His team's haven't had a Big Ten finish outside the top five since the 2006-07 season.
In order to get to that point of consistent success, Holtmann isn't trying anything too differently. He just wants to bring in the best players who fit with what Ohio State is building.
"You have to recruit really well year after year after year," Holtmann said. "And I think the young people that you bring in your program kind of have to understand how you want to play and be really committed to playing that particular way. You see that in elite programs where their recruiting matches how they want to play and matches their system, and then there's great belief in how that system is going to play out. That's the only answer. We obviously have had a couple recruiting classes here, but we've just got to keep growing and building on that end to be able to establish a consistent level."
Holtmann has done about as well as possible achieving his recruiting goals.
Next season, Ohio State will add three top-50 prospects – five-star D.J. Carton, four-star Alonzo Gaffney and four-star E.J. Liddell – to a group that will return a roster featuring Kaleb Wesson, Luther Muhammad, Duane Washington Jr. and other players Holtmann's staff recruited.
Ohio State isn't at Michigan State's level right now, but Holtmann has the program pointed in the right direction. Recruiting success leads to good players, which leads to success on the court, leading to consistent winning seasons. Many coaches never get to where Holtmann is right now, but he has expectations that outweigh the Buckeyes' current standing, and that's never a bad thing.
"We're not there, yet," Holtmann said. "We're not. But hopefully we can get there."