Transitive property doesn't always work in sports. If it did, Ohio State would be sitting pretty heading into its game against UCLA on Saturday.
The No. 15 Buckeyes (10-1) opened the season on the road against Cincinnati, and though they nearly fell apart down the stretch, they beat the Bearcats, 64-56. On Wednesday, the Bruins (7-4) headed to Cincinnati, and the result wasn't nearly as positive for the visiting team. The Bearcats put a beatdown on UCLA, winning 93-64 with a dominant performance typically reserved for high-major teams playing mid-major opponents.
| Who | Where | When | TV |
| --- | --- | --- | --- |
| UCLA (7-4) | United Center (Chicago) | 3 p.m. | CBS |
It wasn't exactly a show of strength heading into their game against the Buckeyes. The Bruins had just lost to Belmont, so they will take on Ohio State having already lost back-to-back games.
In typical Chris Holtmann fashion, the Buckeyes' head coach focused on his upcoming opponent's strengths rather than its recent pitfalls. 
"They're very capable and very good," Holtmann said on Thursday. "They ran into a buzzsaw last night. That's not going to resemble anything similar to the team that we're going to face on Saturday. It's incumbent upon us to communicate that to our players. That's just the reality. Listen, they were up 13 at the half to a really good Notre Dame team at home. So, they've had some really good moments, and we anticipate that, as I said, we'll need to play really well on Saturday. I think we're going to face a really hungry team. We'd better be ready for that."
The Buckeyes-Bruins matchup, which is part of the CBS Sports Classic, will tip off at 3 p.m. at the United Center in Chicago. Following the game, Kentucky and North Carolina will play in the second portion of the classic at the United Center.
Opponent Preview
Ohio State has waded its way through some games that have been closer than it would have preferred recently, but that hasn't much affected the fan base's thoughts on this year's team. It's Saturday opponent has endured a significantly rockier stretch.
A large portion of the fan base wants head coach Steve Alford fired. A loss the Belmont at home a week ago was bad enough. Cincinnati's blowout victory only exacerbated the concern. UCLA wants Saturday's game. Badly.
The Bruins don't go too deep into their bench – in large part because they have dealt with significant injury issues – but they have a solidified group of rotation pieces, which include a few players who will be challenges for Ohio State to deal with. Kris Wilkes, a 6-foot-8 wing, leads the way with 17.7 points per game. The Indianapolis native made the Pac-12 All-freshman team last season and has stepped into an even larger role this year.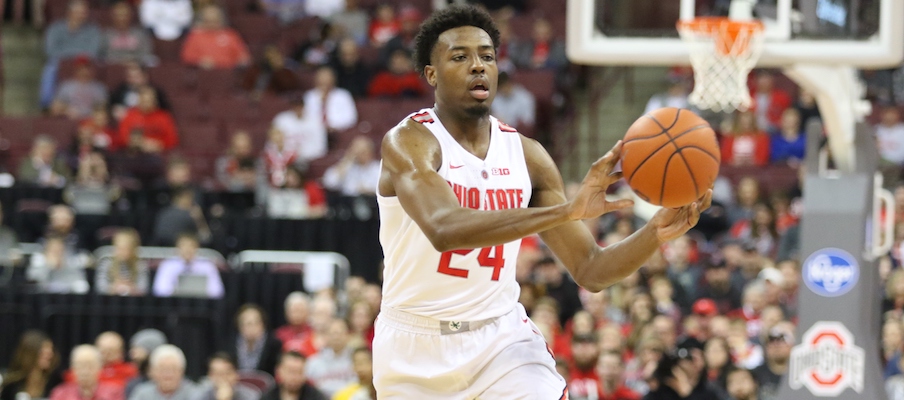 Wilkes is joined by Moses Brown, a 7-foot-1, 245-pound freshman who will test Kaleb Wesson and the rest of Ohio State's forwards. He averages 11.8 points, 9.4 rebounds and 2.6 blocks per game. Opponents of UCLA have hit 33.9 percent of 3-pointers and just 39.2 percent of their shots from the field. Brown's interior defense has played a large role in minimizing in-the-lane points.
Both Prince Ali and Jaylen Hands also average double-digit points. True to his name, Hands has dished out 7.3 assists per game while putting up 11.6 points and shooting an inefficient 34.9 percent from the field. Ali leads the team with 14 steals.
Ohio State Preview
The Wesson brothers – Andre and Kaleb – each stepped into more important roles this season, and Saturday's game will test them.
Kaleb Wesson will match up with Brown, one of the most physically gifted big men in the nation due to his gigantic frame. That length seems like it might have a chance to bother Wesson, though the Buckeyes' center has been on a tear recently.
In his last game, Wesson shot past his career high of 22 points that he had set in the prior game and dropped 31 points, while also grabbing seven rebounds. The 6-foot-9 load in the paint didn't miss any of his eight shots in the game.
Though Andre Wesson won't score as much as Kaleb, his defensive versatility will be key against the Bruins.
How it plays out
Some people might have seen the score of UCLA's game against Cincinnati and expect Ohio State to lay down a similar beatdown of the Bruins. While that's not out of the realm of possibility, it's important to remember just how talented UCLA is.
Each of the past three recruiting class have ranked in the top 11 in the country. The Bruins are long and athletic, but haven't put it all together recently. In the world of college basketball, that can change quickly, which is why Holtmann keeps his guard up.
Still, Ohio State is a 5.5-point favorite and is ranked No. 25 in KenPom compared to UCLA's No. 61 ranking. Opponents of the Bruins haven't found much success inside the arc, so the Buckeyes can get comfortable from 3-point range. If they can hit from deep and force someone other than Wilkes to beat them, they'll have a good chance to win their 11th game of the season.
Prediction: Ohio State 71, UCLA 69