As the saying goes, it's not what you know, it's who you know. Keyshawn Woods learned it's best to know both.
A turnover by Andre Wesson with 14 seconds remaining gave the ball back to Bucknell, which had trailed Ohio State by double digits with less than four minutes left in the game.
Bison head coach Nathan Davis, whose team had come back to pull within two points, decided to go for the win on the road against a ranked opponent. Woods knew that before the ball was even inbounded. He knows some Bucknell players from playing against the Bison while he was at Wake Forest, and one of them told him they planned to hunt a 3-pointer.
Woods also knew which play Bucknell was likely planning to run.
Mike Netti, a special assistant to Chris Holtmann, researches the end-of-game plays of every single opponent and presents the head coach with his findings before each game. He knew what the Bison might be thinking, and he relayed that to Holtmann, who had the Buckeyes walk through a similar play before the game.
Both relationships and preparation paid off. The Bison went for the 3-pointer, and they ran the same play that Woods thought they would.
"They have a certain play that they like to run when it comes to the baseline drift and trying to get that shooter come off," Woods said. "And No. 11 had just hit that 3 on my mistake, so I wasn't letting that happen again."
Ohio State foiled Bucknell's play, and the Bison were left scrambling with time running out.
Bruce Moore, who had made 1-of-2 triples but is not his team's best 3-point option, heaved a shot over the raised arms of Wesson, and the ball careened off the front iron out to Jimmy Sotos, who fired a fall-away prayer that he missed after the final buzzer. The miss clinched Ohio State's ninth win of the season, a 73-71 victory.
"I thought that's the one possession that we had good attention to detail," Holtmann said.
Bucknell made a pair of runs, one at the end of each half, to put scares into Ohio State.
"Give our guys a lot of credit for pulling this one out and surviving. We've got a long ways to go. We've got a lot to learn. I have to do a better job of getting our guys closing out games."– Chris Holtmann
Trailing by 11 points with four minutes to go in the game, the Bison began to chop into the Buckeyes' lead. Three free throws and a layup cut the lead to six points with 59 seconds remaining. While Ohio State turned the ball over, had discombobulated offensive possessions and missed free throws, Bucknell got hot.
A layup from Sotos, a 3-pointer from Kimbal Mackenzie and another triple from Avi Toomer cut the lead to two points with 20 seconds remaining.
Holtmann said he studied how teams lose leads a couple years ago and found three main factors: turnovers, offensive rebounds and 3-pointers.
"If you can eliminate two of those three things, you're probably going to be OK," he said.
Ohio State only managed to eliminate one of those three down the stretch. The Buckeyes kept Bucknell off the offensive glass, but the Bison knocked down threes and forced turnovers. Holtmann said he sensed some frustration during the late-game run.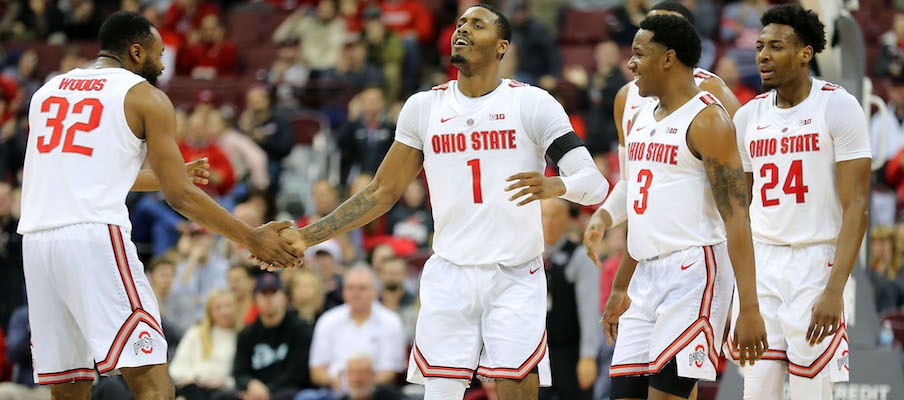 "I think frustration because we had a couple missed assignments on a couple flare actions," Holtmann said. "And again, the most glaring thing to me was I did not think our attention to detail was what it needs to be for a good team, and that's the coach's fault. So, we've got to get better in that area."
The Buckeyes managed to finally squash Bucknell's comeback attempt in the final 14 seconds.
"Give our guys a lot of credit for pulling this one out and surviving," Holtmann said. "We've got a long ways to go. We've got a lot to learn. I have to do a better job of getting our guys closing out games. It's a little bit tricky when you're up with a 10-point lead and the other team's kind of throwing in shots. I have to do a better job of getting our guys finishing games better. Not just making free throws, but our offensive possessions. That's on me, and that's my responsibility, and I don't think I did a very good job with that up to this point."
Though Ohio State held off the Bison in the second half, the Buckeyes weren't able to do so in the first half.
For "the full 20 minutes" of the first half, Holtmann thought his team didn't close out on shooters well enough.
Bucknell, which entered Saturday's game shooting 36.1 percent from beyond the arc, hit 9-of-17 3-pointers in the first half. After falling behind by 12 points with four minutes remaining in the first half, the Bison went on a 15-2 run to end the first half, which included a trio of triples. Bucknell ended the first half with a 40-39 lead, then continued its momentum into the second half with a 9-2 run to pull its one-point halftime lead to eight points.
"I just didn't think our effort was good enough and our activity was good enough," Holtmann said. "We said to them going in, 'Hey, listen, if they don't feel us, it's going to be a long night. They've got five guys in their starting lineup that are going to shoot threes, and if they get on a roll and start making threes, it's going to be a long night for us.' I think they had five guys make threes in the starting lineup. Really, their best shooter only made one."
In response to the eight-point deficit, the Buckeyes went on a 17-3 run that gave them a six-point lead. Bucknell didn't make a single 3-pointer during the six-minute stretch and went 3-for-13 from beyond the arc in the second half.
Regardless of the result, which went in Ohio State's favor, don't expect the Buckeyes to try to replicate the process any time soon.
"Some way, somehow, we found a way to win the game," Woods said. "We've just got to go back and look at film and make sure this never happens again."