C.J. Jackson had nothing for Creighton.
Ohio State's senior point guard didn't have a point – not a single point – in the first 37 minutes of Thursday's game against Creighton. Well, he did have something for the Bluejays: turnovers. Five turnovers to be specific. Still, Chris Holtmann stuck with Jackson.
He left Jackson in the game with the Buckeyes trailing by four points with less than three minutes to go. He trusted the senior, one of just two returners who averaged more than 2.8 points per game last season, to work through his struggles even as the game seemed like it was about to slip out of reach.
Then, with 2:10 remaining Jackson finally found the bottom of the net. He followed up Duane Washington Jr.'s 3-pointer with his own make from beyond the arc. It couldn't have come at a better time. The triple gave the Buckeyes a 62-60 lead, which they continued to build on. Jackson hit a 2-pointer and a free throw in the final minute to extend Ohio State's lead the eventually blossomed into a 69-60 victory.
It didn't matter that he ended the game with five turnovers and six points. All that mattered is that he came through when Ohio State needed him most, just like his teammates did throughout the game.
"I liked our resolve there late," Holtmann told Fox Sports 1 after the game. "Players win games. We had Keyshawn (Woods) make a big shot, made a really good pass to C.J. C.J. made a big shot. Those players answered the bell there late."
"Players win games... and those players answered the bell there late."

Chris Holtmann catches up with @NickBahe after his @OhioStateHoops squad grinds out a win at Creighton. pic.twitter.com/u34o2jJcNA

— FOX College Hoops (@CBBonFOX) November 16, 2018
Woods averaged double-digit points the past two seasons for Wake Forest, but he barely crossed into double digits in his first two Ohio State games combined. The graduate transfer had four points against Cincinnati in his debut, then seven versus Purdue Fort Wayne. Ohio State didn't need him to be a big-time scorer in either of those games, though.
With Jackson struggling and no one else scoring reliably, the Buckeyes needed him to get buckets. He responded by eclipsing 11 points in just the first half.
Early in the game, Creighton held a 10-2 lead. The game was barely five minutes from tip off, but the Buckeyes had to ensure they wouldn't get run out of the arena early, so they turned to Woods. He knocked down a 3-pointer to end a seven-point run, then scored 12 of the team's next 25 points.
At one point, Woods had 15 of Ohio State's 30 points. He finished the game with 19 points, added a team-high four assists, grabbed three rebounds and did not have a single turnover in 32 minutes.
"He was terrific," Holtmann told Fox Sports 1. "I think he brought some composure and poise to our group when we needed it."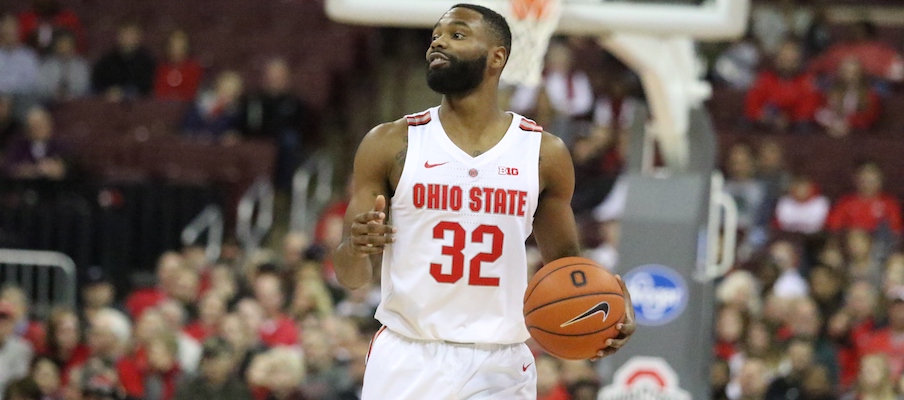 Duane Washington Jr., playing in just his third collegiate game, hit three 3-pointers and had 12 points, the second most on the team. He had a freshman mistake early in the game when he decided to essentially challenge to entire Creighton team with a one-on-five fast break, but he is not lacking confidence, so he continued firing up shots.
Jackson's 3-pointer with 2:10 remaining gave Ohio State the lead, but Washington's triple just 32 seconds before that pulled the team within one shot of overtaking the Bluejays. Washington, a sharpshooter of the bench, has hit 10-of-15 3-pointers to begin the season.
Luther Muhammad, a fellow freshman guard, didn't add much scoring alongside Jackson when the point guard struggled on offense, but that's not why he earned a starting spot as a freshman. The aggressive defender had a pair of steals, including a swipe with 1:07 remaining to help ice the game.
Ohio State isn't the most talented team. Not after losing Keita Bates-Diop and Jae'Sean Tate, along with Andrew Dakich and Kam Williams. But everyone – from Jackson, a senior point guard, to freshman forward Justin Ahrens – knows their roles.
Each players' jobs are extraordinarily well defined for a team that experienced so much turnover in the offseason, and that helped Ohio State know who to turn to when it made its roaring 13-point run to end the game with a third straight win. Even though Jackson hadn't scored a single point, the ball ended up in his hands, and he swished the shot.