Ohio State's 2017-18 season saw Chris Holtmann's first Buckeye squad shock most of the college basketball world, as the Scarlet and Gray finished second in the Big Ten and made it back to the NCAA Tournament for the first time since 2015. 
Keita Bates-Diop helped lead the way for the Buckeyes, and was ultimately drafted in the second round of the 2018 NBA Draft. Many of his Ohio State teammates were watching that night, including now-sophomore big man Kaleb Wesson. 
As he took in the draft, however, Wesson noticed that big men that looked and played like him weren't being selected. A low-post scorer with a limited vertical as a freshman, Wesson viewed the draft as more of a personal wake-up call. 
"I watched the draft, and a lot of guys like me weren't getting picked," Wesson said July 25. "I noticed that I am going to have to change myself, or I am not going to be able to get there."
Wesson is not completely without already developed basketball talent, however. As a freshman, he averaged 10.2 points and 4.9 rebounds and was named to the Big Ten's All-Freshman team. The majority of his points came in the paint, though, and with the way the game is trending at the next level, Wesson said he hopes to develop a more consistent jumper in order to adapt to the ever-evolving game in the NBA.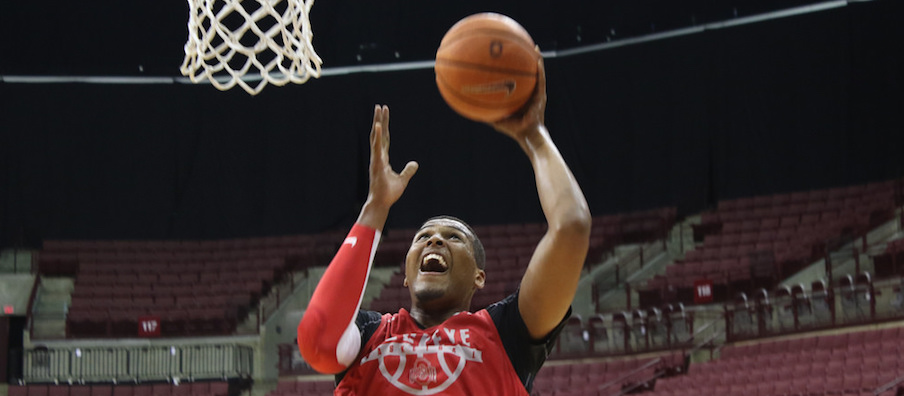 "I am trying to work on my guarding skills, developing a perimeter shot while still working on my stuff in the post," Wesson said. "I thought that one aspect of my game would get me there, but I had a skewed way of thinking."
Wesson does have some skill when it comes to shooting the ball from a face-up position. He converted four three-point shots on 14 attempts as a freshman, and shot a respectable 72.1 percent from the free-throw line in his first year on campus. 
Perhaps his biggest area for improvement comes on the defensive end, where opposing teams have attempted to pull Wesson out onto the perimeter to get better match-ups. While working on his guarding skills will help him in that area, the Westerville South product will also have to continue his efforts in the weight room, something he has attacked aggressively this offseason. 
"He has been good with it. I think he understands how important it is. It will always be something that is important for him. He is a big guy, and that is something that a lot of big guys have to manage," Holtmann said earlier this offseason. "I think his approach has been really good. We are going to need more from him in pretty much every area this year, as expected when you lose what we lost, and he returns as one of our leading scorers."
Wesson averaged just 20.7 minutes per game last season, the lowest of any Ohio State starter. After dropping a significant amount of weight from his senior year of high school to his freshman year of college, Wesson is now working to improve his overall athleticism as he appears poised to be one of the Buckeyes' most important players in 2018-19. 
"A lot of work with (Quadrian Banks), our strength and conditioning coach. A lot of squats, just working on my explosion," Wesson said. "It helps me tremendously as far as rebounding goes and just being able to carve out more space (in the paint)."
Wesson, who said he finished his freshman campaign at 289 pounds, is working to reach a goal of 255 pounds before the 2018-19 season tips off.
While Wesson will need to expand his game if he wants to eventually play at the next level, there is no denying that his strength on both ends of the floor comes in the paint. If he can add a level of explosiveness to his post game in addition to a consistent jumper, the NBA could very well be an option for him. For now, though, Wesson is focused on his sophomore season, which figures to feature him as an offensive threat much more than last year. 
"As much as I have worked in the gym, I feel like things are going to fall into place," Wesson said. 
You can watch Wesson and the rest of the Buckeyes in action tonight at the Schottenstein Center, as Ohio State is opening practice up to the public before shipping off to Spain for a 10-day overseas trip. Admission and parking for the open practice, which begins at 5 p.m., are free.