Ohio State's 2018-19 basketball roster looks very different from the one that took the Buckeyes to the second round of the NCAA Tournament last season. 
Four veterans are gone in Keita Bates-Diop, Jae'Sean Tate, Kam Williams and Andrew Dakich, and Ohio State is suddenly a young team, with seven true freshmen and sophomores making up its roster. 
Chris Holtmann got some help in the experience department last week, when graduate transfer Keyshawn Woods announced his decision to spend his last season of eligibility in Columbus, giving Holtmann some much needed backcourt depth. 
The addition of Woods means Ohio State's roster for the second year of the Holtmann era is complete, so we decided to take a look at how the team might fit together, projecting a starting lineup, leading scorer and more. 
Projected Starting Lineup
C – Kaleb Wesson, Soph.
F – Kyle Young, Soph.
F – Andre Wesson, Jr.
G – Luther Muhammad, Fr.
G – C.J. Jackson, Sr.
Much like it did the first year under Holtmann, the starting lineup will likely be pretty fluid once the season tips off. There are a lot of new pieces to work with in year No. 2, and it will take a few games to see what lineups work best together in game action. 
With Bates-Diop, Tate and Williams gone, Jackson (12.6 ppg) and Kaleb Wesson (10.2 ppg) are Ohio State's top two returning scorers. We saw last year how comfortable the younger Wesson was playing with his back to the basket and passing out of the post, and I expect the offense to run through him a lot in 2018-19. Another year in the weight room should only help him take a major step in his sophomore campaign, as well as improve his footwork. 
Jackson will remain in the starting lineup to start the year because of his experience and progress made at the point guard position. Many believed that if Ohio State brought in a graduate transfer, Jackson would switch back to the shooting guard position; however, Holtmann has said this offseason that he doesn't want to impede on any progress the senior has made running the offense.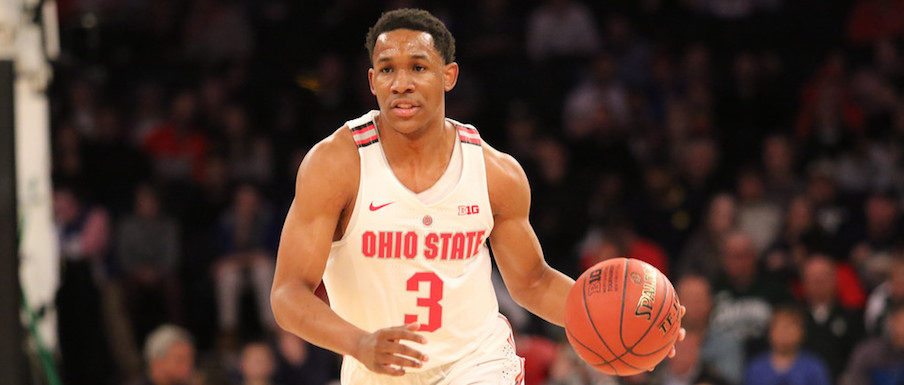 "C.J., I think grew into the position and did a really good job with it, so I don't know that I am ready to pull him back from that, because I think he does some good things there," Holtmann said April 10. "I do think if we can find another point guard that could come in and do some things, it would help to be able to slide him some and play him like we did Andrew (Dakich) this year when we played them together."
While Woods plays more like a shooting guard when watching his tape, his ball-handling skills make him an option to run the offense with Jackson off the floor. Expect both Woods and Jackson to see the floor at the same time at points throughout the season, but only one to start games. 
At forward, Andre Wesson proved to be a lockdown defender on the wing as a sophomore, despite some of his limitations offensively. If he can become more consistent with his jumper, he can develop into a solid Big Ten player because of his ability to lockdown an opponent's top wing player. 
Kyle Young did not play much as a freshman, but that was mostly because Bates-Diop and Tate were in front of him on the depth chart at his position. With both gone, Young's responsibility will increase tremendously as a sophomore. He plays much like Tate did as a Buckeye, but has the ability to shoot a more consistent jumper from the perimeter. 
Luther Muhammad is a player that simply needs to start for Ohio State. A solid defender for his age, he can also create off the bounce and drive to the basket, something the Buckeyes didn't have much of last season. 
Sixth Man Off The Bench
There is no doubt in my mind that Woods will be the first man off the bench next season for Ohio State, and could even crack the starting lineup. His ability to create his own shot and knock down the perimeter jumper makes him a dangerous weapon for Holtmann. He can also run the point if needed, which makes him a prime candidate to come off the bench in relief of Jackson. 
Leading Scorer
Kaleb Wesson is my way-too-early pick to lead Ohio State in scoring next season. As previously mentioned, I believe the offense will run through him a lot in his second year because of his ability to play with his back to the basket and pass out of the post/double-teams. 
Any time he is on the floor, he is a threat to post up a defender and score on the block with a baby-hook or even a face-up jumper. His wide frame allows Ohio State to run multiple pick-and-rolls with one of their ball-handlers, especially Woods and Jackson, who have a knack for scoring with their mid-range game, whether it be a floater or turnaround jumper. 
Filling In Behind
Ohio State will have more depth in 2018-19 than it did last season, but will be less proven. Musa Jallow is a candidate to push Woods for time as the sixth man off the bench because of his elite athleticism and ability to defend multiple positions on the perimeter. He might even start a few games this season, if he can improve his offensive game. 
Freshman Jaedon LeDee will have to compete with Micah Potter for the right to be the first big man off the bench next season, while guard Duane Washington finds himself in an uphill battle for significant playing time with the addition of Woods to the roster. 
Justin Ahrens figures to have a Kyle Young-like freshman season, earning spot minutes but not playing much with the game on the line. His ability to shoot from the perimeter, however, could get him some early minutes if the Buckeyes find themselves missing shots and not being able to spread the floor.