Shortly after Ohio State defeated then-ranked No. 1 Michigan State on Jan. 7, many people began to discuss Keita Bates-Diop as a legitimate candidate for Big Ten Player of the Year. 
Bates-Diop dropped 32 points in the 80-64 upset victory over the Spartans, and won what would be the second of four (and counting) Big Ten Player of the Week honors. Just four days later, however, Bates-Diop was left off of the John R. Wooden Award midseason watch list, an honor that goes to the nation's top player. 
Less than a week after Bates-Diop was snubbed for the Wooden Award watch list, he delivered his lowest-scoring Big Ten game of the year, contributing just 10 points in a 71-65 win over Northwestern on Jan. 17. Despite his off night offensively, head coach Chris Holtmann came to the defense of Bates-Diop and said he was surprised that his star player was left off of the national watch list. 
"I hope we have a full appreciation for how good he has been in this stretch. I think he is an elite player and I think he is one of the best players in the country," Holtmann said after defeating Northwestern. "For what it's worth, I don't look much into awards but you saw those Wooden things that came out midseason, I could not believe he was not on it."
Whether or not it had to do with Holtmann's comments is unknown, but almost a month later, the national award voters appear to have found Bates-Diop.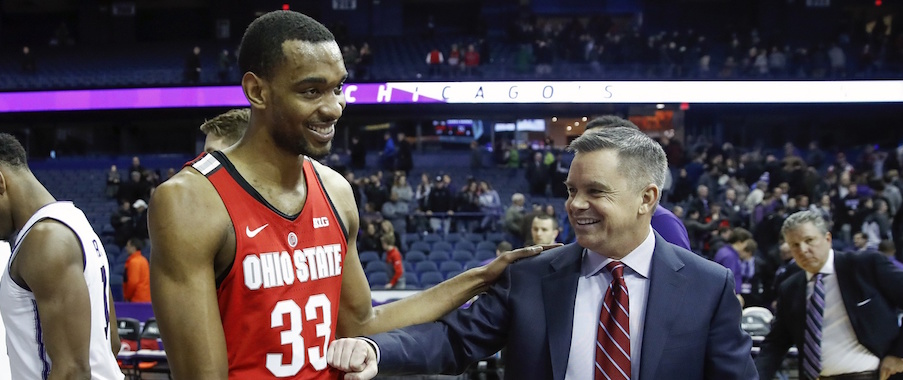 Since Holtmann's comments, Bates-Diop has been named to three national player of the year award watch lists. The Oscar Robertson Trophy midseason list was the first to add Bates-Diop to its list before the Wooden Award added the Normal, Ill. native to its late season watch list, despite not recognizing him on the midseason list in early January. On Wednesday, the Naismith Award – thought of as the most prestigious individual award in college basketball – named Bates-Diop to its late season watch list of 30 players. 
Holtmann said Wednesday that if campaigning for his players is all it will take, he will gladly do it again.
"If that's all it takes, I will complain a lot more," Holtmann said with a smile. "Obviously it's all the work he has put in. But I did not think that was right or correct. He is so well deserved of all of those awards, that now have basically said, 'Ok, now we have watched what you've done for the bulk of the year and you're hard to ignore.' I am not saying they are begrudgingly doing it, but he wasn't on a whole lot of that stuff early, and he has now proven it over and over again. What he has proven is his value to our team on every possession."
Of course, it helps Bates-Diop's cause that he and his team have lost just once since the turn of the new year. Ohio State has soared all the way to No. 8 in the country thanks in large part to Bates-Diop's efforts on the floor. 
Holtmann said that he hopes Bates-Diop's rise can be a lesson to future players in that winning, and winning the right way, can create opportunities for individual players as well as the team.
"It is a great lesson for young people because not all of the guys on those lists come from winning teams, but a lot of them do. A lot of them come from teams that might have been expected not to perform like they are performing and people are saying, 'Why are they performing like they are?' Well, here you go," Holtmann said. "Winning does so much for young people and it has been good to see as we have won here, guys like Keita and Jae'Sean Tate and a number of other guys get credit that we feel like they have earned."