Through 16 games this season, it would probably be fair to say that Ohio State has slightly exceeded expectations in the first year under Chris Holtmann. 
| Who | Where | When | TV |
| --- | --- | --- | --- |
| No. 1 Michigan State (15-1, 3-0) | Value City Arena | 4:30 p.m. | CBS |
The Buckeyes are 12-4 overall and a perfect 3-0 in conference play, with road wins over both Wisconsin and Iowa sandwiched around a 22-point comeback victory over Michigan in early December. 
Ohio State's matchup on Sunday, however, provides the Buckeyes with an entirely different challenge, as the No. 1-ranked Michigan State Spartans roll into Columbus, boasting a 15-1 overall record while also perfect in Big Ten action. 
While the Buckeyes have already played against and lost to the two teams that played for the national title a year ago in Gonzaga and North Carolina, Chris Holtmann said Saturday that Michigan State is without question the best team Ohio State will have played to this point all season. 
"You're looking at a man who hasn't had a whole lot of sleep the last couple days," Holtmann said when opening his press conference to preview the Spartans. "They are clearly in the discussion of one of the best teams I have seen on film. They are a complete team with a Hall of Fame coach."
Opponent Breakdown
The Spartans are one of the hottest, if not the hottest, team in college basketball right now. Tom Izzo's squad is riding a 14-game winning streak since dropping its lone game of the season to Duke on Nov. 14, in just its second contest of the season. 
Since the loss to the Blue Devils, Michigan State has won each of its games by double digits, including an 18-point win over North Carolina in the PK80 Invitational in late November. 
Leading the way on the court for the Spartans is Miles Bridges, who shocked the college basketball world in the offseason by choosing to stay in college for a sophomore season rather than declare for the NBA draft. In 16 games this season, Bridges has been filling up the stat sheet. He leads the Spartans in both points (16.9) and rebounds (7.7) per game, while also providing Michigan State with a reliable stroke at the free throw line, shooting 89.7 percent from the charity stripe this season.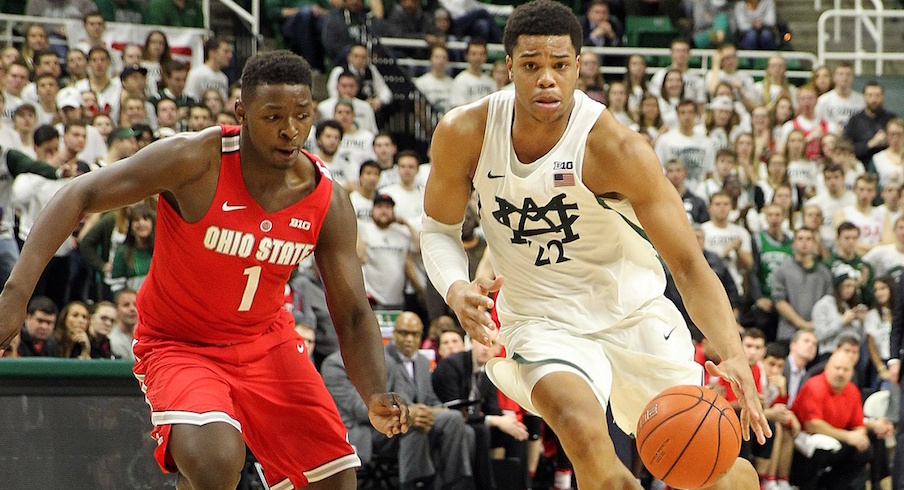 Complementing Bridges, especially in the post, has been freshman forward Jaren Jackson. At 6-foot-11, 242 pounds, Jackson has dominated opponents in the paint this season, rejecting 53 shots in 16 games, good for third in the Big Ten. Jackson also has the ability to stretch the floor for Michigan State, and is shooting 43.2 percent (19-of-44) from three-point range this season. 
A fellow Indianapolis native, Ohio State guard Andrew Dakich said Jackson provides a multi-dimensional threat that the Buckeyes will have to match with length and size.
"He is very long. I knew he could shoot it the way he is from outside. That will be a great matchup," Dakich said. "He is a PTP-er, a diaper dandy or whatever Dickie V (Dick Vitale) wants to say. He has done a lot for that team and I think he has helped them go. That will be a challenge for us because of how long he is for his size."
Also providing size inside for Michigan State is Gahanna, Ohio product Nick Ward, who is second on the team in scoring (15.4) and rebounds (7.4) per game this year. He leads the Big Ten in field goal percentage, shooting a blistering 72.3 percent from the floor, getting the majority of his shots inside the paint for the Spartans.
In his first game back in Columbus as a freshman last season, Ward was hampered by foul trouble and scored just nine points in a 72-67 loss to the Buckeyes. 
In all, Izzo rotates as many as nine players per game, with all five starters averaging double-figure points per contest. Sophomore guard Cassius Winston is one of those players, averaging 12.9 points per game and leading the Big Ten in three-point shooting percentage, connecting on 54.9 percent of his shots from behind the arc. 
Buckeye Breakdown
Ohio State is off to a 3-0 start in conference play just one season after starting 0-4 in Big Ten action, and its most recent win was the result of improved bench play, which gave the Buckeyes a boost with C.J. Jackson and Kaleb Wesson in early foul trouble. 
Against Iowa, Dakich played a career-high 26 minutes off the bench, dishing out five first-half assists in a 92-81 win. Combined with Micah Potter, Andre Wesson, Kyle Young and Musa Jallow, the entire Ohio State bench finished the game with a positive plus-minus, an encouraging performance for Holtmann. 
"We have to continue to emphasize an understanding of roles and playing your roles effectively and well and being aggressive in your role," Holtmann said. "Understand what you can bring to the team and be ready. I was really pleased with our practices leading into that (Iowa) game. That doesn't always automatically translate right away."
Where the Ohio State bench played well, the Buckeye starters had perhaps their best overall game of the year as well. For the first time all season, all five starters scored in double figures in the win over the Hawkeyes, including 27 points and 13 rebounds from Bates-Diop, his seventh double-double of the season. 
Rebounding against the Spartans will be a key for Ohio State, as Michigan State holds a plus-13.3 rebounding margin over its opponents this season, good for first in the Big Ten and nearly five rebounds per game more than second place Maryland (plus-8.8). 
Playing a critical role for Ohio State in that area could be Potter, who played his best game since coming back from an ankle injury against Iowa. The sophomore forward played 15 minutes off the bench against the Hawkeyes, scoring six points and collecting five rebounds, arguably his most productive minutes in more than a month. 
Dakich said that Potter's game against Iowa could help propel him forward personally into the second half of the season. 
"I thought he played great with Kaleb in foul trouble. He was a spark plug," Dakich said. "He just has to build off that, because obviously he is huge for us moving forward with size. Keita plays the five, but we also need that third guy and Micah is it."
How It Plays Out
The two teams split last season's regular season matchups before Michigan State went on to the NCAA Tournament, and Ohio State stayed home. 
The Spartans are ranked No. 1 in the Associated Press, USA TODAY Coaches' and Ken Pomeroy rankings heading into the contest, while the Buckeyes check in at No. 38 in KenPom's advanced statistical rating system, their highest this season. 
On paper, Michigan State is far and away the better team, and has the length and size to really bother Ohio State's guards and get into the passing lane. The Buckeyes are playing some of the best basketball they have played in the last two years, but the Spartans are legitimate national title contenders and have just as much momentum, if not more, than Ohio State does in early January. 
---
Prediction: Michigan State 80, Ohio State 71