"Knowing we've got this same team coming back next year and we're making strides, that's big for me."
That was Ohio State head coach Thad Matta on March 5, following his team's 91-76 loss at Michigan State to close out the regular-season.
Matta was asked a question relating to what lies ahead for his team in the upcoming Big Ten tournament and, after some coachspeak explaining how he hadn't even thought that far ahead yet, he expounded. Matta discussed his team's progress throughout the regular-season and firmly believed there was a foundation in place that would return his program to the heights it had been just a few short seasons ago.
Over the last few days, however, in just over three weeks since Matta made those remarks, Ohio State's foundation took quite a hit. It has not been completely dismantled, but recent events have caused concern around Columbus.
It started Saturday when Buckeyes sophomore center Trevor Thompson surprisingly declared for the NBA Draft. Thompson won't hire an agent and it's widely expected he will return to school next season, but his decision to even attempt to test the waters certainly raised some eyebrows.
Things didn't stop there, though.
On Monday, it was announced freshman center Daniel Giddens asked for his release from the program and was expected to transfer. On Tuesday, freshman forward Mickey Mitchell did the same and then, hours later, freshman point guard A.J. Harris became the next to bolt. All of that, plus the transfer of Austin Grandstaff back in December, and it raises a very popular question.
What in the world is going on with Ohio State's basketball program?
It's not an easy question to dissect, but I'm going to try and do my best to do so.
To think the sky is falling and that there's a "crisis" in the Ohio State basketball program is probably dramatic. But to think there's no issue would probably be a bit naive, as well.
The reality is that things probably lie somewhere in the middle.
We'll start with the negatives surrounding the program because, apparently, I'm a negative person. 
Ohio State fans are a bit on edge because of on-court results and the last three seasons — it's really only two as I hardly count a 2014 season where the team was a No. 6 seed in the NCAA tournament as a "down year," but some do so we'll go with three here — which seem to have the program trending in the wrong direction. Those concerns are totally justified, but I'm of the belief that's essentially a direct result of one specific recruiting class — the 2011 group of Amir Williams, Sam Thompson, Shannon Scott, LaQuinton Ross and Trey McDonald — that never lived up to the hype it had when Matta inked it. The class never even really got close.
Which brings us to primary concern No. 2: the development of players. But again, this seems like it was largely just an issue with one group of players. Add in the comments recently made by D'Angelo Russell and it only fuels that theory a bit more. For whatever reason, that 2011 class never fully developed and that — plus the essential absence of a 2012 class — set the program back a few years. That's on Matta and the coaching staff and that's on the players, as well. It's a two-way street.
Plenty of guys have developed under Matta's watch. From Jon Diebler, David Lighty and Evan Turner way back when all the way to Kam Williams, Keita Bates-Diop and Jae'Sean Tate this year. Fans seem to remember those who don't develop more than the ones who do, and that's fine, but to say that this staff doesn't develop players isn't accurate.
I'll give you the guys from the 2011 class in that regard and, of course, a few others along the way, but to expect every single player that signs at Ohio State to develop into an all-conference performer isn't exactly realistic. That doesn't happen anywhere.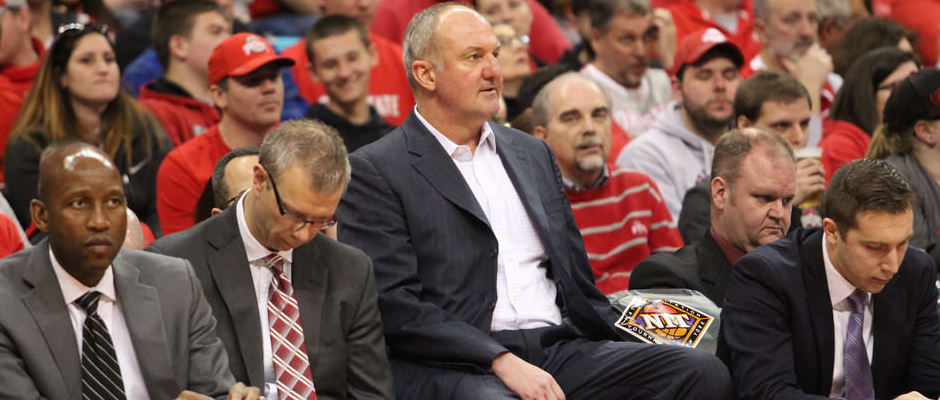 There are recruiting debates, too, and the majority of those relate to what some would call a lack of recruiting in the state of Ohio. But the reality of the situation is Ohio is a state flooded with talent and Ohio State can't sign all of the good players. Even if it could, not all kids who grow up in Ohio want to play at Ohio State. Whether you want to believe that or not, that's just the way it is. This isn't football. There are plenty of other programs both in the state and in the surrounding areas that are on the same level as Ohio State basketball.
Could Matta and Co. have gotten a few more players from their home state over the last few years rather than going after guys who were from out of state and maybe ranked a little higher? Sure. That's a valid criticism. Maybe a guy here or a guy there who went someplace else instead of one of those out-of-staters who never developed would have been better for the program. 
But I also feel there has been a shift in how Ohio State has approached its recruiting recently. Look at who the Buckeyes have signed in 2016 and who they have offered and who they have committed in 2017, 2018 and 2019. It's much more heavily based on Ohio players. Maybe Matta reads all of your tweets.
That's a lot to take in, and it certainly dispels the "nothing to see here" notion, but believe it or not there are some things that show that all is not lost.
Let's start with the man leading the program, Matta. He is the winningest coach in Ohio State's history and is the best one the school has ever seen. He took the program from what he calls "rock bottom" when he arrived in 2004 to a Big Ten title in his second year and a national championship appearance in his third. Four-straight years of first or second in the Big Ten soon followed that and in that span Ohio State was the only program in the country to advance to at least the Sweet 16 all four years. 
The Buckeyes have won five Big Ten titles, four Big Ten tournament titles and been to two Final Fours in Matta's 12 years at the helm. That's a crazy amount of success in just a little over a decade. He earned the benefit of the doubt because of that prior success, but, at a certain point, even Matta can be questioned. He's one of the highest-paid coaches in the country and the last couple of seasons have been underwhelming. I don't believe he's going to lose his job — or that he's even close, really — but there's no doubt that next season is a huge swing year for Matta and the Ohio State program.
So let's talk discuss next year a bit, and the future of Ohio State with all of the recent departures.
It's widely expected Thompson returns to school, so we're going to assume that happens for the purpose of this story. The transfers — Grandstaff, Giddens, Mitchell and Harris — are no doubt a bad look for the program, but as far as next year goes it's not a huge deal. Again, we're talking about all reserves here. Giddens certainly had the best shot to start next year and his decision was probably the most surprising, but the fact of the matter is these four players combined for 13 percent of the team's points, 17 percent of the team's rebounds and 21 percent of the team's assists.
That means Ohio State will return 87 percent of its points, 83 percent of its rebounds and 79 percent of its assists next year with a core of its top-six players coming back. The Buckeyes already have a pair of big men signed for 2016 in Derek Funderburk and Micah Potter and there's a strong possibility they add at least one additional player in that class — whether it be through a graduate transfer or a high school recruit — if not more. Andre Wesson and Markell Johnson are both realistic options for next year — though Johnson would have to reclassify to 2016 — and news broke Monday that New Mexico graduate transfer Cullen Neal will take a visit to Ohio State next month.
The entire starting five is expected to return, plus Kam Williams, and the Buckeyes seemingly will replace their role players from last year with new ones next season. These losses, though a bad look and certainly surprising to have all happened after just one year, are hardly crippling to Ohio State's program. Fans are probably making a bit of a bigger deal than they need to (shocking, I know).
..... pic.twitter.com/GhEWxSh5pj

— JaQuan Lyle (@JMamba13) March 30, 2016
Matta built Ohio State into what it currently is — a top program in the Big Ten and a second-tier one nationally — and he did it incredibly fast. That's really, really difficult to sustain here as Ohio State basketball is simply not Duke, North Carolina, Kentucky or Kansas. It's just not, and the sooner more people realize that the better.
But that doesn't mean he gets a pass, either. Down years happen everywhere, I get that, but what you can't have happen is have multiple down years in a row. Ohio State had one of those this past season; it missed the NCAA tournament for the first time in eight years. That can't happen again. Next season is so vital to this program.
Matta said after this year ended it wasn't the most difficult season he's ever had strictly because of the youth. He knew there were going to be as many, if not more, downs than there were ups. That's what happens when you have a team made up of primarily freshmen and sophomores, none of which are one-and-done talents. And at the end of the day, this team still somehow got to 21 wins. 
There were signs of growth all over. Bates-Diop got better. Williams got better. Tate did, too. Even everybody's favorite player, Marc Loving, improved. If you didn't see that then I have a hard time believing you watched Ohio State play all season. But the Buckeyes couldn't compete with the top-tier teams in the Big Ten. Not last year, anyway. They just weren't good enough.
And that's OK. But it won't be next year.
Matta said multiple times he coached this particular team with the future in mind. The thought process behind that was he'd have the entire group returning, the players would develop in the offseason and Ohio State would be a much better team a year from now. 
That plan hasn't changed, and that's still Matta's expectation. He's just going to have to do things a little bit differently now as he clearly won't have the same team. Ohio State basketball is at a bit of a crossroads, one it hasn't been at in quite some time, and it's unfamiliar territory for this program under Matta.
As a fan, you're allowed to have concerns with the way things are right now. Those are warranted. But there also must be some perspective, and some patience. 
Things are never as good — or as bad — as they might seem.