Survive and advance has long been a March adage. If you're wondering what the definition is, it played out on Thursday during Ohio State's 63-61 win over Purdue.
The heavily-favored Buckeyes shot well below 40 percent from the field, their three-point shooting was almost non-existent and an old friend, free throwing shooting, nearly led to their demise. But it didn't. 
| Who | Where | WHEN | TV |
| --- | --- | --- | --- |
| Nebraska (19-11, 11-7) | Bankers Life Fieldhouse | 2:30 p.m. | ESPN (WatchESPN) |
That's how you get over a poorly played game and hit the reset button. Winning ugly hasn't been accomplished with much frequency this season.
"I feel like every team's going to play their best basketball what they step up on the court against us," senior guard Lenzelle Smith Jr. said. 
What eats at head coach Thad Matta is that Ohio State doesn't always answer the call. Sloppiness, inopportune turnovers and a lack of energy are just three things the Buckeyes have dealt with this season. It's not the usual crispness seen throughout the previous nine years.
The season in a nutshell played out in front of everyone Thursday afternoon. Except Ohio State came out on top instead of wilting as its wont to do.
"We made some ridiculous mental mistakes defensively, and we didn't do a good job taking care of the basketball," Matta said. "Hopefully, we can relax and think a little bit better and play a little bit better [Friday]."
At least they have the opportunity to, once again, survive and advance. 
Opponent Breakdown

If Tim Miles leaves his post as head coach at Nebraska, he'll stay nearby. As in the Governor's Mansion. Miles, the second-year coach of the Cornhuskers, has rejuvenated a fanbase and made a football school forget about spring practice. All of Lincoln is in the midst of basketball-induced euphoria.
Nebraska, 10-2 in its past 12 games, finished the regular season 11-7 in the competitive Big Ten and captured the No. 4 seed. The program's first trip to the NCAA Tournament since 1998 is inevitable. When Miles was hired two years ago, he spoke of a vision that included March Madness becoming a celebrated event on campus.
Few believed it was possible. And the ones that did believe in Miles didn't think he'd turn it around so quickly.
"I really thought if this team could get to .500 in the league, it would be a special accomplishment," Miles said Sunday after an emphatic win over Wisconsin. "For us to go 11-7 in this league, which is No. 1 or 2 in the country, is really an amazing performance by our guys."
To put it into context, Nebraska hasn't won 11 or more conference games since 1965-66. But this isn't the first reclamation project Miles has succeeded at in a far-off locale. He previously engineered turnarounds at Mayville (N.D.) State, Southwest Minnesota State, North Dakota State and Colorado State.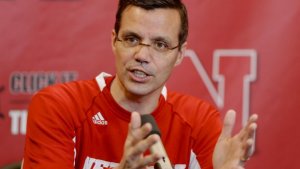 For the second consecutive year, the Huskers were picked to finish last in the Big Ten when the coaches and media convened at a Chicago O'Hare airport hotel in November. And once again, Miles reacted with self-deprecation. 
When Nebraska began the conference season 1-5, including a 31-point loss at Ohio State, many thought, "Same old Nebraska." But that's when the turnaround began, led by two transfers – Terran Petteway (Texas Tech) and Walter Pitchford (Florida). Petteway, a first-team All-Big Ten, is averaging 18 points per game, while the 6-foot-10 Pitchford is contributing 9.4 points and 4.7 rebounds. The third piece of the Huskers' Big 3 is forward Shavon Shields.
"Our togetherness is really good," Miles said. "We're not where we need to be, but this bunch has really bought in."
The man overseeing it all is the eccentric 47-year-old Miles, who's made basketball so relevant at Nebraska that tickets to Sunday's Wisconsin game were fetching as much as $250. The Big Ten's coach of the year, known for his halftime tweets, regularly interacts with students and has a youthful exuberance that connects well with fans.
Google him and you'll likely stumble upon selfies taken with Husker faithful. Soon, however, you'll catch glimpses of him shouting out defensive sets. For as much attention as Nebraska's offense has received, its defense is more impressive. The Huskers have limited eight of their past nine opponents to under 40-percent shooting.
"It's really a different day and age," Miles said. There's no better time to be the basketball coach at Nebraska. I'm very fortunate to have things other coaches didn't have at their disposal."
That's not coachspeek; it's reality. Nebraska plays in the sparkling $179 million Pinnacle Bank Arena, which opened in November to rave reviews. It turned into a massive home-court advantage for the Huskers, who lost one home game all season – by one-point to Big Ten champion Michigan. And when it isn't playing games, Nebraska practices in a $19 million facility.
After neglecting Nebraska's basketball program for decades, the administration bought in, leading to sell outs, victories – and dancing. 
Buckeye Breakdown

One down, three to go.
On Wednesday afternoon, a day prior to Ohio State's win over Purdue in the first round of the Big Ten Tournament, junior forward Sam Thompson said the Buckeyes had packed their bags for four days. The team's business trip wouldn't be ending prematurely.
That is, until it nearly did. Still, ugly or not, Ohio State advanced.
"We've been in quite a few of those this year," senior point guard Aaron Craft said. "It's about finding a way to advance. It doesn't matter how well or how bad we played. It's all about playing [Friday], and luckily, we get a chance to do that."
The mindset inside a college basketball team's locker room takes on an added intensity when the calendar flips to March. That was evident Thursday in Indianapolis when teams grinded through 40 minutes of one-and-done pressure. It's a level of play Ohio State's grown accustomed to throughout the Thad Matta era.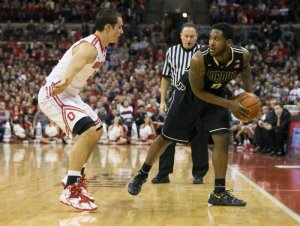 The Buckeyes have been in the Sweet 16 four consecutive seasons and appeared in the Big Ten Tournament championship game each of the last five years. The 2013-14 team isn't as heralded as its predecessors, but there's a newfound confidence that could make them dangerous the next four weeks.
"It's at a point where you've just got to suck it up and get the job done, and that's what it's going to be like if we are able to win on Friday," Craft said. "We've just got to keep going and put yourself behind the team goal."
The scene at the Big Ten Tournament is one of great intrigue. Many believe it could be the best in the event's 17-year history. Even though Michigan won the conference by three games, there's no clear favorite. And if the postseason presents the same kind of chaos that played out from December to March, everyone's in store for disorder.
The Buckeyes are tired of hearing about their erratic season. From 15-0 to 24-8, the soundtrack they've heard has been on repeat – poor shooting, free throw shooting is a weakness, improve in the clutch.
"At the end of the day, we're still Ohio State," Thompson said. "Whatever the expectations are for us, we know what we're capable of doing, we know what we've done in the past and we know what we expect to do this postseason."
Conference tournaments are a rare breed, loathed by some coaches and embraced by others. Count Matta in the group that enjoys the one-weekend sprint. He believes it helps prepare his team for the Big Dance. History is on his side.
Matta's been successful at every stop during his coaching career – Butler, Xavier and Ohio State. Those three schools also enjoyed tremendous success in their conference tournaments – and the NCAA Tournament.
"We're looking for the same thing we look for every year – we're looking to win the Big Ten Tournament championship," Thompson said. "Our goals haven't changed because of our seed or because of losses in the regular season."
And it's done nothing to change Matta's win-first philosophy.
Etc

Ohio State is 10-3 all time against Nebraska. The teams split this season's series.
Three Buckeyes averaged double-figures scoring against the Cornhuskers this season – LaQuinton Ross (11) and Aaron Craft and Marc Loving with 10.5. Craft also had seven assists and five steals.
The Buckeyes defeated Nebraska 71-50 in last year's Big Ten Tournament. 
Lenzelle Smith Jr. scored his 1,000th-career point in Thursday's win over Purdue. 
In 10 career Big Ten Tournament games, Craft is averaging 11.1 points with a total of 46 assists, 18 steals and six blocks.