Playing Indiana at Assembly Hall is a hellish experience.
There's so much to hate about playing at Assembly Hall – haughty fans, those stupid striped pants, Tom Crean's all-around dickishness, the Hoosiers getting calls that would make an NBA All-Star blush – and another factor for the game on Sunday that trumps them all. You see, Indiana is playing mind games with Ohio State: will a piece of ceiling come loose and injure an Buckeye player? We'll never know until we find out!
To Indiana, the falling beam that made so many headlines last week represents a season that is falling apart. The Hoosiers are 6-9 in conference play one year after an outright Big Ten title, 16-12 after receiving a top seed in the NCAA Tournament. The damage was as unexpected as Indiana's regression.
To Ohio State, it's a reminder that Buckeye hoops has a foundation that's 15 years ahead of Indiana's. We know this because it has been fifteen years since Ohio State abandoned its own outdated venue: St. John Arena.
Wanting a more permanent home than the Ohio Fairgrounds, Ohio State built St. John Arena in 1956. Named for former athletic director Lynn St. John and located across the street from Ohio Stadium, it cost a paltry sum: $4 million, roughly $34 million in 2014 dollars.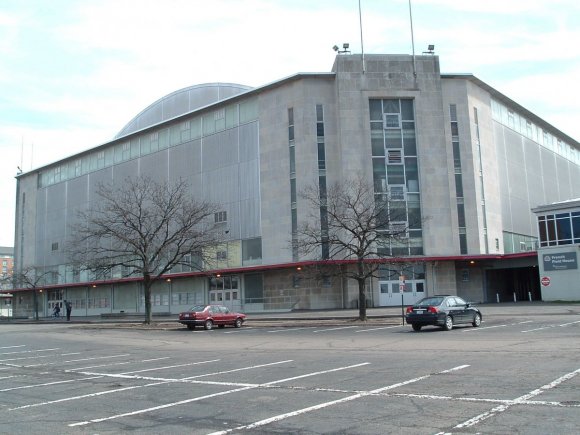 The exterior of St. John Arena is ugly as sin. With its boxy design and corrugated metal siding, it has all the grace of a Soviet skyscraper. The real beauty is the interior: 13,000 wooden chairs and a gleaming court, concrete floors with a dark sheen, scarlet banners covering the walls. It has real cachet.
Forty years of basketball teams played on that court, including Ohio State's only NCAA title in 1960. When it hosted full crowds, it was famously raucous. Its octagonal shape made even the worst seat in the house closer to the action than the entire upper deck at the new arena.
It's a beautiful arena with tremendous sentimental value. It's still in good shape. The volleyball, gymnastics and wrestling events it hosts are warm and friendly. If Ohio State wanted, it could have played basketball there for a few more decades.
Instead, the Buckeyes play at the Schottenstein Center. The university will bulldoze St. John Arena in a few years.
---
Ohio State moved into the Schottenstein Center in 1998, and in all the time since we've cultivated complaints about the no-longer-new arena. It's too big. It's too cold. The seats are too far away. Walking another half-mile to the arena is so inconvenient. The acoustics suck. It doesn't have the same aura. It just isn't St. John.
No, the Schott isn't St. John Arena. It's better.
The mid-1990s did a lot to kill Columbus's interest in Ohio State men's basketball. A new arena helped revitalize interest – especially when Jim O'Brien took Ohio State to the now-vacated 1999 Final Four. Ten years of Thad Matta winning increased Ohio State's exposure; after appearing on national television so often for the last decade, the Schott is becoming a nationally recognized arena.
The top complaint about the Schott, its acoustics, is fading with time. As the Buckeyes have kept winning, fans filled the 19,000 seats. The student section, known as the Nuthouse, gives the arena energy to spare. The Schott has hosted its share of electrifying games, like ruining Michigan's undefeated season in 2013 or a #1/#2 match-up against Wisconsin in 2007. Its greatest moment, the 2005 victory over top-ranked and undefeated Illinois, was every bit as electric as people say St. John was.
The Schott is a multi-use stadium in ways St. John Arena never could be. It has luxury suites, a bigger jumbotron, and more comfortable seats. It has more concessions and bathrooms to handle people. It hosts P!nk concerts and dirt bike racing and Arnold Expo events, and it can hold those with far bigger crowds. It attracts tours and events that otherwise would have passed Columbus over.
Ohio State made the decision to forgo nostalgia for progress fifteen years ago, and the program has been on an upward climb ever since. The $115 million price tag on the Schottenstein Center ($155 million with inflation) was worth every penny.
---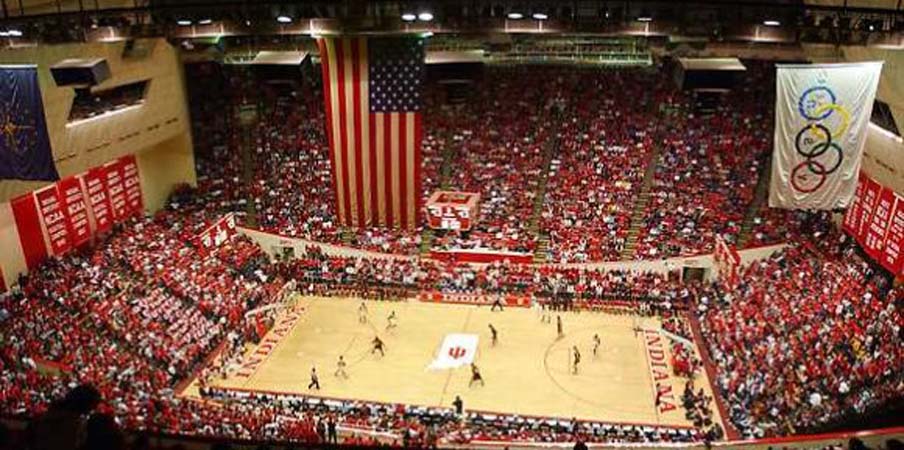 By comparison, Assembly Hall is kind of a ripoff. Indiana built Assembly Hall in 1971, stealing its name from the Assembly Hall Illinois built eight years earlier. Indiana built the arena for a more lavish $26.6 million dollars, $155 million in 2014 dollars. Indiana's three basketball championships since then have established national cachet for Assembly Hall. Even when the Hoosiers were mediocre, ESPN loved to visit.
Recently, Indiana had a choice: renovate Assembly Hall, or build a new, improved arena? Renovations would have cost $115 million and a new arena would have cost $130 million. Despite a new arena providing more function at a bargain price, the school administrators decided to renovate in a few years.
Only a few months ago, the school announced it accepted a $40 million donation for renovating the aging arena. Too late; as of last week, Assembly Hall was literally falling apart. No one knows what Indiana will spend to fix that, but it must be millions. After all, nobody wants to get sued by the family of the poor sucker the second beam falls on.
If Indiana administrators ever do decide to tear down Assembly Hall for a new arena, expect Hoosiers fans to wail and whine. If they get their way, Indiana will keep Disassembly Hall – in all its cramped, overrated, dilapidated non-glory.
Unfortunately for Indiana haters, I'll have to skim over the amusing failures of Bobby Knight, Mike Davis, Kelvin Sampson, and Tom Crean. Instead, focus on the "return to glory" narcissism Indiana fans bought into last year. Indiana still thinks it's a top-5 program, even though it has nothing to boast about since Hulkamania was running wild.
---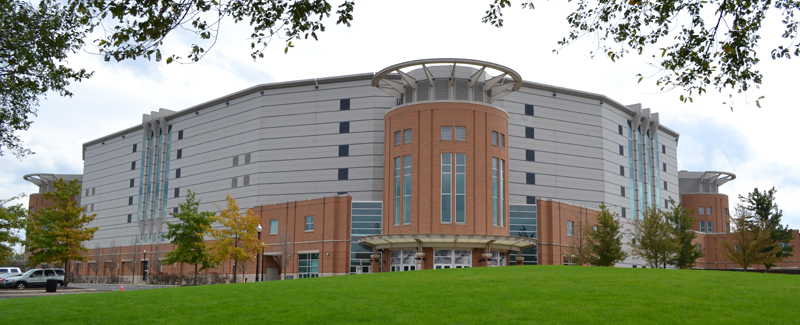 Despite the most ardent Buckeye fan's protests, Assembly Hall has St. John Arena beat in national perceptions of prestige. But the last fifteen years have shown what a difference the two programs are going in.
Fifteen years after losing the reason for its existence, St. John Arena is quaint and functional. I've seen the intimate atmosphere of wrestling meets and men's and women's volleyball games. I have felt the buzz of the crowd for my freshman class's convocation and the din of jubilant Skull Session crowds. 
I'm not sad to see St. John Arena go. Ohio State soon will destroy it to make way for parking lots and dormitories, but Covelli Arena will be St. John's spiritual successor. Ohio State men's basketball will continue to excel in a modern arena. All is well.
Ohio State found a balance between old and new that left room for a promising future. What's your excuse, Indiana?