The Buckeyes have a penchant for playing interesting, unpredictable games. Playing well is another matter.
You would be forgiven if Ohio State's 64-46 win over Minnesota last night gave you a stress migraine. After all, the men's basketball team has a penchant for toying with fans' blood pressure.
People who skipped the game may see an eighteen-point win and think nothing of it. Those who sat through it will retain memories of the Dr. Jekyll and Mr. Hyde routine the team put on in each half.
In the first half, Ohio State shot an abysmal 27% from the floor. Aaron Craft was downright careless with the ball and  played what might be the worst half of his four years in Columbus. The Buckeyes gave a staggering Minnesota team a ten point lead in the midst of its worst first half this season.
Sam Thompson concurred, calling it, "...definitely the worst we've played. Coach Matta said it at halftime. Up to this point in the season, we hadn't come out and just laid an egg, and we did that in the first half."
In contrast, the second half was Ohio State at its best. After an opening bucket by the Gophers, the Buckeyes went on a scintillating run to reverse the game's fortune. Every defender harassed his man into a tough or blockable shot. Everyone pounded the glass like madmen, leading the Buckeyes to out-rebound a much taller Minnesota team by 15.
Shannon Scott and Sam Thompson turned into Dwyane Wade and LeBron James on the fast break, Amir Williams of all people acquired Gary Payton's hands, and Aaron Craft became John Stockton. Scratch that, comparing Craft to another scrappy white point guard is a bad idea; Aaron Craft became Chris Paul.
It was a beautiful, devastating display. Minnesota coach Richard Pitino had to call three successive timeouts to stanch the bleeding. Pitino admitted that the nine second half turnovers were crippling and OSU "...made us pay probably on every single one of them." By the time the 27-5 run was over, so was the game.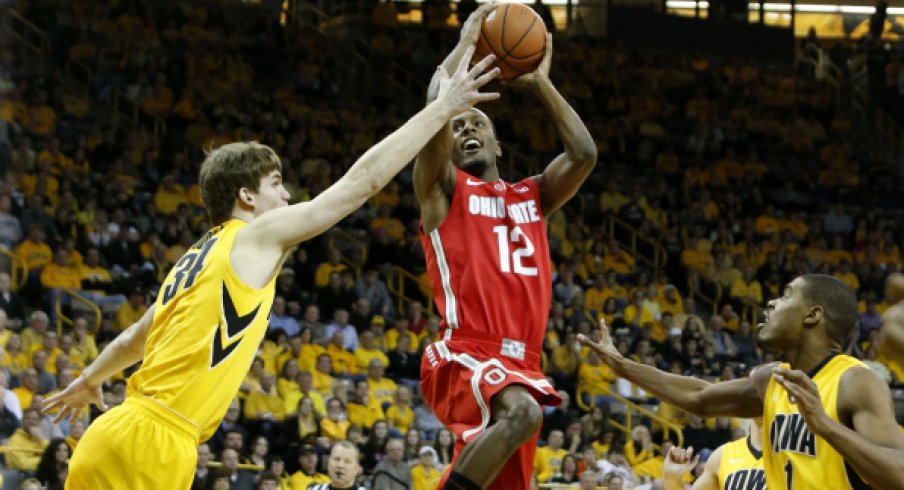 This ought to count as an impressive win. The problem is that we've seen this game before, and it bodes poorly for the postseason.
A few days ago, Ohio State trailed a overmatched Northwestern squad before blowing the doors off in the second half. A few nights before that, the Buckeyes wheezed their way to 48 points– good enough to win only because the cellar-dwelling Illini could only cough up 39 points of their own.
Michigan State made the Buckeyes look foolish until a furious comeback brought the Buckeyes back from 17 down (alas, overtime went awry). Even in the halcyon days of 2013, the listless Buckeyes had to make up eight points in the final 50 seconds to steal a game against Notre Dame.
You may sense a trend in these nerve-wracking games, and that's falling into a big deficit only to steal the game with a late rally. These kinds of wins help get Ohio State into the field, but they set a horrible trend about variability.
This is the most variable team of Matta's tenure by far. Which of Matta's other teams has a disparity as wide as beating Iowa and Wisconsin on the road and losing to Penn State at home? What other team could shoot 27% and 70% in two halves of the same game?
Every time the team does something like shoot 51% against Iowa, it turns around and shoots 38% against Illinois. Sam Thompson can score 4 points one game and a season-high 19 the next. Somehow, the Buckeyes destroyed Nebraska by 31 and lost a rematch by 6 in a span of two weeks. It's baffling. 
You could say Ohio State's unpredictability makes it dangerous, but that's polishing a turd. If everyone has an off night, the team will crash – which brings me to the NCAA Tournament.
Ohio State's variability makes it ripe for a round of 64 upset. If the Buckeyes continue as expected, they'll end up in a 5-12 game. If that happens, expect to hear hollering about how Ohio State is the most vulnerable 5 seed in the history of the universe. Prepare for clamoring until your ears hurt; worse, prepare for those loudmouths to be right.
If OSU stays this variable for the rest of the year, there's another ignominious record this team could challenge for. They could well be on either end of the largest comeback in NCAA Tournament history.
The current record for largest comeback is 25 points, from the 2012 BYU-Iona play-in game. If Ohio State plays the right fast-paced opponent (like BYU, the sixth-fastest team in the country), it will have enough variance to overcome or blow that margin.
All it needs to do is repeat the Minnesota comeback by getting hot and playing shutdown defense. Ohio State could just as easily hit a trademark cold spell and fall apart en route to blowing a huge lead. The aggravating thing about the Buckeyes is that you never know which team is going to show up for the next five minutes, let alone an entire game.
For all we know, the Buckeyes will bow out of the NCAA tournament with a quiet five point loss. The point is that a team this streaky, one that can win at Iowa or lose to Penn State or split halves like they did against Minnesota, needs to get hot and stay hot for six games to win a title.
That's not going to happen if this team doesn't establish a baseline. Until this team develops some consistency, the best they can hope for is an unspectacular finish.