The 10-week Big Ten schedule is a grinding segment that features countless ups and downs. It isn't unheard of for frustrations to set in, even for the best of teams. Many would say it'd be surprising if there weren't a few dustups. Oftentimes, the most together, cohesive group is crowned champions.
Unless a minor miracle takes place the next two weeks, Ohio State will not be the Big Ten champions. However, they have shown they're a team. Whether it was reacting so positively to a closed-door meeting or coming to one another's aide in a scuffle against Northwestern, the Buckeyes will leave no man behind. 
| Who | Where | WHEN | TV |
| --- | --- | --- | --- |
| Minnesota (17-10, 6-8) | The Schott | 6:00 p.m. | BTN (BTN2GO) |
Head coach Thad Matta gave the usual buttoned-down responses when he was asked about the fracas between his team and the Wildcats, though he did applaud his players for looking out for each other. 
"I like guys standing up for teammates," Matta said. "Obviously, the execution may not have been appropriate at that time, having that control. But, hey, things happen.
"I wouldn't say that I'm proud. I don't like that at all. I didn't like the situation. But you've got a group of guys who spend a ton of time together and somebody swings at a guy. That's how trouble gets started, so you can't have that. That's the politically correct thing. We won't stand for that."
The incident took place late in the second half of Ohio State's 76-60 win Wednesday night. Northwestern's Nikola Cerina shoved Amir Williams and then threw a punch. LaQuinton Ross then rushed in and shoved Cerina. After the officials, Matta and Chris Collins regained control on the court Cerina and Ross were ejected. Cerina is suspended for the Wildcats' game this weekend.
"With the amount of time you spend with each other, you're definitely family," said senior point guard Aaron Craft, who pulled Ross out of the melee. "So when you see one of your brothers getting into it, you want to come to his aide and help out. Did Q help him out the best way? Absolutely not. There are ways to defend and help one another on the floor without doing it after the whistle."
On Saturday night, Craft and Co. hopes those "ways" are through made baskets. 
Opponent Breakdown

At 6-8 in the Big Ten and coming off a loss to lowly Illinois, Minnesota is squarely on the NCAA Tournament bubble. The quickest way to correct that is by winning at Ohio State Saturday night to complete a season sweep of the Buckeyes.
To get there, the Golden Gophers must right some serious wrongs. They only scored 22 second-half points against the Illini and were, quite simply, bad. Minnesota finished 4 of 25 from three-point range and committed 15 turnovers in arguably its worst performance of the season.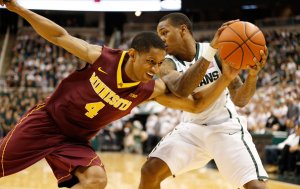 "We just did some unspeakable things," first-year head coach Richard Pitino said. "Why? I don't know. We haven't done it all year."
Guarding the perimeter proved to be too tough a task for the Gophers, as Illinois lit them up to the tune of 8 for 13. And the Illini aren't even a good three-point shooting team. Ohio State's shooting is anything but spectacular, though the Buckeyes are coming off an impressive outing against Northwestern.
Pitino has brought a methodical offense to the Twin Cities, but Minnesota's prone to being stifled by quality defense. That is something Ohio State does possess. Against Illinois, the Gophers had two turnovers on inbounds passes and point guard Deandre Mathieu recorded three points, three assists and three turnovers. They're 0-6 in the conference when he doesn't score at least 10 points. 
The biggest roadblock for Mathieu is fighting through traps on ball screens. Multiple times this season, he's struggled with them, admitting Wednesday it's something that needs ironed out. If the Buckeyes can rattle Mathieu and continue forcing Minnesota to settle for bad shots, the Gophers' results verge on subpar.
When Pitino was hired, he promised an up-tempo game with evidence of that from his lone season at Florida International when it was one of the fastest teams in the country. Minnesota blamed it's plodding style this season on opponents playing well in transition.
"Teams are sending two or three back before we even get a chance to really get it going," Mathieu said.
Pitino said it's as simple as wanting to play smart or dumb. If speed isn't in the equation, there's no need to force it.
"I certainly want to be intelligent about the way that we play," he said. "I want to execute."
And that's exactly what the Gophers have done. They're one of the most efficient teams in the country when it comes to offense. If Minnesota returns to that productivity, it could receive a boost to its tournament resume.
"There's a lot of basketball to be played," Pitino said. "We don't talk about the NCAA tournament. I'm going to talk to them about all the little things that we made a lot of mistakes on."
Buckeye Breakdown

So, that's what it looks when Ohio State shoots well? Forgive people if they forgot. The shooting performance against Northwestern Wednesday night was something not seen since the North Florida game in late-November.
The Buckeyes, ranked in the bottom half of the Big Ten in almost every category related to shooting, went on a tear at the end of the first half and never let up. They scored on 20 of 22 possessions, were 7 of 16 from three-point range for the game and shot 46 percent from the field.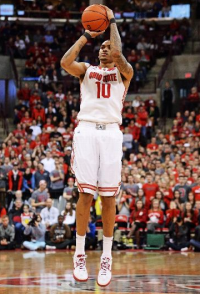 "When we're knocking down shots, it just adds another dimension to our game," junior forward Sam Thompson said. "Teams have to guard us a different way. They can't just sit back and pack the lane. Every guy out there is confident shooting the ball."
Even though Ohio State broke out of a January funk, it still wasn't winning games with a pretty style. It did so with defense and oftentimes by scoring fewer than 70 points. But the Buckeyes exploded for 76 against the Wildcats, their most since scoring the same amount on Feb. 4 and just days after a 48-point effort at Illinois.
Ohio State did its customary turn defense into offense. But it also created shots by making shots. When multiple players are connecting – the Buckeye had four players finish in double figures and another tally nine points – it stretches the defense. Suddenly, driving lanes that were previously unoccupied become filled with scorers. It also upped Ohio State's free throw attempts.
"Getting the offensive flow was good for us," Matta said.
LaQuinton Ross went through a prolonged shooting funk at the outset of the season, but he's now reached double figures in 16 of his last 18 games. Lenzelle Smith Jr., who was mired in a similar rough patch, has scored 10 or more points in seven of nine games. On Wednesday, Thompson tied a career best with three 3s.
The Buckeyes are intent on continuing a recent surge that's seen them go from possibly on the NCAA Tournament bubble to a high seed. At 21-6 overall and 8-6 in the Big Ten, Ohio State is on an upward trajectory. But it can crash without a moment's notice.
"Obviously, playing with a lot of confidence helps a lot," senior point guard Aaron Craft said. "It always helps having a couple of wins under your belt going into it."
He admitted the Buckeyes are far from perfect. Anyone with an ounce of basketball knowledge realizes that. But they've displayed a much better work ethic, team work and basketball savvy.
"We're covering up more mistakes now because we're playing harder," Craft said. "If a guy gets out of position, we're not pointing fingers and we're not expecting that since they messed up they should try to fix it. We're picking each other up."
Etc

Ohio State leads the all-time series with Minnesota 80-56. The Buckeyes have won the last six games at home against the Gophers.
LaQuinton Ross leads the Buckeyes with 16.0 points per game in the Minnesota series.