The significance of home court advantage has been debated for years. Statistics show that home teams are more likely to win regardless of the sport, and in college basketball, the Big Ten's historically been one of the toughest conference's to crack the home court code.
But since Jan. 25, a phenomenon of sorts has taken hold. Road teams have won more than 50 percent of conference games, including five of six this past weekend. It lends credence to the coaches' frequent use of clichés that say any team can win on any night. 
| Who | Where | WHEN | TV |
| --- | --- | --- | --- |
| Northwestern (12-14, 5-8) | The Schott | 7:00 p.m. | BTN (BTN2GO) |
"I think it's the nature of this league and the nature of college basketball," Ohio State head coach Thad Matta said. "Top to bottom, this is as good as the league's ever been. Nothing is easy."
Matta's seen firsthand how funky things can get. After beating Nebraska by 31 points in early-January, the Buckeyes lost to the Cornhuskers later in the month. Then Ohio State blew a late second-half lead at home and lost to Penn State. The Buckeyes have lost three home games this season, their most in six years. Meanwhile, they're in the midst of a three-game road win streak.
The Big Ten is currently projected to receive six NCAA Tournament bids, according to most bracketologists. It's a surprising number when you consider the league has exactly zero teams ranked in the top 10 in the latest Associated Press top 25 poll. But five teams are ranked and four appear in the top 20 of the RPI.
"It makes the league more unique," Iowa coach Fran McCaffery said. "Every other league has bad teams. We don't have bad teams. At the end of this thing, somebody is going to win the league. I don't know who that is right now because every night you have to bring your 'A' game. You can't bring your 'B' game in this league and expect to win. You're probably going to get embarrassed."
Northwestern's first-year head coach Chris Collins discovered that early on. The longtime Duke assistant was used to a finesse brand of basketball, something the Big Ten couldn't be more different than. The Wildcats went 7-6 during the non-conference portion of the schedule and began the Big Ten slate with three consecutive losses before winning five of seven.
The high-water mark included wins at Indiana, Wisconsin and Minnesota. With three weeks remaining in the regular season, Northwestern is 5-8 in the Big Ten, meaning another March of spectating the Big Dance unless it produces a miracle in Indianapolis. 
"I've been so impressed in my first year how hard everybody plays," Collins said. "The effort is always there, the intensity is always there. With every game, it comes down to the last four minutes and who executes better down the stretch."
Opponent Breakdown

The record – 12-14 overall and 5-8 in the Big Ten – might be nondescript, but Chris Collins is building Northwestern's basketball program piece-by-piece. So far, Year 1 can be considered a success. The Wildcats have won at places like Indiana and Wisconsin, and established a new identity.
Sure, the scoring and shooting have been lackluster. Then you look at the misfits Collins has molded into capable players and the picture becomes clearer. After uninspiring losses to Illinois State and DePaul, Collins adapted, scrapping some of the Duke element he brought with him, and relied more on defense. Running up and down the court isn't Northwestern's element – yet.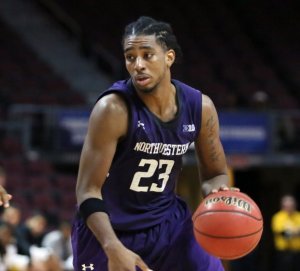 There were further concessions when the Wildcats started the Big Ten season on a three-game losing streak. Northwestern allowed teams to shoot nearly 55 percent in those three contests. Point guard Dave Sobolewski then suffered an injury, which led to the emergence of JerShon Cobb. The junior is averaging 12.4 points, 4.8 rebounds and 2.4 assists per game. Drew Crawford and Tre Demps also get more involved with Cobb running the point. The duo averages 26 points per game.
Collins delivered a moving speech after a loss at Iowa, where players said he was nearly in tears. They saw a coach who was hurt by a lack of effort and toughness. It translated to the team who looked one another in the eye and promised not to reach that low again.
Former head coach Bill Carmody did plenty of good for the basketball program at Northwestern. During his 13 seasons, he led the Wildcats to four appearances in the NIT and had them on the brink of the NCAA Tournament. But his nonchalance didn't always resonate with a team that needed urgency.
Northwestern is only allowing opponents to shoot 34 percent since the first three conference games. Defense will remain a hallmark of Collins' teams in Evanston, but he eventually wants to launch an up-tempo offense.  The ringleader will be Cobb.
In the past two games, he's scored 22 and 23 points. He's averaging 18.5 points the past four games and has topped the 20-point mark four times this season, scoring 19 on two other occasions.
Crawford, a senior, scores at an even greater clip, despite his most recent 1-for-15 outing. But he won't be at Northwestern for another year to see Collins' improvement. On Wednesday, though, Ohio State will probably be glad it only sees Crawford once this year. He's topped 20 points five times and 30 once.
"We will ride him no matter if he shoots 1-for-15 or 10-for-15," Demps said. "He runs the ship. We expect him to lead and be aggressive."
Buckeye Breakdown

Ohio State is no longer a mystery. Twenty-six games into the season, it's clear what the Buckeyes are: a team that's limited offensively and elite on defense. What it means is the starting five and sixth man can't be the only contributors. To peak in March, the bench must grow.
The first steps of that process took place Saturday night when Shannon Scott, Marc Loving, Amedeo Della Valle and Trey McDonald gave Ohio State 17 bench points in a 48-39 win at Illinois. Loving in particular provided a much-needed spark. The freshman sharpshooter has potential to be the offensive ingredient the Buckeyes covet most.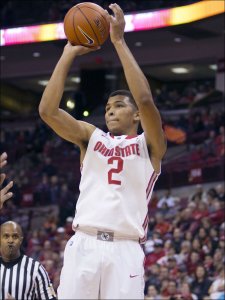 Prior to Saturday's outburst, Loving hadn't made a field goal in seven games or scored in four games. He was 0 for his last 11 before scoring eight consecutive points in a 12-0 second-half run by Ohio State. Throughout the slump, veterans such as Aaron Craft, Sam Thompson and Scott encouraged Loving and acted as reassuring voices. 
"I really needed that," Loving said. "Not going through this before, like in high school, I just had to get more reps in on my off time. It feels good to see the ball go in the rim. After you see one go in, being a scorer, you feel like you can put multiple in."
Loving, a Toledo native and Mr. Basketball in the state of Ohio, came to Columbus with high expectations, but not for immediate results like previous winners Jared Sullinger and fellow Toledoans Jim Jackson and William Buford. However, Loving scored 13 points against Nebraska and 10 at Michigan State, offering a glimpse of promise.
It vanished until Saturday night. After the game, Craft spoke of keeping Loving humble while boosting his confidence at the same time.
"To have Marc coming in and scoring, we would gladly welcome that with open arms," head coach Thad Matta said. "Bring it on, we'll take it."
Loving admitted that much of his issues related to the mental side of the game. Proficient scorers don't take slumps well, which is why one good game after a handful of bad ones can reinvigorate jump shooters.
"As he was struggling through that stretch, he was struggling in practice making shots," Matta said. 
Said Loving: "I think every shot I shoot is going to go in. So if I miss one, I think 'Oh, the next one's gonna go.' If I miss that one, I felt the next one's going to go in. Eventually, it was going to go down."
Etc

Ohio State leads the all-time series with Northwestern 113-45. The Wildcats haven't won in Columbus since February, 1977. 
Illinois native Lenzelle Smith Jr. averages a team-high 13 points per game against his home state foe. 
The Buckeyes rank fourth nationally in three-point field percentage defense (27.3 percent) and eighth in scoring defense (58.5 points per game). Ohio State also ranks in the top 20 in fewest fouls per game and scoring margin.
Aaron Craft has been named a finalist for the Bob Cousy Award, which goes to the nation's best point guard. Craft ranks seventh in the country in total steals with 65.