Whether it's football, field hockey or track and field, there's animosity between Ohio State and Michigan. For years, Indiana was public enemy No. 1 for the Basketball Buckeyes, but the Wolverines' return to relevance combined with Ohio State's national standing has reinvigorated the rivalry.
"The fans get a little more excited about it," senior point guard Aaron Craft said. "It's always great to feed off your own fans' energy. There are people out there camping outside right now in this weather. That makes you want to play a little harder."
| Who | Where | WHEN | TV |
| --- | --- | --- | --- |
| No. 15 Michigan  (17-6, 9-2) | The Schott | 9:00 p.m. | ESPN |
Last season, Ohio State and Michigan played twice with both games resulting in classics. The team's split the series as Craft and Trey Burke took center stage. A possible matchup in the national championship game came close to being a reality.
Both teams were projected highly again this season. But they've had their share of struggles – and successes. The Buckeyes were 15-0, then lost five of six and are now on a three-game win streak. The Wolverines were 7-4, won their first eight games in the Big Ten and have since fallen back to Earth.
They meet Tuesday night in a monumental game for each program. For Ohio State, a win represents another boost for the postseason resume and continues good vibes. A fourth consecutive win would give Matta his 20th for the season, keeping alive a career-long streak. If Michigan loses, it strikes a blow to its conference championship hopes. The Wolverines and Michigan State are currently tied atop the standings at 9-2.
"This is a big one for us," junior center Amir Williams said. "We just have to be ready to play. We can't come out lackadaisical and come out like it's just some other game. It's a priority to build our standing in the Big Ten and help our place in the Big Ten Tournament."
Opponent Breakdown

During Michigan's eight-game sprint to begin the Big Ten schedule, Nik Stauskas went on a tear few shooters experience. He made half his three-point attempts and scored 20 points per game with ease. It was an abnormal stretch that has since been cooled. But it's not Stauskas who holds the keys to the Wolverines' success, it's Glenn Robinson III.
His struggles went under the radar when Michigan was winning. Now that it suffered two losses in a week, Robinson's issues have entered the spotlight. There's playing down to the competition and then there are Robinson's stats. He's yet to make three second-half field goals against opponents inside the RPI top 50.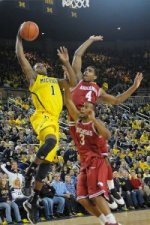 In Michigan's humbling defeat at Iowa Saturday, Robinson played perhaps the worst game of his career. He finished with two points and was held scoreless for 23 minutes. It came days after Robinson scored 23 points on 8-of-14 shooting in a thumping of Nebraska. But he's been a non-factor on the road.
Robinson entered the season as a potential NBA lottery pick. Those chances have all but disappeared. One of his advantages is being so versatile. Robinson can score down low, make jump shots and spot up at the three-point line. Despite his height and athleticism, he rarely gets offensive rebounds or reaches the charity stripe. It reeks of succumbing to pressure.
With Trey Burke and Tim Hardaway Jr. forming one of the nation's best duos last year, there was no reason for Robinson to be "the man." But when they departed for the NBA, Robinson became a focal point of the Michigan offense. However, the go-to demeanor still hasn't taken hold. Too often, he's hesitant to take important shots.
"It's trying to find what he's comfortable with and putting him in situations like that," Michigan head coach John Beilein said. "Then he has to go up believing that the shot is going in. We are pumping that up because when he's involved, when he's scoring, we are a tough team to guard."
Buckeye Breakdown

Funny what a little bit of confidence can do. In December, as Ohio State was humming along with win after win, it regrouped in less than a minute to beat Notre Dame. But when the losses piled up, the late minutes were not kind to the Buckeyes.
They've since reverted to their winning ways with the catalyst being a new mindset. Ohio State held a players-only meeting prior to its trip to Wisconsin, which played host to the Buckeyes' first of three consecutive victories. The gathering acted as both an airing of grievances and uniting experience.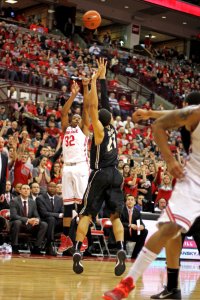 "We're playing for one another, we're lifting each other up," senior guard Lenzelle Smith Jr. said. "I think our maturity as a team has picked up a little bit. Ever since I had that interview and I was saying we were missing camaraderie and leadership, I think we found a lot of that stuff we were missing, and it's great because this is the time when you want to be playing your best basketball."
Like so many times before, there's the appearance that Matta's team is peaking with the NCAA Tournament in the near future. The formula is simple, adequate offense and the usual stout defense. It's been the common denominator in each of Ohio State's 19 wins.
It sounds easy with a hint of clichés. Obviously offense and defense together wins games. But for a Buckeye team that's limited offensively, the paths to victory are reduced.
"Any time you can get wins, it adds confidence to the team, so that's a great thing for us," junior forward LaQuinton Ross said. "It's a great feeling. Winning cures all, like I said before, and that's what I've been doing lately. I think everybody's been feeling a lot better."
One critical matchup Tuesday night will be Craft guarding Nik Stauskas. There might be a height different between the two, but Craft's defense could determine the game's outcome. His containment of Trey Burke the past two seasons befuddled the Michigan point guard and was the biggest factor in the Buckeyes' triumphing over the Wolverines.
"You like to feel good, you like to feel great, but right now, geez, one bad segment of a game could cost you the game with what we have left on our schedule in terms of who we're playing, when we're playing, where we're playing." Matta said.
Etc

Ohio State leads the all-time series with Michigan 93-73. 
Thad Matta is 17-4 against the Wolverines in his career. 

Michigan has not won in Columbus in more than 11 years.