My, how quickly things change.
With multiple games each week, college basketball teams' seasons can fluctuate as much as the stock market, with win-loss charts resembling the Millennium Force or, in some cases, the Demon Drop.
| Who | Where | WHEN | TV |
| --- | --- | --- | --- |
| Purdue (14-9, 4-6) | The Schott | 6:00 p.m. | BTN (BTN2GO) |
Ohio State's season has already played witness to supreme highs and possibly the lowest moments(s) of the Thad Matta era. The Buckeyes started 15-0, a streak that included an improbable final-minute comeback over Notre Dame in Madison Square Garden. But a four-game losing streak and five losses in six games during the month of January halted lofty expectations.
Now, February has proven to be a refuge. Ohio State's won consecutive road games over ranked opponents for the first time this century. The last time it happened – 1999 – the Buckeyes advanced to the Final Four. No one is predicting a sequel, at least not yet. Instead, it's just more proof how wacky the Big Ten and college basketball season is.
"With all the parity in the standings right now, it's maybe as challenging as I've seen it, just in terms of teams are losing at home," Matta said. "The quote unquote bottom of the league obviously can beat anybody on any given evening. It definitely makes for the brutality of what you go through every single night."
Opponent Breakdown

With a month remaining in college basketball's regular season, Purdue is on the outside looking in when it comes to the NCAA Tournament. The Boilermakers, coming off a win in a triple-overtime thriller over Minnesota, are 4-6 in the Big Ten. But a three-game stretch against Ohio State, archrival Indiana and Michigan State could thrust them to the top half of the conference.
To reach that level, Purdue will need to perform at its highest level of the season. Attempting to pave the Boilermakers' path with yellow bricks are seniors Travis Carroll and Terone Johnson. The duo's plan includes turning leadership into positive on-court results.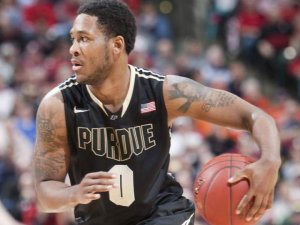 Carroll and Johnson share the same major – organizational leadership and supervision – and believe some simple classroom lessons could translate into better basketball.
"There are so many different leadership styles, and you can really pull parts from each of the styles," Carroll told reporters. "Usually there's not one person that's the same with how they lead a group of people. I try to pull some parts from everything I've learned in those classes and try to be the best leader I can be."
The makeup of Purdue's current roster contains a bridge. There are five seniors, but that's where the scholarship upperclassmen end. The remainder of the roster is freshmen and sophomores – 10 in all. That's where Carroll and Johnson's leadership philosophy comes into play.
The veteran Boilermakers are trying to lead by example and exhibit an unselfish demeanor on the court. The hope is it will become contagious and contribute to more wins. Carroll plays fewer than 10 minutes per game, but his impact is felt greatly in practice and the locker room.
"Travis has done a great job of just coming to work every day and really being committed," head coach Matt Painter said. "No matter if he plays a little bit, a lot, whatever, he shows up the next day and plugs and works hard and always has a positive word for his teammates."
Johnson leads the team in scoring (12.6 points) and minutes played (30.7), and is second in assists (2.2), third in steals (0.9) and fourth in rebounds (3.9). He's also the best three-point threat. Simply put, Johnson is a cornerstone in Purdue's success.
Proving his leadership speech is legit, Johnson's scoring – and shot output – has decreased since Big Ten play started, while his assists and rebounds have increased.
"He is the face of our team, and he's a great player," fellow senior Sterling Carter said. "He's realized that he doesn't have to do it all by himself, and he's been a great teammate. He's been giving up the ball when he's supposed to. He's been trying to play a little bit better defenses."
With a three-game gauntlet awaiting, Carroll and Johnson's effectiveness will be on full display in the win-loss column. Positive results could yield a return to meaningful March basketball for Purdue.
Buckeye Breakdown

As Ohio State was in the midst of its worst stretch in years, Aaron Craft was experiencing his first prolonged losing spell ever. In high school, Craft was an all-state athlete in both basketball and football for state juggernaut Findlay Liberty-Benton. Undefeated seasons in the fall and winter/spring were the norm, not a month-long nosedive.
One week ago, it appeared a season-defining loss was going to take place at Wisconsin. The Buckeyes trailed by eight points with less than eight minutes remaining. But Craft took over, and he hasn't let up.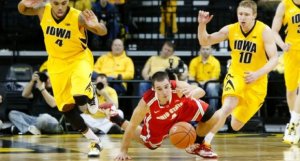 At the four-minute mark, Craft had zero points. He would score seven straight to lead Ohio State to its biggest win of the season. Three nights later, he had one of the finest performances of his career. Craft finished with 17 points, six steals and six assists as he guided the Buckeyes to another signature win.
"I hope we can build off that," Craft said.
His impact wasn't limited to offense. Of course, Craft displayed the usual tools that make him a defensive stalwart. Iowa guard Roy Devyn Marble scored 22 points against Ohio State in January, but he was limited to 10 points and four turnovers Tuesday.
"I think we've finally found our groove," junior center Amir Williams said. "We're playing together, and I think once we continue to play together as a team we're one of the best teams in the Big Ten."
For the Buckeyes, it's better late than never. From doom and gloom to smiles and laughter, it'd been a whirlwind five weeks.
Etc

Purdue leads the all-time series with Ohio State 83-80. The Buckeyes have won five of the last six meetings overall and eight of nine in Columbus. 
Thad Matta is 15-6 against the Boilermakers in his career. 
Aaron Craft is four field goals shy of 400 for his career, which would make him just the sixth Ohio State player to tally 400 career field goals and play 4,000 or more minutes. The others are William Buford, Jon Diebler, David Lighty, Jamar Butler and Herb Williams.