George Washington III lost track of the count.
The first commit in the Buckeyes' 2023 recruiting class couldn't even place a number on how many phone calls from Ohio State coaches Chris Holtmann and Ryan Pedon started as quick chats about hoops before turning into hour-plus-long dialogues about a wide assortment of topics.
Washington eventually fell in love with the Columbus campus and began to see a reflection of himself in the type of players Holtmann and company recruit to the program. But first, the connection that reeled him in was built while discussing his youth group, fielding questions about his younger brothers and parsing through points of common ground with the two men that will soon coach him at the next level.
"It was probably one of the things that helped form a relationship really, really easily, was that I can't tell you how many times that Coach Pedon or Coach Holtmann would call me, and we'd be on the phone for maybe over an hour, and we'd probably talk about basketball for 20 minutes," Washington told Eleven Warriors. "They're really just guys that I clicked with really, really well." 
Committed! @OhioStateHoops #GoBuckeyes @CenturionsMBB @JL3Elite @FreeKeyThree pic.twitter.com/eEJL3eUsTf

— George Washington lll (@3dubbshoop) November 3, 2021
The Christian Academy of Louisville star long had Ohio State at the top of his list. Washington's high school coach, Aaron Hill, brought Washington's talents to the attention of Pedon – with whom Hill shares mutual friends – back in the summer ahead of 2020. That early bond, coupled with the fact that the Buckeyes were the first team to offer Washington, helped cement Ohio State as the favorite over schools like Louisville, Tennessee and Auburn from the start.
Still, the initial idea for Washington, the No. 50 overall prospect in the class and No. 9 combo guard in the country, was to hold off on a final decision until next year. 
That all changed after his third visit to Columbus last weekend.
"Me and my parents, we actually never planned on releasing a top five or anything like that. The original plan was to go through all my options and commit before the season started senior year," Washington said. "But when we left the visit, I think we were in the car driving back home, me and my parents were talking about it, and they were like, 'How do you feel?' Just from the feel of us talking to each other, we were all ready for it. Kind of ready to commit. And then my mom and dad were like, 'If you want to commit right now, we're right behind you on it. We feel just like you about this place.'" 
Washington said his first visit to the program back on June 15 provided him with baseline knowledge about Ohio State as a school and the basketball program in particular. When he returned for a second unofficial visit on Sept. 25, Washington watched the Buckeye football team throttle Akron, and discussed his potential future with the Ohio State coaching staff and current members of the team.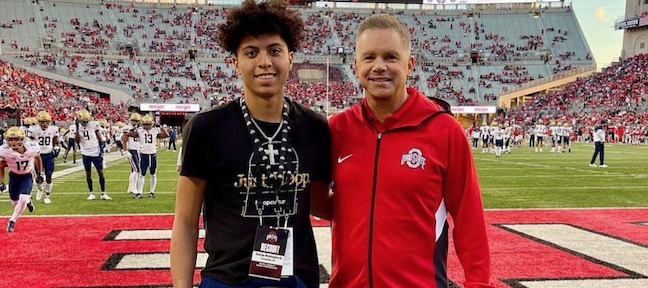 By the third visit, Washington said he got all the answers he needed about the minutiae of life as a student-athlete at Ohio State. He didn't even need the rest of the weekend – let alone another full year – to mull over his decision.
"Sunday, that's when I was like, 'OK, I think I want to,'" Washington said. "Monday, I called the other coaches that recruited me and thanked them for spending their time getting to know me and recruiting me. Tuesday, I called Coach Pedon and Coach Holtmann on FaceTime and told them before practice."
As the first member of the class, Washington is now the centerpiece for the rest of 2023 cycle to be built around. But Washington isn't concerned about the pressure to help bring in other top-rated prospects. In fact, his desire to do exactly that was another consideration in the timing of his commitment.
"I told coach this after I told him I was committing. I just said, 'Who do you want me to go get?' Because I wanted to be a guy that goes out and talks to other dudes and really get a great team together for when we all get there," Washington said. "That's how all the best teams have been made nowadays. That's what Duke did with R.J. (Barrett) and Zion (Williamson). At this point, I feel like players recruiting is just as big of a deal now as the coaches. So we have to do our part too."
As far as names of other 2023 recruits he plans to reach out to, Washington said he's just waiting on the word from Holtmann and Pedon to point him toward the players they are targeting.
When Washington eventually gets on the court at Ohio State, he expects to play both positions in the backcourt depending on the circumstance, although he feels more natural with the ball in his hands at this stage in his career. With the Buckeyes bringing in four-star point guard Bruce Thornton as the crown jewel of their No. 4-rated 2022 haul, though, Washington knows he must get comfortable playing the off-guard spot as well.
"If you watch players like Stephen Curry – and I feel like even Kyrie Irving does it to an extent – being able to move off the ball is probably one of the biggest traits that makes someone hard to guard," Washington said. "Because when you have the ball – and I faced a lot of this last year – it's really easy to get doubled and have the defense focused on you the whole game when you have the ball. 
"It takes a different kind of guy to score when you have a double and triple-team on you, and I feel like I can do that, but you really get to a point where you have to start thinking smarter, not harder."
He may still be a long way away from making his Ohio State debut, but Washington's excitement to start his college basketball career is palpable. Doing so with the Buckeye program in Columbus, a place he said suits him from all angles, only heightens Washington's enthusiasm about the future.
"My friends know I haven't been able to stop talking about it," Washington said. "I love their campus, and even being there in the fall with the leaves changing, like it's just a gorgeous place. I said it to my parents after the first visit: the Ohio State's campus is exactly how I pictured the school I would go to college at looking. 
"I've just been in love with that place since day one."