To Kalen Etzler, it was a bit like Déjà vu.
He watched as Bowen Hardman, a three-star 2022 shooting guard from Cincinnati, pulled the trigger and made an early commitment to Ohio State on May 13. Exactly 366 days before, Etzler had done the same, pledging to play for the Buckeyes even though he was 18 months away from even being able to sign a National Letter of Intent at the time.
"I thought that was a little funny," Etzler told Eleven Warriors. "Because I see a lot of myself in him, even though our builds really aren't the same. Personality-wise, I can see a lot of myself in him."
The decision didn't come out of the blue to Etzler, who had taken an unofficial visit to Ohio State at the same time as Hardman a couple of months prior. At the time, Etzler – a three-star 2021 power forward from Convoy – asked Hardman when he was committing to Ohio State. He expected Hardman to just laugh it off or give a, "We'll see," type of answer. Instead, Hardman told him he just has to talk to his mom first before making the call.
So while Hardman's commitment was expected by some for a while, when it happened, it especially mattered for a number of reasons. 
He became Ohio State's first 2022 commitment in what's expected to be a larger class that could include as many as four players.
He has impressive touch on his shot, his game will expand and already goes beyond just catching and shooting.
He's an Ohioan.
The third point is simple, but it matters. Chris Holtmann and his coaching staff have made an intentional effort to go after the top prospects from Ohio in both the 2021 and 2022 cycles, and they've had success doing so.
Hardman became Ohio State's third commitment in a row from an in-state prospect, harkening back to Holtmann's message in his first public comments since becoming the team's head coach in 2017.
"This region is a tremendous area for talented, smart and tough players," Holtmann said in his introductory press conference. "I've recruited Ohio for over 20 years, and it has outstanding players and coaches. Some of the very best in the country. It will be paramount to our success. There's no question. We're going to work extremely hard to close our borders and dominate the state of Ohio in recruiting. It will be an everyday focus for us."
So far, Holtmann's initial class in 2017 has been his only class with multiple Ohioans (Kaleb Wesson and Kyle Young).
In 2018, the Buckeyes signed Justin Ahrens out of Versailles. In the 2019 class, the Buckeyes added Cleveland native Alonzo Gaffney, but lost out on Jeremiah Francis – whose career has taken an unfortunate hit due to injuries – to North Carolina. They didn't offer any Ohioans in a weaker-than-usual in-state crop of 2020 prospects, though they came close with Brush's John Hugley. 
But with Ohio containing no shortage of talented 2021 and 2022 recruits, they're doing their best to capitalize on those two classes.
So far, the Buckeyes have three in-state commits for those classes: four-star combo guard Meechie Johnson (No. 84 overall in 2021), Etzler (No. 136 overall in 2021) and Hardman (No. 89 overall in 2022). This, they hope, is only the beginning. 
"Ohio State said they want a lot of these top Ohio guys playing for them, and they're getting them left and right," Hardman said. "We're all going to have to come together and go out and have fun and win games for them."
Malaki Branham, who was raised in Columbus before moving to Akron to attend St. Vincent-St. Mary, has been the team's top 2021 target for over a year. A near five-star prospect known for his slashing ability, he's ranked No. 25 overall and is the top-rated native Ohioan in the cycle. The 6-foot-4 combo guard is likely not a one-and-done player, but he could be a high-impact, multi-year player at the college level with NBA potential.
Branham didn't grow up an Ohio State fan, but with his local ties, Holtmann has sold him on playing in Columbus at the next level ever since extending an offer in May 2019.
"Basically that's what he was saying. Saying I should stay home, play for the hometown," Branham said last year.
During Ohio State's 2019-20 season, Branham took multiple visits, including one where he was in attendance with both Etzler and Johnson and fellow 2021 target Kendall Brown. The Buckeyes are battling Alabama, Louisville, Pittsburgh, Marquette, Xavier and others who remain chasing him.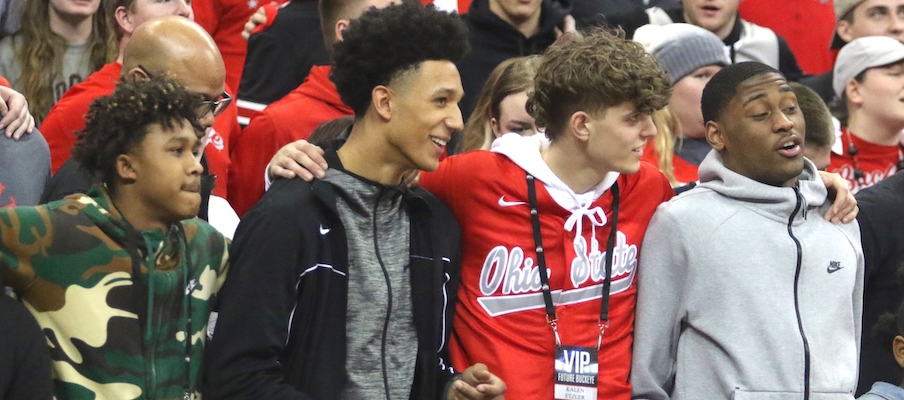 Etzler, while he says he's not a pushy recruiter, has made pitches to Branham centered on why he committed.
"I try to mention to him, the reason I committed to Ohio State, it's a hometown thing," Etzler said. "I grew up around Ohio State, and as soon as I got that offer, it's the most comfortable thing to do. I grew up wearing Ohio State on my shirt. Whenever I'm playing basketball, it's most comfortable for me when I'm playing home games, you know. It's kind of the same aspect – I'm going to Ohio State and I'm going to play for my home team. 
"I guess it's just a comfortability thing with me, and I hope it's the same for him. It was easy for me to make my decision, so hopefully he comes around, too."
Beyond Branham, who's the only uncommitted 2021 Ohioan with an offer after Cincinnati Moeller center Logan Duncomb chose Indiana, the Buckeyes are after a host of in-state 2022 prospects.
Five-star shooting guard Chris Livingston of Western Reserve Academy, four-star center Shawn Phillips of Dayton Belmont and Richmond Heights small forward Josiah Harris are a trio of uncommitted Ohio recruits who already hold Buckeyes offers. Point guards Sean Jones of Gahanna and Paul McMillan of Cincinnati Woodward have become top backcourt targets who don't yet have scholarship offers. Philo's AJ Clayton and Worthington Christian's DJ Moore are among those worth watching, too.
They all have ready-made bonds either with each other or Ohio State's current commitments.
Livingston, while all signs point to him professionalizing out of high school, is tight with Harris. They often go over to each other's houses, with Harris calling Livingston one of his best friends. Harris has also known Hardman since fifth or sixth grade. 
"I love his family to death. They're amazing people. I've played with him most of my life," Hardman said. "Especially for him, he's a big Ohio kid. I would love to have him as a teammate in an Ohio State uniform, just because I know how he runs. I know about everything that he does, and he knows the same thing about me, what our strengths and weaknesses are. And I think you put that on the college level, it's going to make the team 10 times easier to adjust to everybody."
Jones, who has played on All-Ohio Red in the Nike EYBL with Hardman in the past, said he has known Harris and played with him since fourth grade.
Hardman also knows Phillips, whom he was ready to team up with on the 17U Wildcats Select team in the Adidas Gauntlet this summer before the coronavirus pandemic quashed those plans. They took unofficial visits to Ohio State at the same time in the fall, both picking up Buckeyes offers on the same day in October. McMillan naturally knows Hardman, too, since he's a Cincinnati native.
While Sencire Harris – a top-50 overall prospect in 2022 – isn't a top target at lead guard right now, he plays at St. Vincent-St. Mary with Branham. 
All of them have connections to each other, and all are getting the same message from Ohio State: Stay home.
"They most definitely talked about that," Harris said. "They think that this 2022 class in Ohio is just amazing. They want to get all of us. They want us to stay in Ohio State."
Jones said he "of course" has heard those words, too.
"They talk about what Ohio State would be like if the whole state stayed here and how good they could be," Jones said.
So, just how good does he think the Buckeyes would be if all the top in-state players team up in Columbus?
"I think it could be a very good team," Jones said, "but that's usually hard to do, to get a bunch of people from the same state to play with each other."
He's not wrong. This isn't the Ohio State football program, which can essentially select whichever Ohioans it wants and land them at will. 
But the program certainly has ample standing within the state, as it should, and Holtmann already has the Buckeyes off to a strong start in both the 2021 and 2022 classes with Etzler, Johnson and Hardman committed. Now it's a matter of trying to add Branham to the 2021 class and another rising junior or two from Ohio to the 2022 class.
Some of Thad Matta's best teams at Ohio State had a healthy dose of Ohioans on their rosters, including Aaron Craft, Jared Sullinger, David Lighty, Jon Diebler, William Buford and Dallas Lauderdale. Holtmann, staring at what he and his staff have identified as strong in-state 2021 and 2022 classes, hopes to have similar success with in-state players on his teams.