The words that poured out of Chris Holtmann's mouth on Wednesday evening, Bowen Hardman had heard before from another man's voice.
Holtmann, speaking on a Zoom conference call that began at 6 p.m. and ended an hour later with Hardman committing to Ohio State, harped on how much he believes in the Princeton High School sophomore's game translating to the Big Ten. He told Hardman he thinks Hardman can help the Buckeyes win games. Yet Holtmann also said Hardman nothing in the Big Ten would come easy. He referenced the inevitable up-and-down moments all freshmen have, saying he needs to continue to get stronger both physically and mentally. He said he wants to coach guys who "work their butts off."
While not sugarcoating anything, Holtmann challenged him. He wanted to find out, while prodding the three-star 2022 shooting guard, whether Hardman fit that mold.
"It's not going to be easy," Holtmann told him.
Hardman had heard it before because similar messages came constantly from his father.
"That's what my dad always used to say," Hardman told Eleven Warriors on Thursday morning. "The stuff that coach Holtmann preaches every day, whether it was the Zoom calls or on campus, whether it's his players, coaches, just fit that. No matter what, we're going to go in as a team and we're going to get the job done. There's not going to be a 'me' or 'I.' It just clicked."
Hardman's dad, David, died on March 5, 2019 after a year-long battle with multiple myeloma, a rare form of blood cancer. Four years younger than Holtmann, David spent most of his adult life coaching high school basketball around Cincinnati, leading teams at Aiken, Walnut Hills, Gamble Montessori, and Western Hills.
In Holtmann, Hardman saw much of what made his father special to him. Tough, loving, up-front, demanding, family-oriented. 
While Ohio State's staff became aware of Hardman in eighth grade and began to increase its pursuit of him after watching him shine at the first session of the 2019 Nike EYBL circuit last April, his relationship with Holtmann truly began to build with his first two unofficial visits in August and September.
Their bond really started to coalesce on Hardman's third trip to Columbus. On that day in early October, he and Holtmann had a deep conversation about his late father, talking "really, really seriously" about the situation.
"He prides himself on the same things that my dad did," Hardman said. "He does a lot of old-school things, he expects a lot and the biggest thing for him was you've got to be a family guy first. He said the biggest thing about basketball is that you never know when this is going to end. Your family is very important and you have to be there for them no matter what. That's what got me because with the families there, with coach (Jake) Diebler's family, Holtmann's family, (Ryan) Pedon's family, you can just tell the love that goes around. Not just those families, but when they're around each other too. 
"It was like magic. It was like, this is where I want to be. This is what I want to be for the rest of my life. I want to be a Buckeye. I think with Holtmann and me talking about that stuff, it just clicked. He really, really, really does remind me of my dad a lot, and I think that's what kind of got me."
During that visit, Hardman remembers getting told that he came across as more "humble and family-caring" than most players.
"That just hit home for me," he said.
By the time he committed on Wednesday evening, he'd done what some had warned him not to do because of the natural uncertainty about coaches taking jobs elsewhere or getting fired. He had developed an "emotional attachment" with Holtmann that led to an earlier-than-expected decision. It didn't concern him, though, especially since they talked about the coach's contract, which currently runs through the 2024-25 season.
"I think that in my mind, definitely by the time three weeks ago, I was like, yeah, I'm going to be a Buckeye."– Bowen Hardman on picking Ohio State
What mattered more than anything else to him was how much he felt Ohio State's coaches cared for his family, which is the ultimate reason he pulled the trigger this week.
"My dad, even though he passed away, and definitely my mom, those are the two people that I said all throughout this journey, these are the people that are going to be with me, whether that's spiritually or physically," Hardman said. "I told them, I was like, 'The way you guys treated them was unbelievable.'"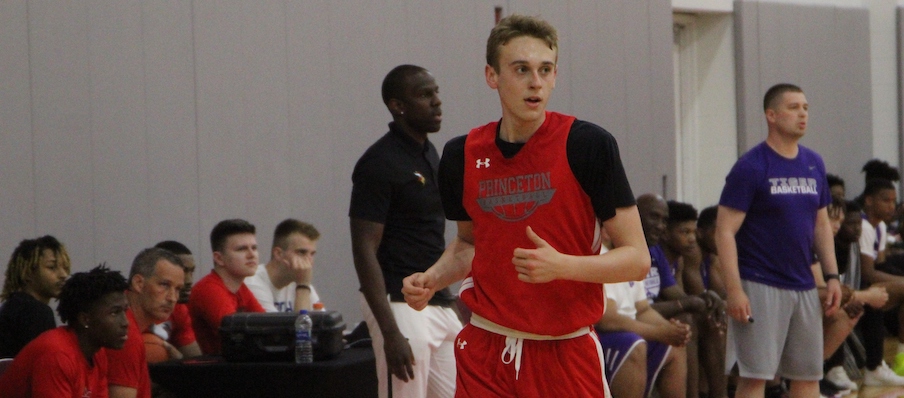 Like many recruits, Hardman also saw his recruiting timeline speed up due to the coronavirus pandemic. Only a couple months ago, he fully anticipated going through a season with Wildcat Select on the Adidas Gauntlet, picking up whatever offers came his way and then making his decision during his junior year at Princeton.
In his head, however, he says he always knew – no matter how many schools got involved – that it would come down to Ohio State or the Bearcats. He grew up in a family filled with Buckeyes fans, and he lived in Cincinnati.
While unable to take any visits or have coaches visit, he took time to sit down, relax and take it all in. At some point in the past month, he thought, 'Why wait?' and picked the school he felt most comfortable with.
"Some guys are going to be like, 'Well, why don't you want to be the hometown hero?' Well, for me, I've got to spread my wings and fly where I know where I'm going to play best and have the best opportunities at," Hardman said. "Not saying that that's not with (coach John) Brannen and them; just saying that I'm not the type of kid that wants to be in his backyard. I want to be able to kind of go away a little bit and know what it's like to live on my own and spread my wings and kind of get that feeling of being myself and depending on myself a lot. There's a lot of respect for the University of Cincinnati and everybody, and that was a tough phone call yesterday after talking to them. 
"But I think that in my mind, definitely by the time three weeks ago, I was like, yeah, I'm going to be a Buckeye."
Hardman also weighed the positives and negatives of ending his recruitment 18 months before he can sign a National Letter of Intent. Nowadays, he says, some prospects make decisions especially early then decommit later in the process. As he told Holtmann on Wednesday night, that won't happen "because when you have my word, you have my word."
His mother asked whether he actually wanted to go through with the decision. She tossed out the idea of somehow easing into it.
No, he told her. They had to get on the phone as soon as possible, he said, so he could secure his spot.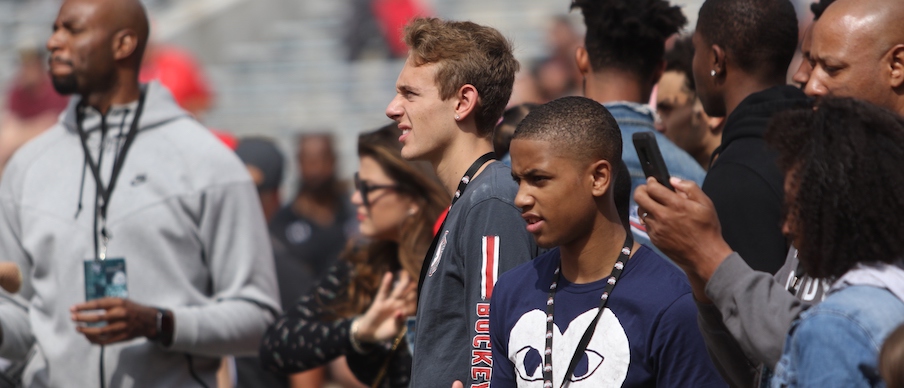 For Hardman, it feels more than a bit surreal. He remembers sitting down to watch Buckeyes games with his dad, who'd use his coaching acumen to break down everything they were doing. They watched Aaron Craft hit a game-winning shot to sink Iowa State in the NCAA tournament, and he remembers seeing D'Angelo Russell get elbowed by VCU's Doug Brooks en route to a 28-point performance in a first-round overtime victory. 
In two years, whether he can actually believe it right now or if he's still in an excited daze, he'll don the same school's jersey that Craft and Russell once wore.
"The way coach Holtmann, the style that he coaches and the way he plays, it felt exactly my fit and right for me," Holtmann said. "I can't wait to be able to, the next two years, to get on that floor with them and be in that offense."
Still brimming with excitement at 9 a.m. Thursday, just a little more than 12 hours after making his choice public, he said that if his dad were alive to watch him commit to Ohio State, the first thing he'd tell his son is he loves him.
"He would just be so proud," Hardman said. "The biggest thing is it's not just about the basketball part. It's about the academics. I pride myself on being a star student. For him to see that I'm going to be going somewhere where I can fulfill those dreams off the court, too, it would be so amazing for him to see. But I know he'd be very, very proud."
So, too, is his mother.
"To see that their son is going to put that jersey on in two years has star-struck them," Hardman said.
Soon after he committed, a bunch of friends and family paraded down his street, honking their horns. They were adorned with Ohio State gear, yelling "Let's go Bucks" out of their windows. 
Then, Hardman went back inside to attempt to process what he still can't believe is a reality: He's a Buckeye.