Welcome to the Full Court Press, your weekly destination for offseason Ohio State basketball recruiting updates.
In the wild world of recruiting, connections between programs and prospects can come from anywhere, and it's the college coaches' job to transform them into real relationships.
One of the links between four-star wing Darius Miles and Ohio State connects Brett Campbell, Miles' coach at St. Charles (Md.), and director of player development Scoonie Penn, even though Campbell and Penn have never met. Decades ago, Campbell's father coached Chris Herren in high school. Herren then went on to begin his college basketball career at Boston College. So Campbell began to follow the Eagles, and he soon saw Penn, who played two years at Boston College before transferring to become a Buckeye.
"Of course, then I remember Scoonie and him going over and playing with Michael Redd and the great teams that were there at Ohio State," Campbell said. "So Darius and I have talked. Darius being a fellow lefty, if we could get him shooting like that, he'd fit in well at Ohio State."
Miles, who stands 6-foot-6 and weighs 176 pounds, is the No. 112 overall prospect in the 2020 class and the 28th-ranked shooting guard in the cycle. He has caught the attention of Ohio State, which has remained in contact with him since the beginning of his school year.
"They were just introducing me to the school, letting me know the questions that I had to answer, telling me about their business management school about how they're No. 10 in the country and telling me they want to get close with my family and just get a visit," Miles said. "Build a relationship."
Assistant coach Ryan Pedon has led Ohio State's recruitment of Miles.
"He just seems like a cool person," Miles said. "Some coaches, they ask the same questions over and over, and he just seems chill."
Campbell noted that he has appreciated Pedon's honesty.
Miles has not taken a visit to Columbus yet. He plans to begin the spring playing for DC Premier in the Under Armour Association before possibly looking at visiting colleges in May or June.
In February, Miles took a visit to Pittsburgh, and he visited Seton Hall in March. He said those two schools, along with Xavier, have recruited him hardest thus far. He reports offers from Georgetown and Rhode Island. Ohio State has not offered him a scholarship.
As native of Maryland, Miles has attracted most of his interest from schools on the east coast or in the midwest, and he said he doesn't want to "go far" to play college basketball.
Miles said college coaches have touted his aggressiveness when driving to the rim as a reason for their interest in him. But he also has recently spent time working on his pull-up jump shot.
"Because in the NBA nowadays, everybody's big, strong," Miles said. "Most people go run and jump, so if you really can't shoot, you really won't be able to get off as much as you think you would. And that's my goal, to make it to the League."
Anthony Bowman @therealcuatro4 to Darius Miles @BagChasingD for a Little Showtime on the Road #TheU #StCharlesBasketball #LetsEat @POPULAR_24 @CoachCampbellSC @MarcusHelton @DMVStream @TheHuddle_Show @RLSNation @AyalewAdam @StCharlesHS @DMVTipOff @DC_Premier_ @DMVelite80 pic.twitter.com/yls51ifLx2

— Zeek Horne (@ZeekHorne) December 15, 2018
Eventually, Miles' next step will be to choose where he plays college basketball, but he isn't close to making a decision.
He plans to play for DC Premier this spring and summer then, around the beginning of his senior season of high school basketball, begin to cut his list of schools down, considering a few factors.
"One of them is my major because a couple of schools don't have my major, business management," Miles said. "Another is how I feel, if I'm welcomed to their organization or not. And just their playing style, how does it fit the way that I play and how can they help me get to where I want to go."
Offer Out to Big-Time Wing Target
In order to continue the ascension of Ohio State's program with the goal of competing annually for Big Ten titles, Chris Holtmann needs to land a steady stream of top-50 talent. The Buckeyes reeled in three prospects in the top 50 of the 2019 recruiting cycle, and they're after several others in the 2020 class.
Moses Moody, a four-star shooting guard, announced Ohio State offered him early Tuesday morning. The 6-foot-5, 180 pounder is the No. 36 overall prospect in the country and the eighth-best shooting guard. He's a high-level scorer and a sharpshooter from distance.
Blessed to receive an offer from Ohio State University! @OhioStateHoops @OhioState pic.twitter.com/QehSFh7Y0p

— Moses (@moses_moody3) April 9, 2019
After growing up in Arkansas, Moody transferred to Florida's Montverde Academy, the same school at which D'Angelo Russell starred.
Moody has strong ties to several players on Ohio State's roster. Last summer, he and E.J. Liddell teamed up on Brad Beal Elite and were the two leading scorers. Moody also knows DJ Carton and Duane Washington Jr., among others.
You know what time it is. BUCKEYE NATION show Mr. Moody some love https://t.co/z5wwMYo3NI

— E.J. Liddell (@EasyE2432) April 9, 2019
Arkansas, Auburn, Baylor, Florida, Florida State, Illinois, Missouri, Oklahoma, Oklahoma State, Stanford, Texas, Texas A&M and Tech Tech are among the schools that have offered him. Competition will be stiff, but Moody would be a coup for Ohio State.
USA Basketball Junior National Team Training Camp
Not only did some of the best college basketball players congregate in Minneapolis last week, but a 55-player group of the best high schoolers participated in a three-day USA Basketball Men's Junior National Team training camp in the same city hosting the Final Four.
The crop of high schoolers included a group of players who hold offers from Ohio State.
Caleb Love and Jalen Suggs also hold interest from Ohio State.
Livingston, who attends Buchtel, was the only player who both was born in Ohio and plays high school basketball in Ohio to attend the training camp.
Recruiting Window Opens Thursday
The grassroots season has begun, and offseason college basketball recruiting is about to kick off.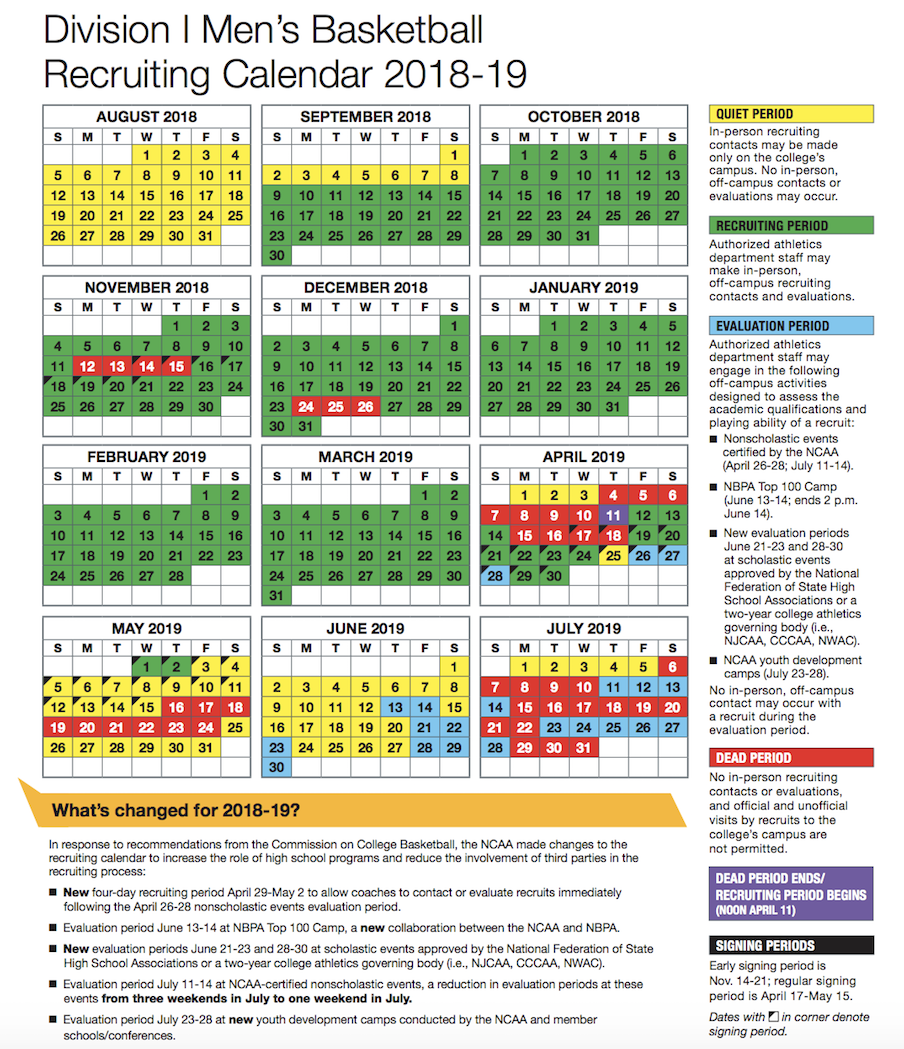 At noon on Thursday, the "dead period" will end and the recruiting period will begin, allowing coaches to contact prospects and watch them play in person. 
Ohio State does not have any prospects committed in either the 2020 or 2021 classes, so the next few months will be pertinent for the future of the program. The team currently has three scholarship spots open for its 2020 class, though that could change if it adds either another player to its 2019 class or a transfer with multiple years of eligibility.
The Buckeyes haven't zeroed in on their 2020 and 2021 targets, but it should become clearer who they're chasing hardest soon. Chris Holtmann, Terry Johnson, Ryan Pedon and a yet-to-be-named third assistant coach will hit the roads shortly.