If there was any doubt regarding Thad Matta's ability to recruit highly-rated big men, it disappeared last Friday.
With Daniel Giddens pledging to Ohio State, the Buckeyes finally landed a coveted big man. It's the caliber of player they couldn't secure a commitment from in the past three classes.
No reason to be worried, the recent performance of OSU bigs did not hurt Giddens' recruitment. In fact, Matta's history of producing NBA Draft picks at his position weighed more heavily in his mind.
"It's one of the biggest things that attracted me," Giddens told Eleven Warriors. "From Greg Oden to Kosta Koufos to Byron Mullens and Jared Sullinger, big men they had developed and produced."
Future Teammates Already Have Chemistry

In any recruiting class, be it basketball or football, there tends to be one player who takes the lead and recruits others to his school. In Matta's 2015 class, that appears to be Austin Grandstaff.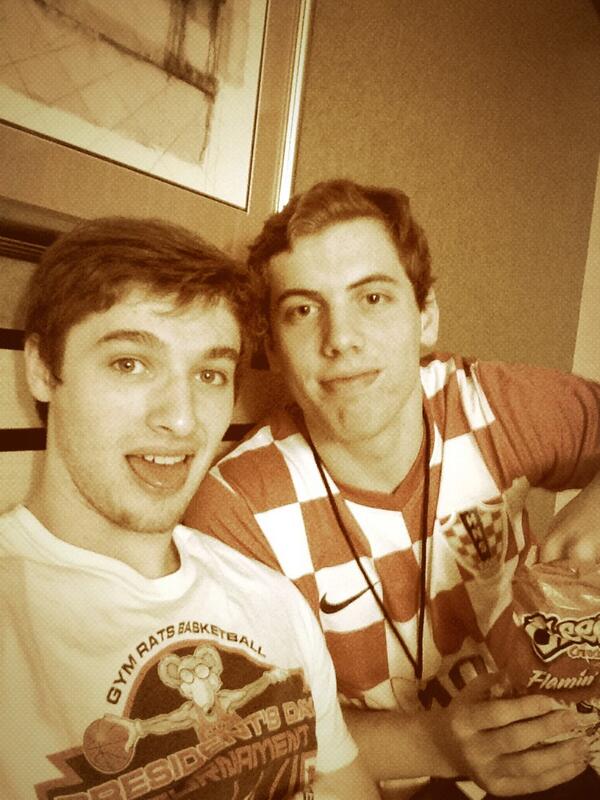 The Rockwall, Texas native played a role in Giddens' commitment, even though Grandstaff pledged to Ohio State only two months ago. If Giddens wavered at all during the course of the AAU season, he had help from future Buckeyes to steer him back to Columbus. His fellow classmates – Grandstaff, point guard A.J. Harris and wing Mickey Mitchell – all competed on the Nike EYBL circuit with Giddens, had struck a friendship with him at some point before his commitment.
"I've known Mickey for a long time, since eighth grade," Giddens said. "I met A.J. over the AAU circuit this summer, and he's a really good player."
Harris returned the compliment and provided a neat summary on what to expect from his future pick-and-roll partner.
"He's a beast, a good finisher at the rim," Harris told Eleven Warriors. "He's a great rebounder, he can run the floor, he likes to hustle, he's very athletic."
Grandstaff described Giddens in the same fashion, proving the future teammates are in sync already.
"He's a beast," Grandstaff also told Eleven Warriors, "and just what we need."
Coincidentally, Giddens plays for the same AAU team that Buckeye freshman D'Angelo Russell used to play for – Each 1 Teach 1, based out of Florida. Giddens just started playing for E1T1 and the Nike circuit this summer, so they were never teammates, nor did they square off in AAU games. However, Giddens and Wheeler High School did face Russell's Montverde Academy squad.
"I played against him once, this past year," Giddens said. "I love the way he plays, the way he controls the team and he can score in various ways."
Room to Grow

When Giddens' future teammates characterize his game as beast-like, they're probably referring to his innate ability to block shots.
As natural scorers who can, generally, get to the hoop with ease, Grandstaff, Harris and Mitchell shudder at the thought of an explosive athlete with a 7-foot-2-inch wingspan protecting the rim. Luckily, Giddens will be a last line of defense for them, rather than an intimidating shot-blocking presence.
The Ohio State staff is hoping Giddens patterns his game after one of the NBA's best defenders, drawing a scary comparison for future Big Ten opponents. 
"Coach Matta's really trying to get me to work on an Anthony Davis-type mold," Giddens said. "First, blocking shots and, then, coming back on the offensive end, getting a dunk or getting in a high pick-and-roll, pick-and-pop or going to the basket for a lob.
"Basically, impacting the game on both ends. I have to solidify my four and five skills, so, hopefully, I can translate to the next level."
Arguably, due to his leaping ability and strength, Giddens could already be an effective defensive player in college. Where he needs the most work is on offense, and he's putting in time with Georgia-based basketball trainer Mark Edwards.
"He's been on me going to the gym and focusing a lot on my jump shot, lately, and getting a lot of reps up every day," Giddens said. "It's really added to part of my game and will be beneficial going into my senior year."
His effort to extend his range beyond the basket-area is already starting to pay off. At the NBPA Top 100 Camp, Giddens displayed some face-up moves. 
Most importantly, he's learning how to train and already looks like he's been part of a college-level program. 
"What I learned from my [high school] teammate Jaylen Brown is a high level of conditioning, Giddens said. "When you get to that elite level of conditioning, coaches feel like they can run you the whole game."
Here's a glimpse of Giddens' routine, via Gym Rat Insider:
What and who is Next

All four Buckeye commits are in Las Vegas for the LeBron James Skills Academy. If it goes well, perhaps they can convince the host of the event to come to Ohio.
Giddens is also preparing for the Peach Jam – the EYBL Finals – which begins July 16. He has a chance to help E1T1 repeat as AAU champs of the Nike circuit.
The following week, he'll tryout for the USA U17 Men's National Team in hopes of repeating his gold medal efforts from his time with the USA U16 team. If Giddens makes the U17 squad, he'll compete with his fellow Americans in Dubai, Aug. 8-16. 
As far as who will join him in Columbus next year, Giddens said he'll "leave the recruiting up to Coach Matta." Conveniently, Shaker Heights forward and Buckeye target Esa Ahmad is in Vegas at the LBJ camp with the four OSU pledges. 
Ohio State has, at least, one more scholarship at their disposal for the 2015 class. Depending on how they think the numbers work for 2016, they could have up to two more for 2015, however unlikely it is. In the remaining weekends of July, coaches have the opportunity to scout players in three, separate evaluation periods. That will probably include OSU coaches putting in more work on Ahmad, VASJ forward Carlton Bragg and other recruits in the next three classes.
For now, as far as Giddens goes, he's just excited for the opportunity to put on the Scarlet and Gray.
"I can't wait to play for these fans in Columbus ... I feel like [Ohio State] has one of the greatest fan bases in college sports," Giddens said. "As long as I'm there, hopefully, I can bring that national championship Coach Matta has worked so hard for."