Ohio State's 2015 recruiting class took a little bump this evening as five-star shooting guard Luke Kennard, from Franklin (Ohio) chose Duke over Ohio State as his college choice. Kennard, an AAU teammate of current Buckeye commitment A.J. Harris, is one of a handful of highly-ranked players in the Buckeye's backyard. 
Kennard and Harris are two of what seems to an entire roster full of thoroughbreds. Akron St. Vincent-St. Mary's V.J. King, perhaps the top 2016 player in the country also runs alongside them on the court as does Versailles (Ohio) sharpshooter Kyle Ahrens, the 104th-ranked player in 247Sports.com's composite rankings.
Ahrens, a 6-foot-4, 180-pound shooting guard, has scholarship opportunities from Michigan State, Iowa, Dayton, Xavier and more. The number would likely be significantly higher had a freak leg injury not cut short his junior season.
"I just came down wrong," Ahrens told 11W about the moment he fractured his tibia and fibula in his left leg during a game in December. "It's feeling better, I'm getting back to 100-percent slowly. I'm going to therapy three times a week to strengthen my hips so nothing else happens."
Anyone who's suffered a major sports injury knows that often times the biggest part of rehab is convincing your brain to trust your body again once you're back to full speed. Ahrens acknowledges that concern but the fact that college coaches haven't backed off because of the injury helps keep his mind at ease.
"(Everyone who has offered) has all said they still want me," he said of how those recruiting him reacted to the injury. "They know what I can do so I don't need to rush it."
Despite there being no pressure to hurry his rehab, Ahrens is excited to get back on the court and hopes to do it soon.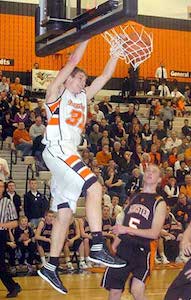 "The therapist said I've got about two to three more weeks of full therapy," Ahrens added about his rehab. "I'm excited to get back to work."
At Versailles, Ahrens was averaging 27 points a contest before his injury and finished his season five points shy of 1,000 points for his high school career. On his AAU team, surrounded by other slashers and scorers, Ahrens focuses less on scoring and more on distributing and defense. As a player who could be headed for the Big Ten, he knows how important being an effective stopper is.
"I love defense," Ahrens said when asked about how much he likes the "other" side of the ball. "That's the one place my dad has always favored and stressed to me. If I'm lazy on defense trust me my dad would let me know instantly (laughs.)"
As he prepares for another season of AAU ball, Ahrens is hoping to see his recruiting ramp up a bit. Coming back healthy and with an improved game will draw him some more attention, at least that's the plan. 
"The strength of my game is my shot," he said, telling us why he's getting the attention he's received. "I've been working on is my ball-handling that's where I've improved a bunch. Michigan State, Michigan, Ohio State, Xavier, Dayton, Butler and Iowa are in my top group of schools. Only Michigan and Ohio State haven't offered of that group."
The Buckeyes have been in touch with Ahrens, and recently.
"Actually Coach (Greg) Paulus just sent me a text today to check up on me," he said of the Buckeyes' contact. "He told me that they'd like me to come this spring for a visit and check out the campus. I've been there before for a couple games."
Although Ahrens says he'd like to make a college choice by the end of his AAU season (end of July,) he admits that he could wait a bit longer if he's still unsure of his choice. He is sure, however, of what is important to him as he looks for a college.
"The academics," Ahrens said immediately of what's important to him in a college choice. "But, also how I fit in with the program and (whether or not) it's close enough so my family can come support me. (My relationships with) the coaching staff, that is really how I will know how I fit in."