This weekend, Madison will host the toughest tournament in sports as the Big Ten Wrestling Tournament comes to town. Nine NCAA champions and dozens of All-Americans will battle for the 10 coveted crowns across all weight classes.
If you're not a fan or only a casual fan of wrestling, the Big Ten is to wrestling as the SEC is to college football. Only better. Penn State, Iowa and Minnesota, will all not only contend for the conference title this weekend, but also for the NCAA Championship down the road.
Conference champs in each weight class will automatically qualify for the NCAA tournament, while the B1G as a whole will send many more wrestlers at each weight class to the national tournament based on the league's stellar body of work this season. For instance, the nine Big Ten heavyweights will advance to the national tournament in Oklahoma City, far more than any other conference will send.
Ohio State is one of four teams to have a seeded wrestler in all 10 weight classes and many of them stand good odds to advance.
125 lbs
At Stake: Seven automatic qualifiers.
The Big Ten boasts six wrestlers ranked in the final Intermat rankings at 125, including Nos. 2-4. Last year's NCAA champion, Illinois' Jesse Delgado, and runner-up, Penn State's Nico Megaludis, are both in the field, and both should be among the favorites to stand on the top of the podium again at this year's tournament.
Megaludis brings a 23-2 record to the post-season, with both losses coming to No. 1 ranked Nahshon Garrett of Cornell. Nico avenged his loss to Delgado in last year's finals with a win earlier this season.
Delgado has wrestled tough this season, but has a pair of losses to conference opponents. And while Delgado has just two losses, he has not been as dominant as one may expect a defending champ to be.
Iowa is in a tough position as they have a pair of wrestlers at 125 lbs that could each earn All-American status this season, but only one wrestler can compete per school per weight class. They'll need to make a decision between Cory Clark and Thomas Gilman, but both could factor into the individual competition.
Buckeye Outlook: Redshirt freshman Nick Roberts is prohibitively seeded 8th at the Big Ten tournament, behind Camden Eppert (Purdue) and Tim Lambert (Nebraska). Roberts has wrestled inconsistently and Coach Tom Ryan even went so far as to question his effort in a number of matches this season that he appeared to have the chance to win. While Roberts winning the tournament would be a huge stretch, he was beating Eppert before faltering and has a win over Lambert this season. If Roberts can wrestle to the best of his ability, he is certainly capable of placing in the top seven and earning an automatic bid to the NCAA tournament.
133 lbs
At Stake: Eight automatic qualifiers.
The Big Ten features an impressive eight ranked wrestlers at 133 with returning NCAA runner-up Tony Ramos of Iowa leading the pack. Also in the hunt is three-time All-American Tyler Graff of Wisconsin, who has yet to win a Big Ten title.
Ramos is one of the more polarizing figures in NCAA wrestling, having learned to play the role of heel very well. There is no questioning his skill, nor can anyone question his effort, however. Ramos' downfall is that he is an emotional wrestler and wears his heart on his sleeve, which is often detrimental to public perception. Ramos has slipped up a pair of times this season, but each loss has been to out-of-conference opponents.
Graff is all but assured of a high placement in the Big Ten tournament, especially because he'll be wrestling for one final time in front of a pro-Badger home crowd. Like Ramos, Graff has not lost to any conference foes, but Graff did not meet Ramos this year.
Minnesota's David Thorn returns as an All-American, but has yet to show that he can compete with the likes of Ramos or Graff.
Buckeye Outlook: Johnni DiJulius has just four losses on the season, with three of the losses coming to Big Ten foes. JDJ hit a bit of a tough patch earlier, dropping three of five matches, but has responded nicely. DiJulius has been ranked in the top five this season, but has not wrestled Ramos or Graff and dropped a match to Thorn at the NWCA Duals. Johnni is certainly capable of being a finalist this weekend, but needs to get his attack going early and often. DiJulius should almost certainly qualify for his second NCAA tournament by placing in the top eight.
141 lbs
At Stake: Six automatic qualifiers.
For all intents and purposes, 141 is a two-horse race between Penn State freshman Zain Retherford and Ohio State's Logan Stieber. Stieber's lone loss of the season (and his first in almost two years) came to Retherford in the December dual between the schools.
Retherford is the prohibitive No. 1 seed with a win over Stieber as the signature win thus far in his undefeated season. He has wins over Chris Dardanes of Minnesota as well as Josh Dziewa of Iowa.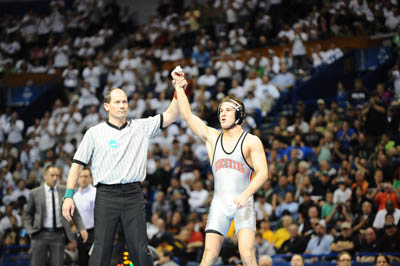 Aside from his loss to Retherford, Stieber has been utterly dominant, winning every match by bonus points. If he stays true to form, Logan could tech fall his way to the finals to set up a rematch with Retherford.
Also likely to find themselves on the podium on Sunday are Dardanes and Dziewa, who have shown the most consistency throughout the season.
Buckeye Outlook: Stieber is a two-time NCAA championand flat--out knows how to win. Do not be surprised to see Stieber wrestling like a man on a mission to avenge his earlier loss to Retherford.
149 lbs
At Stake: Six automatic qualifiers.
Six ranked wrestlers are in the field at 149, though there's a huge amount of parity between those six. Jake Sueflohn of Nebraska snagged the No. 1 seed, but he's far from a lock to take home the conference crown.
Sueflohn is a scrappy wrestler who finds a way to win in almost every situation. He got his three losses out of the way early in the season and has only lost to Jason Tsirtsis of Northwestern in Big Ten competition.
Minnesota's Nick Dardanes was an All-American a year ago and has just two losses to this point in the season. He finds ways to win close matches and is not a guy you'd want to meet at this point in the season as he's riding a seven-match winning streak.
Michigan's Eric Grajales came into college with great expectations, but has yet to live up to being one of the nation's most highly-ranked recruits as a high school senior. Grajales has never earned All-American laurels, and is probably maddening to watch if you're a fan of the Wolverines (and you shouldn't be, really).
Northwestern's Jason Tsirtsis is just a freshman, but dropped just three matches in his first season. Tsirtsis is never truly out of a match and could factor into the placement at 149.
Buckeye Outlook: Ian Paddock is a three-time NCAA qualifier and enters his final B1G tournament as the six seed. Paddock has a number of wins over Grajales in his career, and another would be sweet if he were to earn it at the Big Ten tournament. Paddock appeared to injure his ankle against Dardanes at the NWCA National Duals and missed out on the Senior Day festivities against Virginia Tech last weekend, but if he's back to full-strength, he should advance to the NCAA tournament.
157 lbs

At Stake: Eight automatic qualifiers.
157 is as unpredictable as any weight class in the Big Ten. The final Intermat rankings featured seven ranked wrestlers from the league, but there are four that stand out from the crowd and they are Derek St. John of Iowa, James Green of Nebraska, Dylan Ness of Minnesota, and Isaac Jordan of Wisconsin.
Returning NCAA champion St. John is pre-seeded  4th in the Big Ten. 4th. That is not a misprint. St. John has losses to Green, Ness, and Jordan of late. However, he's a gamer who wrestles well in March, so he can't be discounted despite his losses this season.
Green set the tone in his victory over DSJ with a blast double at the end of the 1st period, which seemed to take the wind from DSJ's sails. Green is a hard worker with a great gas tank. His loss to Jordan in his last match was the only blemish to date this season.
An Ohioan following in his dad's footsteps, Jordan followed father Jim to Wisconsin, where he is adding his own page to the family's legacy in Madison. Jordan has split with DSJ this season, but has wrestled well of late, earning the #1 seed with wins over Green, DSJ, and Taylor Walsh of Indiana. Though he's currently the top seed, I would not be shocked if Jordan were bumped off by St. John or Green.
Buckeye Outlook: Randy Languis is seeded 11th with his lone win against Big Ten competition coming against Michigan State's Roger Wildmo, who is seeded 12th. Languis will have his work cut out for him if he intends to reach the NCAA tournament. An at-large berth will not be given to Languis, so he will need to finish in the top 8 this weekend.  
165 lbs
At Stake: Eight automatic qualifiers to the NCAA tournament.
This weekend's 165 lb bracket is a competition for 2nd place to David Taylor. Penn State's superlative senior has lost just three matches in his collegiate career, two of them to Kyle Dake last year and another in the finals in his freshman year. Taylor has never lost to a Big Ten competitor, and this weekend won't be his first. He's been dominant over Minnesota's Zilverberg, Northwestern's Pierce Harger, Dan Yates of Michigan and Iowa's Nick Moore. If you have a friend that is on the fence about watching wrestling, have them watch a Taylor match and they'll be hooked. Taylor scores points from all positions and makes it look effortless. 
Iowa's Moore, who is currently ranked No. 4 in the country, will probably take home second this weekend. Moore is 19-2 on the season, and has controlling wins over Yates and Harger. 
Harger performs well against most competitors, but Taylor and Moore have solved his style. Yates, and Zilverberg are tough wrestlers and have great chance to join Hager in the eight that advance.
Buckeye Outlook: Senior Joe Grandominico is facing an uphill battle in what is likely his last tournament as a Buckeye. Grandominico will need to wrestle better than he has all season to qualify for the NCAA tournament, but the odds are long in a weight class with six nationally-ranked grapplers.
174 lbs
At Stake: Seven automatic qualifiers.
This class shapes up like the classic game of "Rock, Paper, Scissors."  Parity reigns at the top of the 174-pound weight class, and I'm not really certain there's a favorite.
Penn State's Matt Brown was an NCAA finalist a year ago and is currently ranked 4th in the country, while Nebraska's Robert Kokesh checks in at No. 3 with a lone loss to former NCAA champ Andrew Howe of Oklahoma.
Nebraska's Robert Kokesh is ranked #3 and has only lost to former NCAA champ Andrew Howe of Oklahoma. Kokesh has wins over Ohio State's Mark Martin, Mike Evans of Iowa, and a tech fall over No. 20 Scott Liegel of Wisconsin.
Evans, in addition to having the most righteous 'stache in college wrestling, has put together a nice season with only three losses. Evans is known to frustrate opponents with his defensive style, but can score points in a hurry if the situation calls for it.
Logan Storley of Minnesota had one of the most unlikely post-seasons in recent memory last year as he was entered the Big Ten tournament as the No. 1 seed, took seventh, and then rallied to take fourth at the NCAA Championships. This season, he has losses to the usual suspects in Perry, Evans, and Brown.
Buckeye Outlook: Mark Martin is in good position to earn his second trip to the NCAA tournament in as many years as he is pre-seeded No. 6. Martin has won his last five matches, but has struggled with the upper echelon of Big Ten wrestlers. If he gets a favorable draw and wrestles well, Martin should be headed to Oklahoma City in two weeks.
184 lbs
At Stake: Seven automatic qualifiers.
Penn State's Ed Ruth is the odds-on favorite at 184. The Nittany Lion senior turned in undefeated seasons as a sophomore and a junior on the way to collecting national championships. Ruth has never lost to a Big Ten opponent and has won the Big Ten tournament all three years he's entered. Barring a major upset, Ruth will be one of the few wrestlers in Big Ten conference history to win four individual titles.
Iowa's Ethen Lofthouse has finished third at the Big Ten tournament in each of his three seasons and he's a two-time All-American, but he's been utterly dominated by Ruth. He should finish second at 184, but he's miles behind Ruth on the mat.
Minnesota's Kevin Steinhaus only has four losses on the season, all by decision, even taking Ruth to a 7-1 decision loss. Steinhaus and Lofthouse did not meet up in the dual match between Iowa and Minnesota, so their first match of the season could be in the Big Ten semifinals for a chance to face Ruth in the finals. Steinhaus has split with Lofthouse, so it is really anyone's guess as to which has the upper hand.
Also looking to punch their ticket to Oklahoma City are guys like Michigan's Domenic Abounader, and Nebraska's TJ Dudley.
Buckeye Outlook: Head Coach Tom Ryan has been singing the praises of Kenny Courts for a full year now. Courts is an exciting wrestler, but hasn't been able to solve the riddle of Nebraska's Dudley this season. Courts has been dealing with an unspecified lower body injury, and if he's back at full strength, he should be on his way to Oklahoma City with an automatic bid. Courts is pre-seeded 6th, and should be just fine.
197 lbs
At Stake: Eight automatic qualifiers.
197 is another weight class that is up for grabs. Penn State's Morgan McIntosh leads the pack into the tournament, but Ohio State's Nick Heflin and Minnesota's Scott Schiller shouldn't be overlooked.
McIntosh was an NCAA qualifier as a true freshman, and redshirted last year behind two-time NCAA champ Quentin Wright. McIntosh picked up a thing or two from Wright and looks vastly improved this season, losing just twice (both times J'Den Cox of Missouri). To cap off his undefeated Big Ten season, McIntosh controlled then No. 1 Schiller in the dual handing him his first loss.
Buckeye senior Nick Heflin is looking for his fourth trip to the NCAA tournament with a solid placement this weekend. He placed second at the B1G tournament as a freshman, but has not been able to duplicate that effort since. In each of the past 2 years, Heflin has finished 5th at the NCAA tournament, and it appears that jumping up 2 weight classes since last year has not negatively impacted the Massillon Perry grad in the slightest.
I'm starting to get excited for the season premiere of Game of Thrones and Schiller's fall and rise reminds me a bit of Rob Stark. In this case, Schiller was on top of the division, winning 24-straight matches and earning the nation's top ranking. Then he lost to McIntosh and tailspinned into three losses in his next five matches.
Buckeye Outlook: As mentioned, Heflin has an outstanding shot at advancing. I would almost say that it's a given that he'll advance to the NCAA tournament and is a near-lock to earn his 3rd All-American finish, but nothing is certain in wrestling (or any sport for that matter).
Heavyweight
At Stake: Nine automatic qualifiers.
Heavyweight is another division where we could see a variety of outcomes based on how the matchups pan out. At the beginning of the season, it appeared as if everyone was chasing two-time NCAA champion Tony Nelson of Minnesota. However, it soon became apparent that Nelson was not untouchable by any means as he lost four of his 20 matches after losing just three matches in the previous two seasons. Nelson's slide from undisputed No. 1 to a five seed is just a glimpse at how unpredictable the Big Ten's heavyweight picture has been this season.
True freshman Adam Coon of Michigan shot out of the gates to a 23-0 start including wins over Iowa's Bobby Telford Minnesota's Nelson before losing to Michigan State's Michael McClure. Coon is an outstanding athlete for a man of his size and is capable of attacking the legs with strength as well as quickness.
Northwestern's Mike McMullan took runner-up to Nelson both at last year's Big Ten and NCAA tournaments.  The Wildcat big man earned his revenge this season, but has also been slowed by injuries.
Iowa's Telford held the nation's No. 1 spotfor a cup of coffee, losing his next match after assuming the top spot. He has wins over Nelson and McClure, but lost to McMullan and Coon.
Indiana's Adam Chalfant has emerge late and put together a nice season, dropping only a pair of matches. He has wins over McClure, McMullan and Nelson. Chalfant's edge may be that he flies a bit under the radar as one of the lone bright spots for an underwhelming Hoosier team. 
Buckeye Outlook: Tavanello found himself in several big-time matches this season, winning duals for the Buckeyes on three different occasions. Tavanello is not one of the bigger heavyweights in the B1G, and the grind of the tournament is certainly a concern. His record isn't overly impressive, but he is capable of winning late in the match, and his athleticism will help him overcome a size disparity. He stands a great shot at advancing to the NCAA tournament, especially with 9 spots up for grabs. 
---
Ohio State Outlook
The Buckeyes should earn a number of qualifiers to the NCAA tournament. Logan Stieber at 141 and Nick Heflin at 197 each stand a great chance of winning the tournament. Johnni DiJulius, Mark Martin, Kenny Courts, and Nick Tavanello should all qualify for a trip to Oklahoma City.
Ian Paddock has never failed to reach the NCAA tournament, but he'll have his work cut out for him coming back from an injury. Nick Roberts will need to give his best effort if he is to qualify for the tournament. Joe Grandominico and Randy Languis are going to need to wrestle well and catch some breaks to advance as both are in deep weight classes and neither has wrestled particularly well against Big Ten foes.
The Buckeyes don't really stand much of a chance to win the Big Ten team title as Penn State, Minnesota, and Iowa appear to be the front runners. The Buckeyes are likely to place in the 4-7 range, competing with Michigan, Nebraska, and Wisconsin for positioning.
As with conference tournaments each year, placing high can give a wrestler a better chance at being seeded well at the NCAA tournament, so guys will be unlikely to settle for just qualifying. For that reason, the second and third sessions may feature some of the most intense wrestling in the tournament as guys try to make a final case for their positioning in the NCAA bracket. 
The action in Madison starts Saturday at 11 a.m. and wraps up on Sunday evening. You can follow the early action on the University of Wisconsin's web telecast, while BTN will provide live coverage of the finals Sunday.