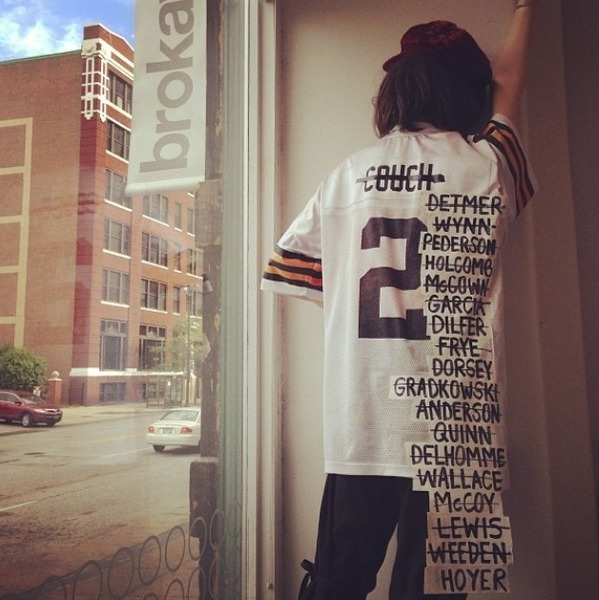 OK, so here's the deal. The Browns finish the 2011 season with the 28th best rushing offense, averaging less than 100 yards/game and a paltry 3.7 yards/carry (good for 31st out of the 32 NFL teams). Simultaneously, the Browns have the 24th ranked passing game, averaging 193 yards/game and 5.8 yards/attempt (again, 31st in the NFL). But the future is looking bright because the Browns have the #3, #22, and #37 picks in the upcoming 2012 draft. With a stout defense already in place, the Browns decide to use all three picks to improve their offense.
So, how did we use the picks? Well, our running game was bad. So, logically, we picked up the Heisman finalist running back from Alabama, Trent Richardson. After all, he did average about 6.0 yards per carry through his college career. Plus he can catch passes out of the backfield. Ok, improve running game? Check.
Next, we need to improve the passing game. Well, what better way to do that than to pick up a new passer? Clearly Colt McCoy was not effective enough, nor was any other name on that photo of the Browns' #2 jersey. Hey, that heavily "seasoned" Weeden guy was pretty good for Oklahoma State last year. Let's get him. Ok, passing game improved? Check.
Now, the receiver we wanted (Kendall Wright) is gone, but our last few quarterbacks and running backs have been getting injured. Maybe we should pick up someone to at least fall down in front of opposing rushers. Hey, that guy from Cal was pretty mediocre, wasn't he? What was his name? Something from Spaceballs? Schwartz! That's it. Okay, I think we have a team.
What went wrong? Well, first of all, poor quarterback and running back play were symptoms of the problem. In drafting Weeden and Richardson, the Browns addressed the symptom without fixing the problem. The problem was the offensive line stunk. Colt McCoy was getting pressured 1.5 seconds into every pass play. The San Francisco offensive line, in contrast, consistently gave Alex Smith and Colin Kaepernick 4 seconds to throw the ball. Most any NFL receiver can get open in 4 seconds. Most any NFL corner can cover any NFL receiver for 1.5 seconds. NFL quarterbacks don't need howitzer arms capable of throwing a football through the locked door of a bank vault. Everybody's favorite New England QB sure doesn't have a Favre-like cannon. They need to be hyper-accurate, make solid pre-snap reads, and be agile enough to avoid running face first into a 300 pound lineman's butt. Colt McCoy has all three of those traits.
What went wrong with the running game? Well, it turns out Trent Richardson only averages 6.0 yards/carry when he doesn't get touched until 4.1 yards downfield, which is what his line at Alabama did for him on average. It seems like Browns running backs have been getting hit around 0.5 yards BEHIND the line of scrimmage. Turns out, it's hard to run the ball in high level football unless you have an offensive line that completely dominates the opposing defensive front on every run play. Trent Richardson averaged 3.6 yards/carry in 2012 (and significantly less in 2013) and suddenly the franchise running back taken 3rd overall in the 2012 draft looks a whole lot like the running backs from 2011, Peyton Hillis (3.6 yards/carry) and Chris Ogbonnaya (4.6 yards/carry). The Browns line still stinks and now Mitchell ("You Can't Possibly Underestimate the Power of the") Schwartz is getting bull rushed back into the pocket or burned on the outside pass rush regularly.
What should the Browns have done? First of all, you address the problem. The problem with the running game is the running backs (who are basically interchangeable in the NFL) have no holes through which to run and no push from the line. There is nowhere to go. The problem with the passing game is the receivers don't have time to get off the line against press coverage before the revolving door of quarterbacks is hit by a defensive lineman. With the 3rd pick in the 2012 draft, the Browns should have made huge strides towards both ends by drafting Matt Kalil and inserting him at right tackle. Kalil was a Pro-Bowl left tackle for the Vikings as a rookie in 2012 and, combined with Joe Thomas (also a perennial Pro-Bowler), you have the makings of the best offensive line in the league. All of the sudden quarterbacks have time to find receivers who have time to get open. Running backs have room to run.
Second, with Hillis gone as a free agent, you can go ahead and get your running back or wide receiver at the #22 slot. Know who was still available at this point? Doug Martin. You remember him from the Pro-Bowl after rushing for 1,454 yards and 11 touchdowns his rookie season in Tampa Bay. He also caught 49 passes out of the backfield for 472 yards and another touchdown. Between Kalil and Martin, the running game has been addressed.
With the third pick (37th overall), the Browns could have addressed the receiver position or again helped the line. Now with two stud tackles, the Browns would not have been forced to settle for the slow but weak Schwartz. Alshon Jeffery (24 catches for 367 yards in 10 games his rookie season), Ryan Broyles (22 catches for 310 yards in 10 games his rookie season), and Stephen Hill (21 for 252 in 11 games as a rookie) were all available receivers. Jeffery went on to have 89 catches for 1,421 yards and 7 TDs this past season. Jeff Allen, the offensive guard from Illinois, was still available as well. He has started 28 of the last 30 games for the Chiefs who ranked 5th in the league in rushing yards/attempt in 2013.
With Kalil and Allen as the right side of a line including Joe Thomas and Alex Mack, Doug Martin would have had plenty of room to run and Colt McCoy would have plenty of time to find open receivers. On the other hand, going with a wide receiver at #37 the Browns would now have a solid O-line with legitimate weapons surrounding a quarterback who completed over 70% of his passes in each of his final two seasons at Texas. Still don't think Colt McCoy can lead you to victory? Fine. Take Michigan State's Kirk Cousins with the 87th or 100th pick. He led Michigan State to back-to-back 11 win seasons. He then went on to win his only start of his rookie year (happened to be AT CLEVELAND) by completing 70% of his passes for 329 yards and two touchdowns.
What should the Browns do this year? Address the problem! The entire offense needs help, both passing and rushing the ball. Quarterbacks need time to find receivers who need time to get open. Running backs need somewhere through which to run. The correct offensive line makes both possible. With the #4 pick in the draft, you take either Greg Robinson or Jake Matthews, whichever one is available and plug him in at right tackle. As poor as both offensive guards were the past two years, you could move Swartz and/or newly signed Paul McQuistan to guard a la Alex Boone at San Francisco. Between Joe Thomas, Alex Mack, and Matthews/Robinson, you have a line through which newly signed RB Ben Tate can run. The running game has finally been addressed.
With the #26 pick, pending no trades up or down, the Browns can add a weapon to compliment Josh Gordon and their new-found running game. Basically, GM Ray Farmer and Mike Pettine can take their favorite receiver of Odell Beckham, Marquise Lee, Kelvin Benjamin, and Brandin Cooks. I see a lot of projections for a QB here. Don't do that. With Washington signing Colt McCoy and RG3 allegedly healthy, the Browns may be able to acquire Redskins backup Kirk Cousins for a mid-round draft pick. Kirk Cousins (backed up by Brian Hoyer) handing off to Ben Tate and throwing to Josh Gordon, Jordan Cameron, and Marquise Lee behind the aforementioned offensive line? Now we're on to something.
With the #35 pick, the Browns could go with a second running back to work with Ben Tate. Carlos Hyde would be a fantastic fit as a power back with good vision behind that line. LSU's Jeremy Hill would be a fine option if Hyde goes earlier. The Browns could also go receiver with Penn State's Allen Robinson, Indiana's Cody Latimer, Vanderbilt's Jordan Matthews, or Fresno State's Davante Adams. If UCLA guard Xavier Su'a-Filo falls to the second round, he could be an option as well. With limited needs on defense, I would lean towards Hyde if the Browns have injury concerns for Ben Tate, or Allen Robinson if not.
How could the Browns screw this up? First pitfall: don't fall in love with Sammy Watkins' highlight film at Clemson against such defenses as Wake Forest, Syracuse, Virginia, and Ohio State's deep zone. Remember Peter Warrick (#4 pick in 2000 from Florida State), Reggie Bush (#2 in 2006 from USC), Darren McFadden (#4 in 2008 from Arkansas), or even Teddy Ginn Jr (#9 in 2007 from OSU)? Each was the most exciting skill position prospect in his respective draft with a highlight film that looked just like Sammy Watkins', only against better defenses. None has lived up to their draft position in the NFL, let alone made the Pro Bowl. That's because the NFL is a different game. There is no space to bob and weave through a defense full of guys who are just as fast, all of whom are adept at tackling in space. This isn't the original John Madden Football, where Randall Cunningham could simply run around the other 21 players on the field on the way to the endzone. That style doesn't work in the NFL.
Second pitfall: don't pick a QB to fix your offense. That is simply addressing the symptom instead of the problem again. Take another look at that Browns #2 jersey. We've tried that approach before. All of them got crushed behind terrible offensive lines with no rushing game to speak of. Behind this line, Johnny Manziel would be running for his life like a guppie dropped into a shark tank and every game would look like his game against LSU (16-41, 224 yards, 1 TD, 2 INTs). Blake Bortles and Teddy Bridgewater aren't the answer either behind this line and with the 2013 squad of receivers. Both would be chucking and ducking on a three-step drop to a tightly covered receiver on a quick slant. If one of those guys is available in the second round and you have already addressed the offensive line, maybe. But only if you don't like any of the running backs, receivers, or offensive guards still available. If trading for a QB like Cousins doesn't work out, the Browns can take someone like Pitt's Tom Savage, Georgia's Aaron Murray, or LSU's Zach Mettenberger with one of their two third round picks (#71 and #83 overall). Savage, Murray, or Mettenberger behind the Thomas/Mack/Matthews line throwing to Gordon, Cameron, and Marquise Lee would be far more effective than Manziel running for his life behind Thomas/Mack/Schwartz.
Unfortunately, the Browns have successfully turned their 2012 #3 overall pick into the #26 pick in this year's draft, their #22 pick of that draft into a player to be released and replaced by yet another quarterback next year, and their #37 pick into an under-strengthed right tackle who will continue to get the next Browns quarterback (Weeden out injured) and running back (Richardson broke 2 ribs as a rookie) beat up. But it's ok. The Browns have 2 first round picks again this year to go along with a high second round pick. We can't possibly botch that twice in three years, can we?
Go Browns!