Visitor List (Subject To Change)
September 6th (Virginia Tech)
'15 QB Torrance Gibson (Plantation, FL) - official
'15 RB Jacques Patrick (Orlando, FL) - official
'15 RB Damien Harris (Berea, KY) - official
'15 WR Lawrence Cager (Towson, MD) - official
'15 OT Branden Bowen (Draper, UT) - official
'15 DE Josh Sweat (Chesapeake, VA) - official
'15 DE Mekhi Brown (Columbus, GA) (Alabama Commit) - official
'15 LB Ricky DeBerry (Richmond, VA)
'15 DB Kevin Toliver (Jacksonville, FL) (LSU Commit) - official
'16 RB Demario McCall (North Ridgeville, OH)
'16 DE Nick Bosa (Fort Lauderdale, FL)
'16 DE Shavar Manuel (Tampa, FL)
'16 LB Brendan Ferns (Saint Clairsville, OH)
'17 WR Trevon Grimes (Fort Lauderdale, FL)
HOOPS - '15 SG Austin Grandstaff (Rockwall, TX)
HOOPS - '15 PG A.J. Harris (Dayton, OH) - official
HOOPS - '16 PG Curtis Jones (Fairfax, VA)
September 27th (Cincinnati)
'16 QB Dwayne Haskins (Potomac, MD)
'16 TE Jake Hausmann (Cincinnati, OH)
'16 WR Austin Mack (Fort Wayne, IN)
'16 OL Michal Menet (Reading, PA)
November 1st (Illinois)
'15 LB Malik Jefferson (Mesquite, TX) - official
'16 QB Jarrett Guarantano (Oradell, NJ)
November 29th (The Game)
'15 JuCo OL Tyler Howell (El Dorado, KS) - official
'15 LB Tevon Coney (Palm Beach Gardens, FL) - official
'15 S Will Sunderland (Midwest City, OK) - official
'16 QB Dwayne Haskins (Potomac, MD)
'16 RB Matthew Falcon (Southfield, MI)
'16 WR Austin Mack (Fort Wayne, IN)
'16 OT Michael Jordan (Canton, MI)
'16 OT Tommy Kraemer (Cincinnati, OH)
'16 OT Thiyo Lukusa (Traverse City, MI)
'16 LB Ethan Tucky (Delaware, OH)
'16 DB Lavert Hill (Detroit, MI)
'16 DB Jared Mayden (Sachse, TX)
'16 DB Chauncey Gardner (Cocoa, FL)
'17 ATH Bruce Judson (Cocoa, FL)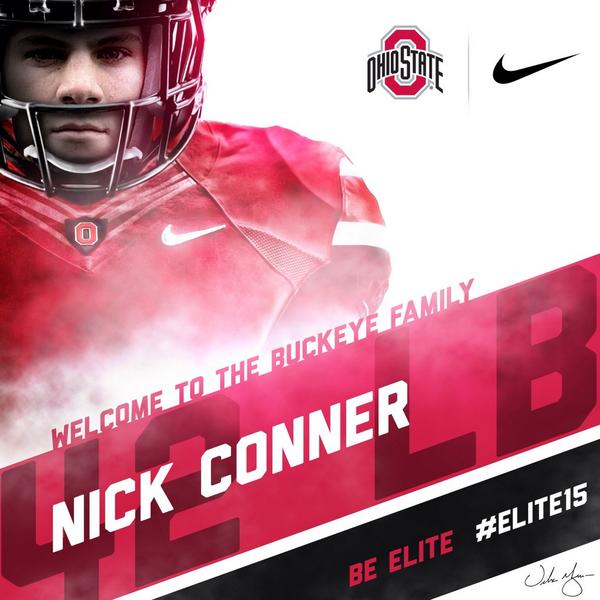 4-star WR will make his decision Friday afternoon between #Bama, #Razorbacks, #Gators, #ND and #Buckeyes http://t.co/ZCQzVkXm8M
— Mike Farrell (@rivalsmike) August 27, 2014
Newly Offered: '16 NC WR Divine Deablo
Newly Offered: '16 PA DB Damar Hamlin
Rivals $ - Five-star corner's interest in Ohio State 'a 10' '16 VA LB Levonta Taylor
Says he wants to visit when OSU plays "the team up North"...stays in touch with Zach Smith...talks about his goals for the upcoming season.
10 Freak-of-Nature Athletes in 2015 College Football Recruiting Class (BR)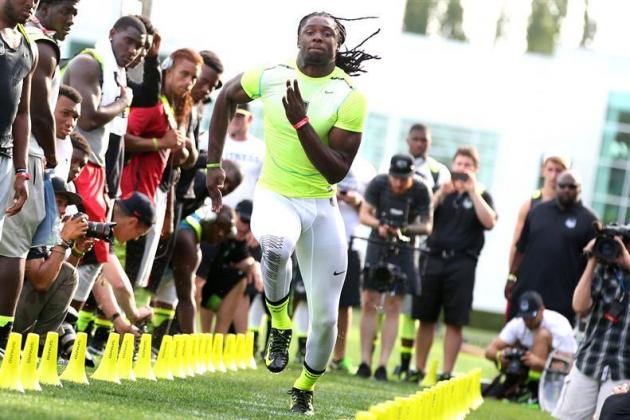 While Jadeveon Clowney and Julio Jones rose to stardom in college, both players were deemed freaks of nature as recruits long before they stepped foot on campus.
cont...
Ohio State recruiting: State Secrets, 8/27 - Divine Deablo offered by OSU (LGHL)
Kicking the news off today, North Carolina wide receiver Divine Deablo picked up an offer from Ohio State. Deablo, a 2016 recruit, stands at 6'3 is appears to be a flat-out monster on the outside. He's picked up some prestigious offers too, from the likes of Georgia, Florida, and Clemson. Taking a look at Deablo, it looks as if Clemson may be his early leader, but there's tons of time for Ohio State to work up some magic. The next step is getting him on campus for a visit and then it'll be game-on for the Buckeyes.
cont...