Visitors List (Subject To Change)
May 30th - June 1st (Columbus NFTC & Elite 11)
'17 QB Danny Clark (Massillon, OH) - commit
'15 RB L.J. Scott (Hubbard, OH)
'15 WR Alex Ofodile (Columbia, MO)
'15 WR Abu Daramy (Westerville, OH)
'15 WR Isiah Scott (Hubbard, OH)
'15 WR Jayson Stanley (Fairburn, GA)
'15 WR Elijah Ball (Cincinnati, OH)
'15 OL Matthew Burrell (Woodbridge, VA)
'15 DT Sterling Johnson (Clayton, NC) (tentative - Clemson Commit)
'15 DT Tim Settle (Manassas, VA)
'15 LB Justin Hilliard (Cincinnati, OH) - tentative
'15 DB Cameron Ordway (Pulaski, TN)
'15 DB Shaun Crawford (Lakewood, OH)
'15 ATH Nyheim Hines (Garner, NC)
'16 RB George Hill (Hubbard, OH)
'16 WR Jalen Martin (Harper Woods, MI)
'16 WR Austin Mack (Fort Wayne, IN)
'16 DE Kyree Campbell (Woodbridge, VA)
'16 DB Devin Taylor (Lansing, MI)
'18 RB Ricky Slade Jr. (Woodbridge, VA)
June 8th (One Day Camp)
'15 QB Joe Burrow (The Plains, OH) - commit
'15 QB Travis Waller (Anaheim, CA) - tentative
'15 TE Josh Moore (Olathe, KS) - tentative
'15 OL Grant Schmidt (Sioux Falls, SD)
'15 OL Chandler Cotterman (Anna, OH) (Toledo Commit)
'15 DE Darius Fullwood (Olney, MD) - tentative
'15 LB CJ Stalker (West Chester, OH)
'15 DB Ronnie Harrison (Tallahassee, FL) (UNC Commit)
'15 DB Jeff Christian (Cincinnati, OH)
'15 DB Tyler Green (Hyattsville, MD)
'16 RB Demario McCall (North Ridgeville, OH)
'16 DE Jonathon Cooper (Columbus, OH)
June 9th - 11th (Kicking & Long Snapping Camp)
June 12th - 14th (Three Day Camp)
June 17th - 18th (Skill & Big Man Camp)
'17 QB Danny Clark (Massillon, OH) - commit
'16 OG Tyler Gerald (Portsmouth, OH)
June 19th (One Day Camp)
'15 WR Deric Phouthavong (Columbus, OH)
'15 WR Abu Daramy (Westerville, OH)
June 20th
'15 TE Chris Clark (Avon, CT) - tentative
June 21st (One Day Camp)
'15 TE/DE Jake Pickard (Millburn, NJ)
'15 WR Kahlil Lewis (Miramar, FL) (West Virginia Commit)
'15 LB Nick Faulkner (Canton, OH)
'15 DB Kendrell McFadden (Hollywood, FL) (West Virginia Commit)
'16 RB Matt Falcon (Southfield, MI)
'16 OL Gavin Cupp (Leipsic, OH) - tentative
'16 LB Ethan Tucky (Delaware, OH)
July 25th (Friday Night Lights)
'17 QB Danny Clark (Massillon, OH) - commit
'15 WR Tristan Payton (Jacksonville, FL) (Florida Commit)
'15 OT Drew Richmond (Memphis, TN)
'15 DE Darius Fullwood (Olney, MD)
'15 DB Will Sunderland (Midwest City, OK)
'16 WR Justin Layne (Cleveland, OH)
'16 DE Jonathon Cooper (Columbus, OH)
'16 LB Shaq Quarterman (Orange Park, FL)
Rivals $ - Wariboko taking trips and cutting list '15 OK OL Josh Wariboko
Visiting UCLA on 6/13 & wants to visit Texas A&M, Tennessee & Ohio State.
Football Recruiting: The Latest on Gibson, Hilliard, and Crawford (11W)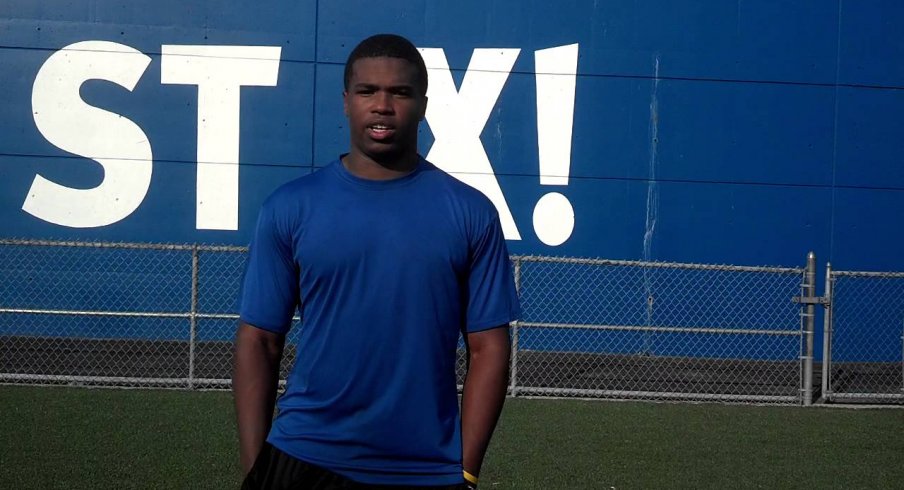 Before I dive into a pressing recruiting stories, I'd be remiss if I didn't make some mention of the Memorial Day weekend. I hope that everyone is enjoying the long weekend — the unofficial start of summer — but my greater hope is that you take a moment to sincerely thank the men and women you know who have donned the stars and bars on a military uniform. Without their willingness to sacrifice their lives for our way of life, I'd certainly not be here writing about something like recruiting. I'd not be here talking football, which is, in some way, meaningless in the big picture of life, although it's a welcomed escape from the daily grind we all fight through. I know it's cliché, but those men and women are true heroes and deserve our utmost respect. They fight a battle far greater than anything we can imagine, and it's unfortunately a battle that doesn't stop for many, even after their tours abroad are over.
cont...
Football Recruiting: 2015 QB Joe Burrow is a Buckeye (11W)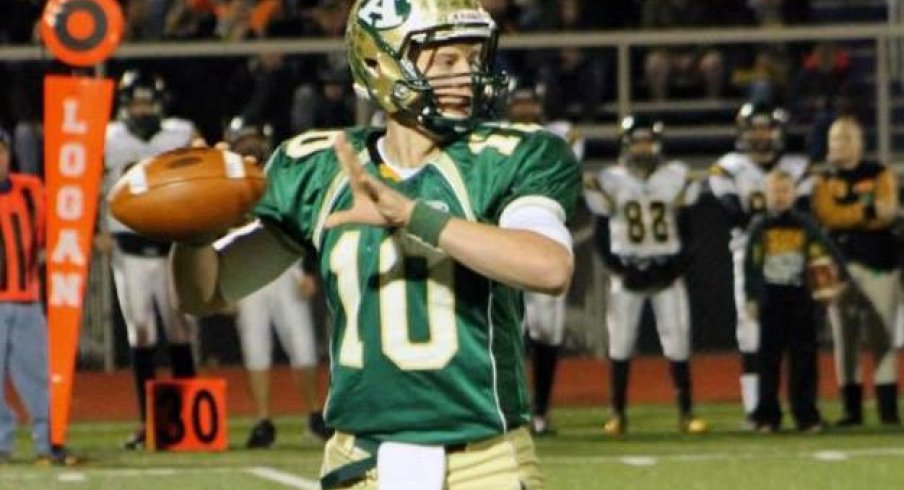 Ohio State's quest for a leader in their 2015 recruiting class finally has some resolution. The Plains (Ohio) quarterback Joey Burrow, the Buckeye state's top signal caller, committed to Ohio State today.
cont...
Ohio State recruiting: State Secrets, 5/27 - Tim Settle to visit, OSU makes cut for Miles Boykin (LGHL)
The Buckeyes will be having a couple of surprise visitors this weekend from some of the top recruits in the class of 2015.
cont...
Joe Burrow to Ohio State: What it means (LGHL)
We take a look at what the commitment of Joe Burrow means for the Buckeyes.
cont...