Visitors List (Subject To Change)
May 10th
Core 6 Day
'15 WR Miles Boykin (New Lenox, IL)
'16 RB George Hill (Hubbard, OH)
'17 DB Jared Payton (Columbus, OH)
May 31st - June 2nd
'17 QB Danny Clark (Massillon, OH) - commit
'15 DB Cameron Ordway (Pulaski, TN)
'15 RB Natereace Strong (East Saint Louis, IL) - tentative
'15 WR Alex Ofodile (Columbia, MO)
'15 DE Terry Beckner Jr. (East Saint Louis, IL)
'15 DT Sterling Johnson (Clayton, NC)
'15 ATH Nyheim Hines (Garner, NC)
'16 QB Dwayne Haskins (Potomac, MD)
'17 WR Jeff Thomas (East Saint Louis, IL)
June 1st
Columbus NFTC
June 2nd
Columbus Elite 11
June 8th (One Day Camp)
'15 TE Josh Moore (Olathe, KS)
'15 DB Ronnie Harrison (Tallahassee, FL)
July 25th (Friday Night Lights)
'16 LB Shaq Quarterman (Orange Park, FL)
Rivals $ - Two advance to Kirk's Final 5 '15 AZ ATH Christian Kirk
Will definitely take officials to Texas A&M and Ohio State. Plans on releasing a top 10 in June.
Rivals $ - Buckeyes still strong with four-star DE '15 MD DE Darius Fullwood
Ohio State leads, followed by Penn State, Miami, Georgia Tech, Kentucky, Virginia Tech & Michigan State. Upcoming visits to GT, Bama & possibly Michigan State. Has a great relationship with Coach Johnson and views him as a father figure.
Nations most sought after TE, Chris Clark @Clark8Chris: Excited to say I will be announcing my commitment at the Opening #TheOpening
— Jeremy Birmingham (@Birm) May 5, 2014
DB Adonis Williamson of Indianapolis (Ind.) Arsenal Tech has been offered by Ohio State, Nebraska and Missouri per his coach
— Anna Hickey (@AnnaHScout) May 5, 2014
QB Torrance Gibson (@quick_tg6) will announce top 15 in order around 6:30PM. #Buckeyes, #Auburn, #Clemson, #LSU four he said will make it
— Mike Farrell (@rivalsmike) May 5, 2014
This #ESPN300 duo out of North Carolina will be at #OhioState May 31 @HighlightReal90 & @TheNyNy2
— Gerry Hamilton (@HamiltonESPN) May 4, 2014
Core 6 Athletes, George Hill, Noah Listermann and Jared Payton to Visit (11W)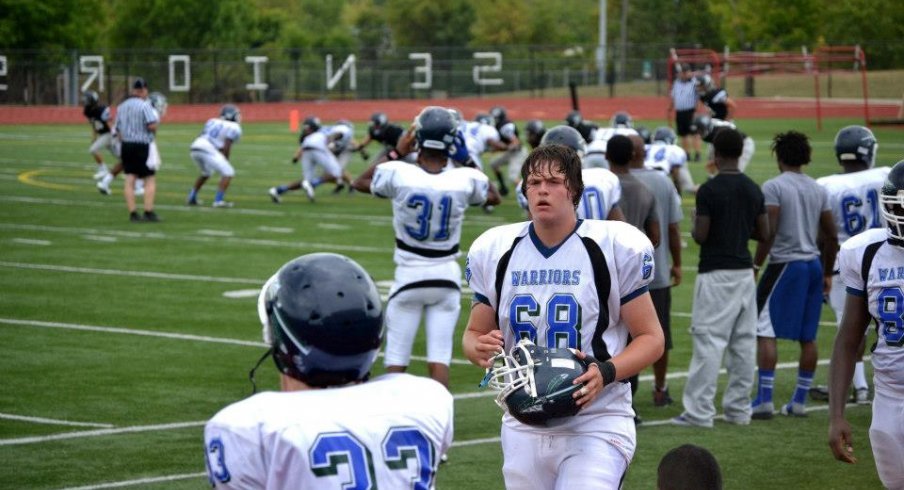 With a football organization that produces some of the Midwest's top talent, a 2016 running back, and a big tackle prospect all expected to visit Columbus, the Buckeyes have an important recruiting week ahead of them. Let's get right into the latest on prospects scheduled to visit Ohio State over the next week.
cont...
A Confounding QB Situation, Meet Kemah Siverand and Yes, Parris Campbell Can Run (11W)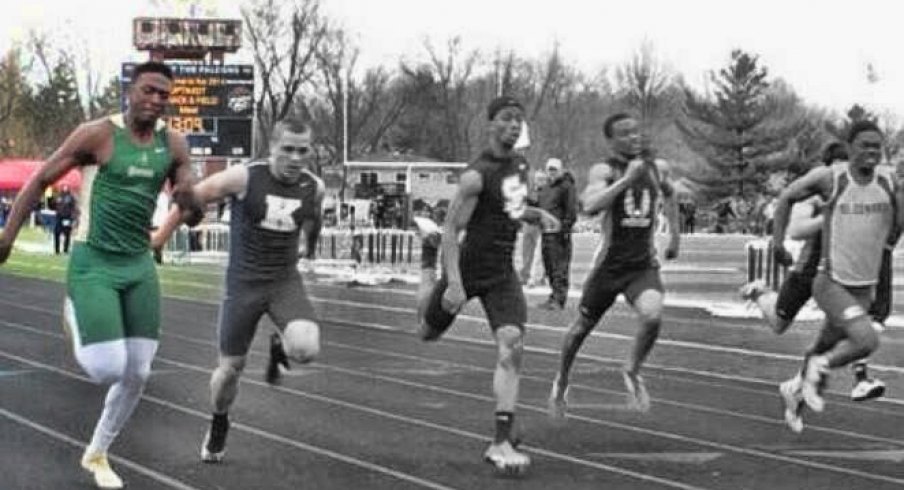 Welcome to Sunday afternoon and your weekly weekend dose of recruiting rants, raves and reviews. Today we're once again talking gloom, doom and the average Buckeye fan's guide to unrelenting sadness. Let's get straight into what's what, because I know everyone had a few too many mint juleps yesterday and my long-winded introductions could leave you bored to tears.
cont...
2015 WR Kemah Siverand Talks Recruiting, Eyes Buckeye Visit (11W)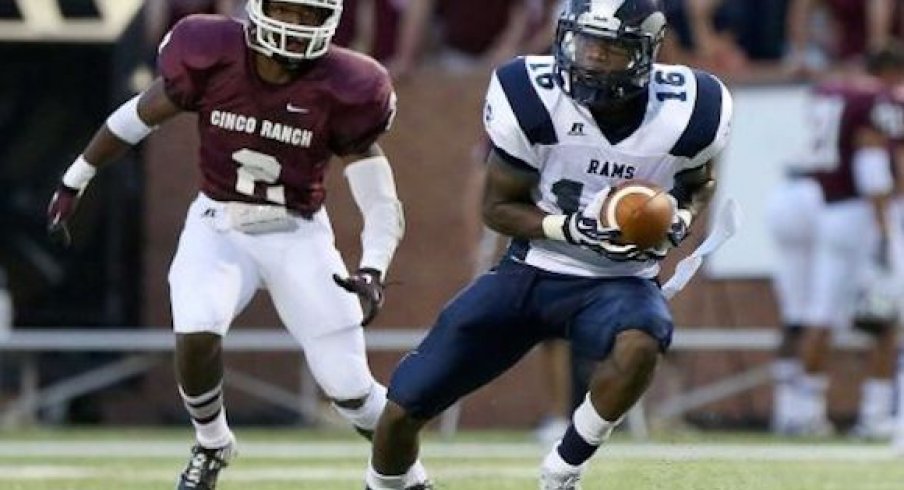 In 2014, Ohio State identified Johnnie Dixon early as one of their priority recruits for the class despite the long-shot odds they had to pull the South Florida star north. Zach Smith and Urban Meyer felt Dixon was worth the effort and it paid off in December when the Miami star committed to the Buckeyes. It was Dixon's relationship with Meyer and Smith that pushed him away from conventional wisdom — that he'd stay home in sunny South Florida — and towards Columbus.
cont...
Ohio State recruiting: State Secrets, 5/5 - Austin Grandstaff commits, Torrance Gibson to release Top 15 (LGHL)
When it comes to Ohio State recruiting, Urban Meyer's football squad usually steals the headlines away from Thad Matta and the Buckeye basketball program. Not this weekend. Matta landed another commitment for the 2015 cycle on Sunday when 6'5 190-pound Austin Grandstaff, a shooting guard from Rockwall, Texas, jumped on bored after spending the last few days in Columbus on an official visit.
A four-star prospect, Grandstaff, who was once committed to Travis Ford and Oklahoma State, previously held a long list of scholarship offers before deciding OSU was the right fit for him.
cont...
In a Nutshell: Damien Harris, Torrance Gibson, Sterling Jenkins, and more (LGHL)
Quite a bit has happened in the world of Ohio State football recruiting over the weekend and we're here to get you caught up on all of the latest happenings as we enter a new week.
cont...
Top '16 recruit Nate Craig plans on leaving Florida to play his college ball (SB Nation)
When it comes to 2016 recruiting it has become clear early in the process that Tampa (Fla.) Catholic wide receiver Nate Craig will be one of the top players in the class when it's all said and done.
cont...