Visitors List (Subject To Change)
May 10th
Core 6 Day
'15 WR Miles Boykin (New Lenox, IL)
May 31st - June 2nd
'17 QB Danny Clark (Massillon, OH) - commit
'15 DB Cameron Ordway (Pulaski, TN)
'15 RB Natereace Strong (East Saint Louis, IL) - tentative
'15 WR Alex Ofodile (Columbia, MO)
'15 DE Terry Beckner Jr. (East Saint Louis, IL)
'17 WR Jeff Thomas (East Saint Louis, IL)
June 1st
Columbus NFTC
June 2nd
Columbus Elite 11
July 25th (Friday Night Lights)
'16 LB Shaq Quarterman (Orange Park, FL)
Scout $ - Picou High On The Buckeyes '15 GA DL Quay Picou
Calls Ohio State his dream school & leader and says he could decide very soon. Originally from Ohio and attended Moeller. Plans on visiting soon.
Rivals $ - Buckeyes still a factor for Brown? '15 OH OT George Brown
Visited a couple weeks ago & really likes Coach Johnson & Coach Warinner. Was told by the staff he's next on the list of Offensive Tackles to be offered in the area. Hearing the most from Florida, Kentucky, Georgia & LSU. An offer from OSU would factor in to his recruitment.
Newly Offered: '15 NC DE Jalen Dalton
Newly Offered: '15 GA WR Jayson Stanley
Jake Hausmann, Tommy Kraemer, Liam Eichenberg Give Ohio Rebound Year in 2016 (11W)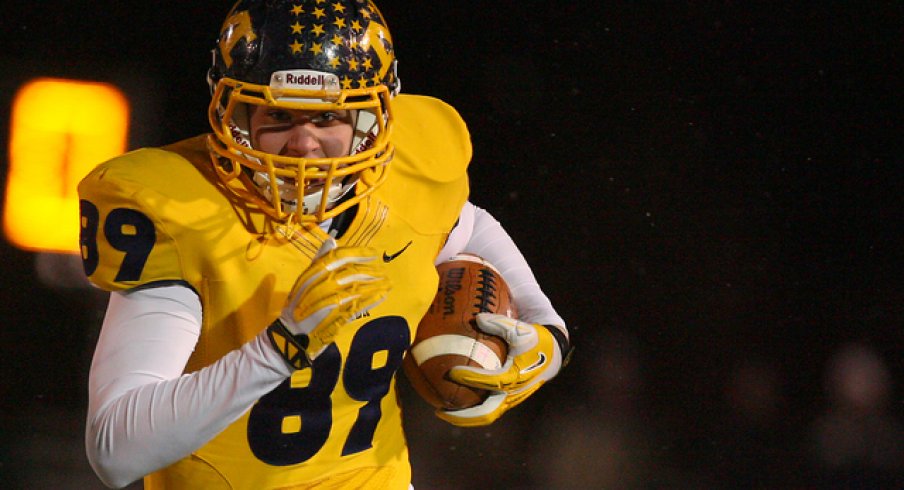 We've discussed — a few times — Ohio State's apparent lack of "interest" in some of the Buckeye state's top 2015 talent. Yes, the Buckeyes have offered Jerome Baker, Shaun Crawford, Eric Glover-Williams, Justin Hilliard, Dre'Mont Jones, Elijah Taylor and Larry Scott, a healthy number at this point, but many of the state's top players remain on the outside looking in.
The Buckeyes are in excellent shape with Baker and Jones and have a commitment from Glover-Williams. Ohio State is in a dog fight for Hilliard, Scott and Taylor, and Crawford has committed to Michigan, but another disjointed season for the Sun and Blue could potentially re-open that door for the Buckeyes if they've not sewn up their defensive backfield by then.
While the Buckeyes chase seven of the state's top players, top prospects like Nick Conner, Rob Dowdy, George Brown, Jr., C.J. Conrad, Anthony McKee and Jordan Jones continue to draw huge interest from other national programs but haven't yet received an offer from Ohio State. Whether or not the Buckeyes ever come calling is still in debate, but it's clear that the Buckeyes are A) aware that Ohio is loaded with talent and B) the Buckeyes aren't in any hurry to offer players they don't know with 100-percent certainty are able to fit into their program as a person and a player. The delay in offers for in-state products certainly rubs some people the wrong way, but Ohio State is in the business of making Ohio State football better, not brushing hair.
cont...
Ohio State recruiting: State Secrets, 4/29 - Dwayne Haskins, Jalen Dalton offered (LGHL)
Ohio State's coaching staff was busy at work on the recruiting trail on Monday, as the Buckeyes offered '16 QB Dwayne Haskins from the state of Maryland. Haskins, a 6'2, 175-pound pro-style quarterback, holds offers from Arizona State, Clemson, Florida, Maryland, Nebraska, SMU, Temple, and Utah, while also receiving interest from Michigan. Ohio State wasn't the only to offer Haskins on Monday, as the Gators and Terrapins offered the high school recruit.
Seeing as Haskins is in the early stages of his recruitment, it won't be long until he has a much larger offer list over the course of the year. With some of the bigger schools already offering the quarterback, you can expect the cream of the crop to be taking a closer look at Haskins. Here was an interesting note about Ohio State offering Haskins, from the prospect himself:
cont...
Ohio State's 2015 QB target Power Rankings - Brandon Wimbush is the priority right now: Buckeyes recruiting (Plain Dealer)
COLUMBUS, Ohio – The last two long-term starting quarterbacks at Ohio State were elite prospects in their respective recruiting classes. First was Terrelle Pryor, perhaps one of the most recognizable high school prospects of the last decade, then came Braxton Miller.
Now that Miller is entering his senior season, it's crucial for Ohio State to land another dynamic playmaker to be the next in line. So the 2015 recruiting class must have a game-changing quarterback as a centerpiece.
So where does Ohio State stand in that quest?
cont...
Ohio State High Choice For Top 2016 QB (Bucknuts)
ORADEL, N.J. Jarrett Guarantano (Oradel, N.J./Bergen Catholic) is one of the country's top 2016 quarterback prospects despite not seeing much varsity playing time until the second half of his sophomore season.
The 6-foot-4 and 198-pound Guarantano threw for five touchdowns and rushed for a couple after moving into the starting lineup. Recruiters like his size, arm, athleticism, and potential.
"I feel like I can go half and half," Guarantano said. "I can pro-style under center just to read the defense and then go shot-gun and do the dual-threat type thing with the read option, power option type stuff. I think that is something that separates me."
cont...