Visitors List (Subject To Change)
May 10th
Core 6 Day
'15 WR Miles Boykin (New Lenox, IL)
May 31st
15 DT Tim Settle (Manassas, VA)
'15 DB Cameron Ordway (Pulaski, TN)
June 1st
'15 RB Natereace Strong (East Saint Louis, IL) - tentative
'15 WR Alex Ofodile (Columbia, MO)
'15 DE Terry Beckner Jr. (East Saint Louis, IL)
'17 WR Jeff Thomas (East Saint Louis, IL)
July 25th (Friday Night Lights)
'15 LB Shaq Quarterman (Orange Park, FL)
#OhioState assistant Luke Fickell was in Savannah, Ga., this morning to see 2016 star athlete Demetris Robertson http://t.co/Ddp0XeoopL
— Bill Kurelic (@Bill_Kurelic) April 22, 2014
#OhioState will get a look at 2016 Top50 DE Josh King today, the No. 1 prospect in the state of Illinois: http://t.co/LqukdY9kro #Buckeyes
— Steve Wiltfong (@SWiltfong247) April 22, 2014
Ohio State visit May 10th. Open to Class of 2015-2017 Core 6 Athletes https://t.co/ytu6TsyRv9
— #COMPETE (@core6athletes) April 22, 2014
Indianapolis Decatur Central QB Tommy Stevens will be back at #OhioState again in the near future (VIP): http://t.co/36szdCZqy8 #Buckeyes
— Steve Wiltfong (@SWiltfong247) April 22, 2014
#OhioState coach Luke Fickell making the rounds today in Georgia. Checked on '16 WR Demetris Robertson, '17 DB Richard LeCounte, and others.
— Derek Young (@DYoungScout) April 22, 2014
Scout$--4-Star QB Locksley Breaks Down Top 10 '15 MD ATH Kai Locksley
Kai call Coach Meyer a QB genius and that will always make the Buckeyes attractive.
Scout $ - Sleepovers Plenty for Taylor '15 OH DT Elijah Taylor
Recaps trips to Notre Dame, Tennessee & Ohio State. Was able to spend time with Coach Meyer, Johnson & Coombs. Also spent time with Donovan Munger.
Scout$--Bredeson on U-M Academics, OSU Offer '16 WI OL Ben Bredeson
Ben says his visit to Columbus was about setting a foundation to build a relationship. He enjoyed the coaches and facilities in Columbus and also had a great return visit to Ann Arbor. He is taking everything slow and has no plans for an early commitment.
247 $ - Jauan Williams likes two, wants one '16 DC OL Jauan Williams
Ohio State & Maryland standout right now. Wants an offer from Florida.
Rivals $ - Gary and Johnson building a relationship '16 NJ DT Rashan Gary
Most recent offers from South Carolina, Miami & Virginia. Visiting Ohio State over the summer & has a good relationship with Coach Johnson. Distance not a factor.
Big Pressure, Big Footsteps to Follow: 2017 WR Keyshawn Johnson, Jr. is One to Watch (11W)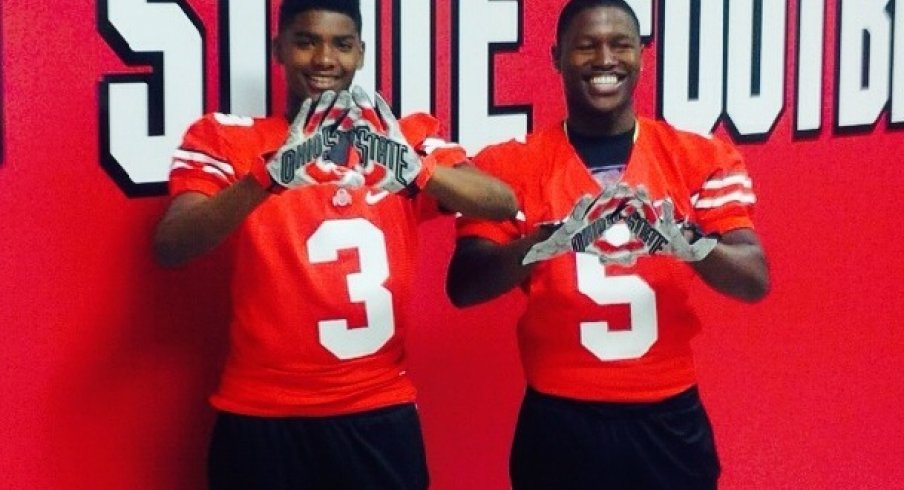 It's hard being a teenager these days. It's harder being a teenage athlete. It's hardest being a teenage athlete trying to follow in the prodigious footsteps of a potential Hall of Fame father. Welcome the world of Keyshawn Johnson, Jr. A regular kid who loves video games (NCAA series and Madden, especially) and wants to study how to program them in college, Keyshawn realizes there's some parts of his life that will never be regular.
"I've felt (pressure to live up his dad's name) since I could walk," Keyshawn the second told Eleven Warriors. "It's nothing new to me anymore. It has its pros and cons."
What is new to Johnson is an extensive college visit schedule. He has spent much of the last month in the beginning stages of his recruitment, traveling the country and collecting offers along the way. Ohio State, Florida State, Clemson, California, Arizona State, Louisville, Miami, UCLA, and West Virginia are among the big-time programs that have recently come calling. He's learning quickly how to separate what he wants to hear from the truth. Recruiting, after all, is essentially a sales pitch. Despite that knowledge, he's confident that what's he heard so far is a positive sign for what's to come.
cont...
Ohio State recruiting: State Secrets, 4/22 - AJ Turner offered (LGHL)
Ohio State sent out another offer on Monday, this time to '15 S/RB AJ Turner. The 5'11, 180-pound athlete has the ability to play both safety and running back, but projects more as a defensive back in the college ranks. In addition to the offer from the Buckeyes, Turner received three offers from other schools on Monday, including Eastern Carolina, Connecticut, and Clemson. Those four schools added to his already growing list of Boston College, Duke, Maryland, Old Dominion, Pittsburgh, South Carolina, Virginia, Virginia Tech.
Turner hails from Clifton, Virginia and is ranked as the 32nd-best prospect in the state. As a safety, Turner ranks 63rd in the country. As of now, the Crystal Ball has no predictions from the experts, but there isn't really a clear-cut leader as of now. Being in the class of 2015 helps Turner out when it comes to having more time to name a leader.
cont...
Torrance Gibson and everyone else - breaking down Ohio State's 2015 QB targets: Buckeyes recruiting (Plain Dealer)
COLUMBUS, Ohio – He's a 6-foot-4, 195-pound prospect who his dangerous with his legs but is working diligently to be an even bigger threat with his arm.
He fits perfectly into Ohio State's spread offense and possesses the type of explosiveness that made him one of the most sought after talents in the 2015 recruiting class.
He is Urban Meyer's top quarterback priority.
He's Plantation (Fla.) American Heritage prospect Torrance Gibson.
But he isn't the only one. He can't be.
cont...