Visitors List (Subject To Change)
This Weekend
'15 WR Jabari Greenwood (Washington, DC)
'15 TE C.J. Conrad (LaGrange, OH)
'15 OL David Robbins (Glenelg, MD)
'15 OL Jake Fruhmorgen (Tampa, FL)
'15 OL Quinn Oseland (Springfield, IL)
'15 DE Darius Fullwood (Olney, MD)
'15 LB Chris Green (Toledo, OH)
'15 DB Denzel Ward (Macedonia, OH)
'16 OL Tyler Gerald (Portsmouth, OH)
April 1st
'15 OL Gabe Megginson (Jacksonville, IL)
April 4th
'15 TE Hale Hentges (Jefferson City, MO)
April 5th
'15 OL Austin Clark (Lexington, VA)
'17 OL Emani Mason (Detroit, MI)
April 10th
'16 OL Michal Menet (Reading, PA)
April 12th - Spring Game
'15 OL Larry Wells (Kenton, OH)
'15 OL Sterling Jenkins (Pittsburgh, PA)
'15 DE Dre'Mont Jones (Cleveland, OH)
'15 DE Jonathon Cooper (Gahanna, OH)
'15 LB Nick Conner (Dublin, OH)
'15 LB Sh'mar Kilby-Lane (Hallandale, FL) tentative
'16 OL Tommy Kraemer (Cincinnati, OH)
'17 ATH Richard LeCounte (Hinesville, GA)
April 18th
'15 TE Chris Clark (Avon, CT)
'15 LB Ricky DeBerry (Richmond, VA)
May 24th
Core 6 Day
May 31st
'15 DB Cameron Ordway (Pulaski, TN)
June 1st
'15 RB Natereace Strong (East Saint Louis, IL)
'15 WR Alex Ofodile (Columbia, MO)
'15 DE Terry Beckner Jr. (East Saint Louis, IL)
'17 WR Jeff Thomas (East Saint Louis, IL)
Rivals $ - RCS Atlanta: Rashad Roundtree '15 GA DB Rashad Roundtree
Recaps recent visits to Georgia, Auburn & Duke. Wants to visit South Carolina, Florida State, Clemson, Virginia Tech & Georgia Tech this summer. Says Ohio State, Michigan State, Michigan, USC & Florida will get Official Visits.
Scout$--Taylor Talks Ohio State Offer '15 OH DT Elijah Taylor
Elijah says tOSU is definitely high on his list but he can't name favorites yet. His Dad definitely enjoyed the trip.
247 $ - Fullwood says OSU high on his list '15 MD DE Darius Fullwood
Says the visit was great & he loves Coach Johnson's coaching style. Wants to visit Virginia Tech, Michigan State, Georgia Tech & Alabama before deciding in May. Doesn't have a top school, but says Ohio State is high on his list.
Scout $ - Daniels Now Naming A Leader '15 OH OL James Daniels
Auburn leads with Wisconsin, Michigan State, Kentucky, Iowa, Ohio State & Miami also standing out. Distance not a factor & wants to decide before his season.
Rivals $ - LeCounte wants to make a splash at RCS Atlanta '17 GA ATH Richard LeCounte
Visiting Ohio State for the Spring Game. Talks with Raekwon daily. Wants to camp at Florida State, Alabama, Auburn, Georgia & Clemson this summer.
4* DE Darius Fullwood tells me #OhioState is ahead after this weekend's visit #Buckeyes
— Marc Givler (@MarcGivlerBG) March 30, 2014
Recently Offered: '15 OH DT Elijah Taylor
Toledo Linebacker Chris Green Recaps Buckeye Visit (11W)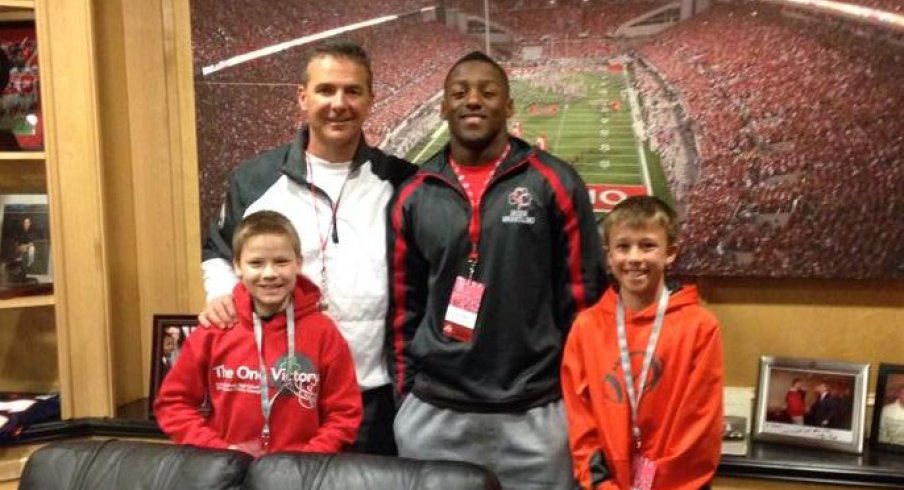 Chris Green, a 2015 was on campus today checking out the Buckeyes and the nation's 13th-ranked inside linebacker came away very impressed with what he saw, and he's planning a return visit.
"The visit was great, a very good experience," Green told 11W. "I watched the scrimmage and talked individually with both Luke Fickell and Urban Meyer. They are very family-like. They want the best out of their players, but they really are in touch with parents and the families."
One facet of today's trip really stood out to Green.
cont...
Buckeyes Shooting Straight With Conrad (11W)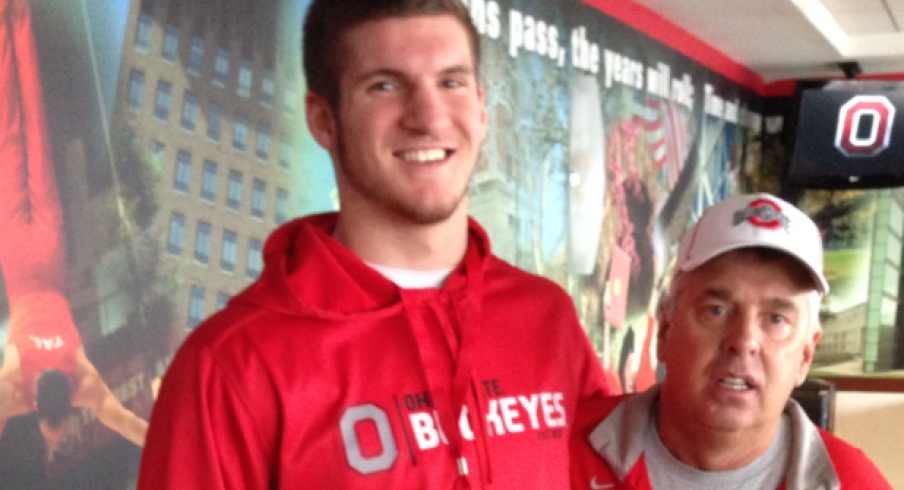 As the nation's 8th-ranked tight end, C.J. Conrad is a pretty hot commodity on the recruiting trail. He's got scholarship offers from Arkansas, Kentucky, Duke, Indiana, Illinois and others, but he's still waiting on the major regional programs like Ohio State, Michigan, Michigan State, Penn State and Notre Dame to come through with a scholarship.
Today, Conrad was back at Ohio State where he checked out the Buckeyes' scrimmaging and sat in on positional meetings with Ohio State's tight end coach, Tim Hinton. It was a visit that was illuminating for Conrad for a number of reasons.
"Coach Hinton was really honest," Conrad told Eleven Warriors about his day trip to Columbus. "We got to talk one-on-one a lot and he said he is very interested and he wouldn't of asked me to come if I wasn't a guy they were super interested in. I got to sit on tight end meetings, which was great. They really focus on being a compete tight end."
cont...
Three-star Illinois Lineman Quinn Oseland Has "Great" Visit to Ohio State (11W)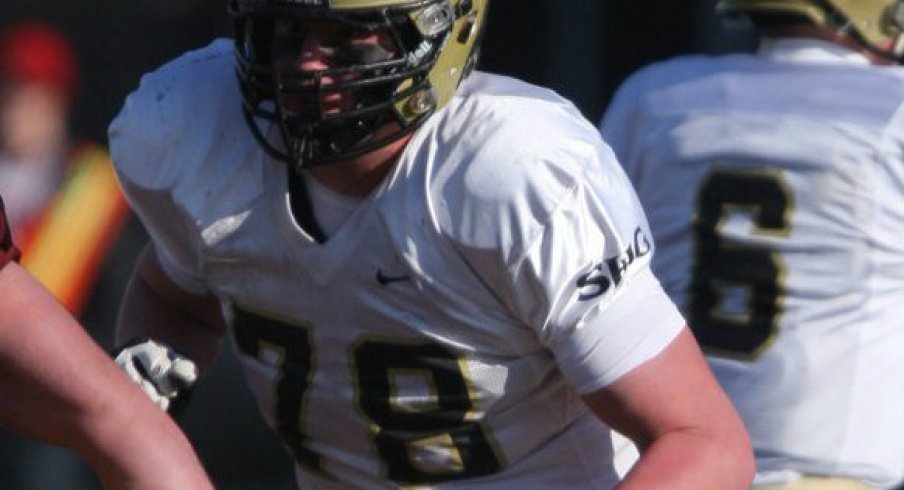 unior offensive lineman Quinn Oseland was one of a handful of prospects that took in Ohio State's spring practice on Saturday. Like the rest of the prospects, he came away impressed.
Oseland told 11W that his visit was "great." What stood out on his visit to Columbus? "The energy of the practice and just the way they handle it," the Illinois native said. "I got to talk to a bunch of coaches and saw all of practice."
The 6-foot-6, 310 pound lineman from Springfield, Illinois is rated as the 71st-best offensive tackle in the nation, according to 247Sports.
cont...
Nordonia DB Denzel Ward Visits Ohio State (11W)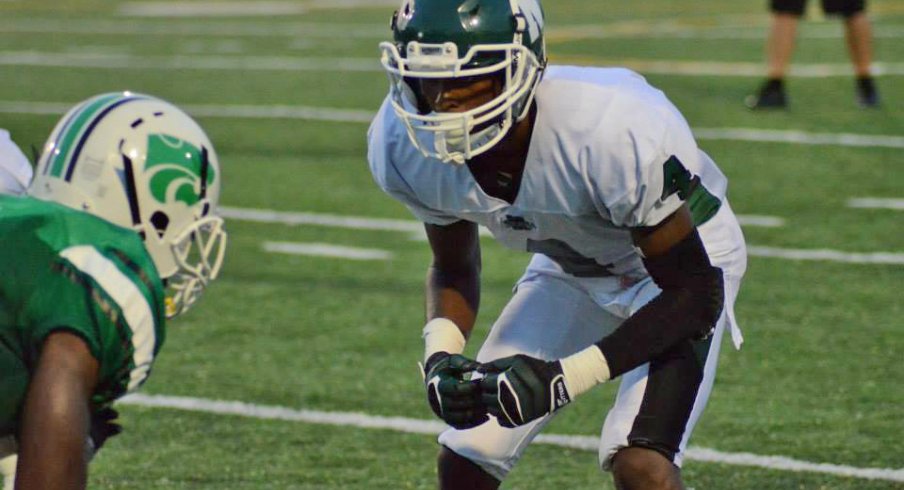 Perhaps the fastest player in Ohio for 2015, Denzel Ward of Nordonia High School, has had a relatively slow start to his recruiting process. A 5-foot-11, 170 pound cornerback, Ward visited the Buckeyes for the first time on Saturday and came away very impressed with Ohio State.
"I'd been in contact with (Buckeye offensive line coach Ed) Warinner just recently, but today I hung out mostly with (Kerry) Coombs," Ward told Eleven Warriors when asked what prompted the visit to Columbus. "(The visit) was great. I love the coaches there, and I feel they really know what they're doing. They gets their players motivated and competing with high energy. The facilities were nice and they gave me a lot of feedback on what I need to do in order to be a Buckeye."
cont...
Columbus LB Anthony McKee's recruitment is exploding, but he's still waiting for an Ohio State offer after recent visit: Buckeyes recruiting (Plain Dealer)
COLUMBUS, Ohio - When Anthony McKee first became involved with Ohio State's coaching staff, he was just a local prospect with potential.
Now the Columbus Walnut Ridge linebacker has options. Like Michigan State.
The Spartans offered McKee a scholarship on March 19, and shortly after the Buckeyes coaching staff invited the linebacker to practice. So McKee, who has visited Ohio State too many times to count, had a little extra excitement.
"I thought they were going to offer me," McKee said in a phone interview with Cleveland.com.
cont...
'We talk almost on a daily basis': Top-rated safety Rashad Roundtree has solid relationship with Ohio State: Buckeyes recruiting (Plain Dealer)
COLUMBUS, Ohio – Rashad Roundtree lives in the thick of SEC country and doesn't plan to take visits north until the fall. So what does Ohio State do to stay in the game?
"We talk almost on a daily basis," Roundtree told Cleveland.com in a phone interview Saturday evening.
That may seem like a lot, but the Buckeyes have established Roundtree as one of their top targets in the 2015 recruiting class. And if gaining solid positioning with Roundtree requires daily contact, that's exactly what coach Urban Meyer expects.
cont...
Ohio State recruiting: Top players in Ohio for 2015 (LGHL)
With the 2015 recruiting cycle now in full swing, we thought it would be a good idea to take another look at the top players in Ohio for the 2015 recruiting class. Since the update a few days after National Signing Day 2014, I have re-watched some film and am ready to do a second set of rankings.
The only two things that will be taken into account in these rankings will be current talent and upside. We will also add a quick comment on where the Buckeyes stand with the player.
Without further adieu, Land-Grant Holy Land presents the top 15 players in the Buckeye State for the class of 2015.
cont...
Ohio State recruiting: 2015 OL David Robbins talks visit (LGHL)
Class of 2015 offensive lineman David Robbins had a good time during his visit to OSU. See what stood out during his trip to Columbus and where he is headed to next.
Class of 2015 offensive lineman David Robbins of Glenelg, Maryland was one of the many talented prospects in Columbus spending their Saturday morning on the Ohio State campus for an un-official visit.
"It was a good visit. I had a lot of fun and I really liked it." Robbins,a 6'3 295-pound all-state selection told Land-Grant Holy Land soon after ending his trip. "The offensive line here was really fit, and athletic which made me think I would be a good fit there." The three-star prospect added on what caught his eye while watching the Buckeyes get ready for their April 12th spring game at Ohio Stadium earlier today.
cont...
Ohio State recruiting: Dream 14 lessons indicate 2015 best to come (LGHL)
We take a look at why there's no reason to worry about Ohio State's 2015 recruiting class.
I've noticed quite a few fans worrying about Ohio State's recruiting class as it currently stands. Today we're going to (try) to put your worries to rest.
First, we're going to take a look at where the "Dream 14" stood on March 30th, 2013:
cont...
Ohio State recruiting: Chris Green recaps OSU visit (LGHL)
While there weren't quite as many recruits on campus yesterday as there were last weekend, there were still a couple of highly touted ones on Ohio State's Central Ohio campus taking in what the Buckeye football program had to offer.
One of the bigger names on campus was Toledo (OH) Central Catholic linebacker Chris Green, who is one of Ohio's best players in the 2015 class as a whole.
Green had a great time on campus yesterday and plans on coming back for another visit this June in order to earn a scholarship offer from the Scarlet and Gray.
"They had someone walk me around. They were having a scrimmage – first team offense v.s. first team – and I watched that for about an hour," Green said. "Then when it was over, they took me to the uniform room, where I saw all of the uniforms and equipment and took pictures with some jerseys on which was really cool. (After that) I went to the weight room and talked to the strength and conditioning coach and we talked about how they run the program."
cont...
Ohio State recruiting: Darius Fullwood recaps OSU visit (LGHL)
There were a handful of recruits in Columbus this weekend, but most of them have not yet been offered a scholarship by Ohio State.
The one player who was on campus who held a scholarship offer from the Scarlet and Gray was Olney (MD) Good Counsel defensive end, Darius Fullwood, who was making his first trip to Columbus since he was on campus for the Ohio State-Indiana game last November.
Fullwood had a great time on his return visit to Ohio State, which featured sitting in on defensive line meetings and watching the team's practice yesterday.
"We got a chance to go to the position meeting before practice and got to see Coach Johnson prepare his players for practice and go over the film and set his expectations for practice," Fullwood said. "That's one of the things I really liked a lot."
cont...
Ohio State recruiting: Jabari Greenwood talks OSU visit (LGHL)
Ohio State hosted multiple recruits this weekend, many of which didn't hold scholarship offers from the Scarlet and Gray.
One of the guys who doesn't yet have an offer, but is hoping to earn one is Washington (DC) Gonzaga wide receiver Jabari Greenwood, who played with Ohio State target Marcus Lewis last year, but won't next year as Lewis is transferring to IMG academy in Florida to complete his high school career.
The massive, 6'5, 190-pound wide receiver had good things to say about his first ever visit to Ohio State.
"The campus was beautiful," he told Land-Grant Holy Land. "I got a really good vibe for the academics and got to meet with someone in the business school. I really liked it."
One of the main things he got to see what yesterday's spring practice, which was something he really enjoyed experiencing.
cont...
IMG Notebook: Day 1 (Scout)
Plenty of high school athletes gathered at IMG Academy Saturday for the Southeast Regional 7on7 tournament, but no football was played. The lightning just wasn't stopping in Bradenton, Florida, so the tournament will be squished into a one day event Sunday. Scout.com still got plenty of recruiting updates and you can read them
Volunteers make a move
Five-star quarterback Torrance Gibson just wrapped up a long Spring Break road trip. He visited several schools including Oklahoma, LSU, Clemson, Auburn, Tennessee, and Florida. Gibson hopes to return to LSU and Tennessee and said the Volunteers are now his leader after the trip. The Plantation (Fla.) American Heritage standout also plans to visit Ohio State this summer.
cont...