Visitors List (Subject To Change)
This Weekend
'15 WR Jabari Greenwood (Washington, DC)
'15 TE C.J. Conrad (LaGrange, OH)
'15 OL David Robbins (Glenelg, MD)
'15 OL Jake Fruhmorgen (Tampa, FL)
'15 OL Quinn Oseland (Springfield, IL)
'15 DE Darius Fullwood (Olney, MD)
'15 LB Chris Green (Toledo, OH)
'16 OL Tyler Gerald (Portsmouth, OH)
April 1st
'15 OL Gabe Megginson (Jacksonville, IL)
April 4th
'15 TE Hale Hentges (Jefferson City, MO)
April 5th
'15 OL Austin Clark (Lexington, VA)
'17 OL Emani Mason (Detroit, MI)
April 10th
'16 OL Michal Menet (Reading, PA)
April 12th - Spring Game
'15 OL Larry Wells (Kenton, OH)
'15 OL Sterling Jenkins (Pittsburgh, PA)
'15 DE Dre'Mont Jones (Cleveland, OH)
'15 DE Jonathon Cooper (Gahanna, OH)
'15 LB Nick Conner (Dublin, OH)
'15 LB Sh'mar Kilby-Lane (Hallandale, FL) tentative
'16 OL Tommy Kraemer (Cincinnati, OH)
April 18th
'15 TE Chris Clark (Avon, CT)
'15 LB Ricky DeBerry (Richmond, VA)
May 24th
Core 6 Day
May 31st
'15 DB Cameron Ordway (Pulaski, TN)
June 1st
'15 RB Natereace Strong (East Saint Louis, IL)
'15 WR Alex Ofodile (Columbia, MO)
'15 DE Terry Beckner Jr. (East Saint Louis, IL)
'17 WR Jeff Thomas (East Saint Louis, IL)
Scout $ - Myers adds another dream offer '17 OH OT Josh Myers
Offered by Coach Meyer and was told he's the first freshman OL that Coach Meyer has ever offered. Will visit Ohio State again for the Spring Game or another spring practice. Will also visit TTUN, Tennessee & Florida over his spring break.
One to Watch: 2016 QB Brandon McIlwain of Newton, Pennsylvania (11W)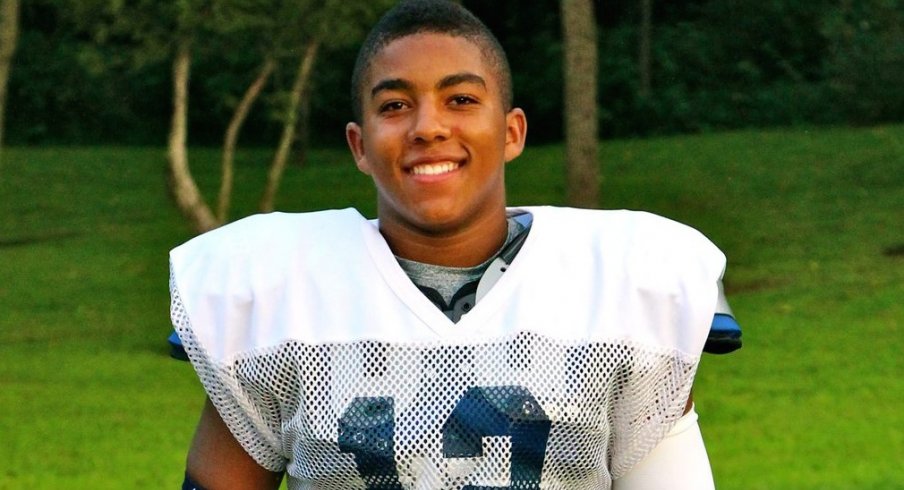 At 6-foot-1 and 205 pounds, Brandon McIlwain is not be the prototypical, pro-style quarterback that usually racks up early offers from the nation's elite college programs.
One look at his impressive highlight tape and it doesn't take long to see why he's eschewing the standard definition of the position, however.
"I think Russell Wilson," McIlwain said when asked who he'd compare his style to. "Because I pass first and can use my feet when needed."
cont...
Lane Picking Up Offers Left and Right (11W)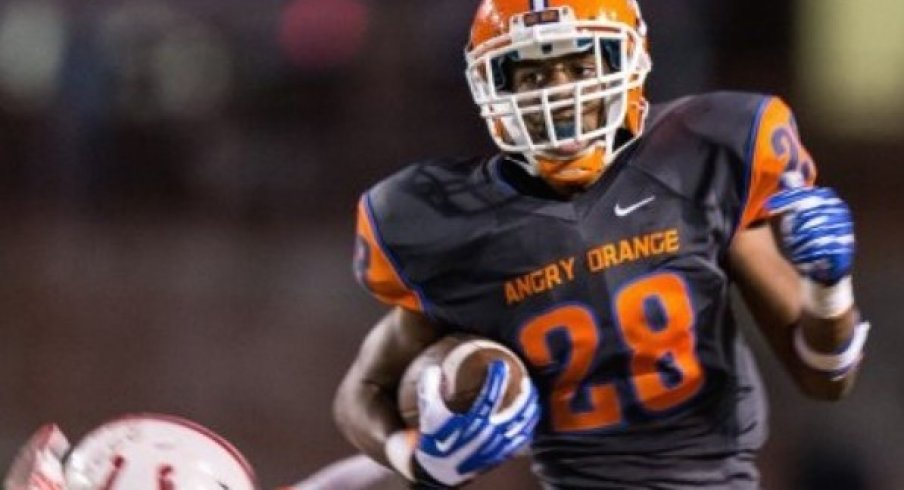 Jaylon Lane, a 6-foot-1, 185 pound defensive back from Nacogdoches (Texas) is absolutely blowing up. In the last five days, Lane, who was named the defensive back MVP at the recent Rivals.com Camp Series event in Houston, has added eight different scholarship offers, including powerhouse programs Oklahoma, Notre Dame and most recently, LSU.
An early commitment to Ole Miss, Lane re-opened his recruitment on March 20th and the flood of offers has rolled through the gates.
"I feel that me opening up recruiting again helped," Lane said of what's brought about the recent rush of offers. "Most of all me getting named the defensive back MVP at RCS in Houston helped a lot. I earned over a lot of top defensive backs who were there and schools are starting to see not only (I) can play in West Texas, but I can play and dominate against the best anywhere."
cont...
Ohio's Top Running Back Loves Ohio State (11W)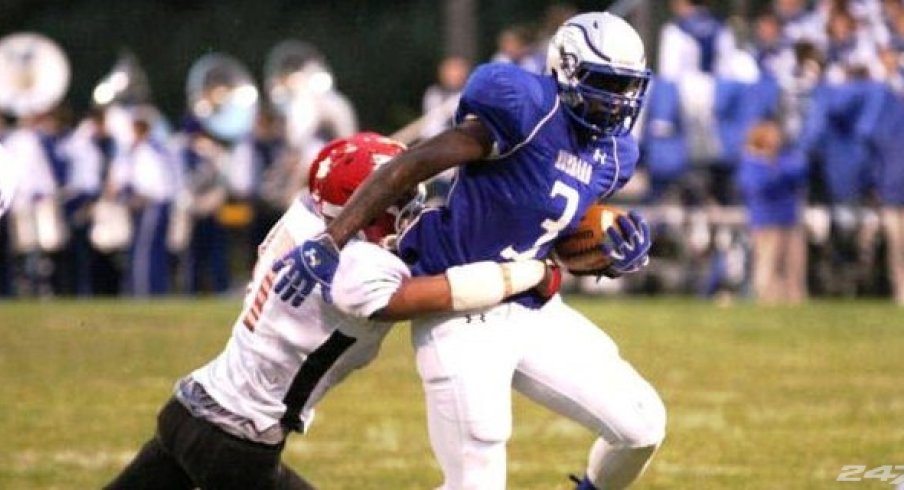 Larry Scott, the top running back in Ohio for 2015, finally picked up a coveted Buckeye offer a few weeks ago. He had been considered a Michigan lean, but after a recent visit to Ohio State, Scott says he has no leader. In fact, as Birm wrote last week, a source close to the situation says Ohio State is actually now the leader for Scott.
Scott told 11W the weekend visit "went well, I liked it a lot. Just kind of took everything in, that type of deal." He liked it so much, in fact, when asked about his favorite part of the trip he replied "everything." He did add that the intensity at practice was impressive.
Ohio State had been holding out on offering him for a while, though not for a lack of talent. Scott is one of the best running backs in the entire country, and now that he's gotten his academics straightened out he's being chased by some of the top programs in the country. Ohio State, Alabama and Auburn have offered him in the past month alone.
cont...
Ohio State recruiting: State Secrets, 3/28 - Nate Craig close to a decision, Torrance Gibson update (LGHL)
After another busy week and a relatively big weekend of visitors coming up, there's a lot to talk about when it comes to Ohio State football recruiting.
2016 star Nate Craig close to a decision
Tampa (FL) Catholic wide receiver Nate Craig is one of the best players in the 2016 recruiting class. He boasts offers from the likes of Ohio State, Tennessee, Auburn, Florida, Clemson, Florida State, Miami, Ole Miss, and many others.
Yesterday he tweeted that he was ready to commit, but wanted to take some visits to make sure he was 100% sure on any potential college decision.
He told me that he would like to visit Ohio State, Auburn, Clemson, Florida State, Tennessee, Florida, Miami, and a couple of other schools before finalizing a decision. After taking visits, he would like to make a college announcement sometime this summer.
Craig is hearing the most from Auburn, Ohio State, and Tennessee as things currently stand. Last month he told me that he's very open to leaving the state of Florida to play his college football saying, "I would rather stay away from home for college because it's a distraction."
We'll keep you up to date on Craig's recruitment and any potential visits when more news becomes available regarding the standout wide receiver. I think the Buckeyes have a pretty good chance here.
cont...
Ohio State recruiting: 2015 OL Ian Leever talks visit (LGHL)
See what three star offensive lineman Ian Leever had to say about his Thursday visit to Ohio State and more.
Just like his Loveland High School teammates Drew Plitt and Jake Saunders did on Tuesday, class of 2015 offensive lineman Ian Leever made his way to the Ohio State campus for an unofficial visit yesterday.
"The trip was great." Leever, a three-star prospect, told Land-Grant Holy Land of his stop at OSU. "I was very impressed with their facilities and the interest they showed in me," he went on to add.
Leever, who will check out the University of Kentucky later today, has spent most of his Spring Break on the road. He made visits to Michigan State on Tuesday and to both Eastern Michigan and Michigan on Wednesday, before he had the chance to interact with numerous members of the Buckeye coaching staff, including Urban Meyer on Thursday.
"I talked to Coach Kerry Coombs, Coach Urban Meyer and Coach Ed Warinner. They said they loved my film and that they were impressed." That isn't the only thing the staff shared with the 6'5 280-pound standout. "They want to see me back in camp to see me work," Leever said. "They talked about wanting me to come to camp and see me in action in order to get an offer. They said they are not ready to offer yet though. I will be at the spring game and will camp there this summer."
cont...
Ohio State recruiting: Darius Fullwood previews OSU visit (LGHL)
Olney (MD) Good Counsel defensive end Darius Fullwood previews his weekend visit to Ohio State.
Urban Meyer and company aren't hosting as many visitors as they did last weekend, when over ten prospects were on campus, but there are still going to be a couple of recruits this weekend, including one very big one, in the form of Olney (MD) Good Counsel defensive end Darius Fullwood.
Ohio State offered the 6'5, 240-pound defensive lineman in January, just a couple of weeks after Larry Johnson took over as the Buckeyes' defensive line coach. Johnson and Fullwood have had a strong relationship dating back to Johnson's time on the Penn State coaching staff. In fact, Fullwood told me that he had the best relationship with Johnson of all of the coaches that were recruiting him.
"I think of all of the people who have recruited me, Coach Johnson is the coach I have the best relationship with," Fullwood said. "I've talked to him a lot. He's a really good coach and sent a lot of defensive linemen to the NFL when he was coaching at Penn State."
cont...
Ohio State recruiting: Previewing the weekend of visitors (LGHL)
We preview Ohio State's weekend visitors.
While this weekend isn't going to be near as busy as last weekend, where multiple elite prospects were on hand to watch a spring practice and check out the campus, there are still going to be a handful of guys making the trip to Columbus to watch Saturday's practice.
We'll touch on this weekend's bigger visitors and also talk about some under the radar recruits who will be in Columbus this weekend.
Let's get started.
cont...
Five-star RB Damien Harris, a former Michigan commit, reportedly has Ohio State in his top four: Buckeyes recruiting (Plain Dealer)
COLUMBUS, Ohio – Five-star running back Damien Harris posted a picture on his public Twitter account of his top 10 schools, which really shouldn't make any of the programs listed feel all that special.
But according to Rivals.com national recruiting expert Mike Farrell, there is reason for Ohio State to feel some excitement.
Shortly after, Farrell posted that he heard that the product of Berea, Ky., has a top four that consists of Alabama, Florida State, Florida and the Buckeyes.
cont...