Visitors List (Subject To Change)
Today
'15 OT Ian Leever (Loveland, OH)
'15 OT Noah Listermann (Cincinnati, OH)
'17 QB Danny Clark (Massillon, OH)
PF Anthony Lee (Temple Transfer) - official
March 29th
'15 TE C.J. Conrad (LaGrange, OH)
'15 OL David Robbins (Glenelg, MD)
'15 OL Jake Fruhmorgen (Tampa, FL)
'15 OL Quinn Oseland (Springfield, IL)
'15 DE Darius Fullwood (Olney, MD)
'16 OL Tyler Gerald (Portsmouth, OH)
April 1st
'15 OL Gabe Megginson (Jacksonville, IL)
April 4th
'15 TE Hale Hentges (Jefferson City, MO)
April 5th
'15 OL Austin Clark (Lexington, VA)
'17 OL Emani Mason (Detroit, MI)
April 10th
'16 OL Michal Menet (Reading, PA)
April 12th - Spring Game
'15 OL Larry Wells (Kenton, OH)
'15 OL Sterling Jenkins (Pittsburgh, PA)
'15 LB Sh'mar Kilby-Lane (Hallandale, FL) tentative
'16 OL Tommy Kraemer (Cincinnati, OH)
April 18th
'15 TE Chris Clark (Avon, CT)
'15 LB Ricky DeBerry (Richmond, VA)
May 31st
'15 DB Cameron Ordway (Pulaski, TN)
June 1st
'15 RB Natereace Strong (East Saint Louis, IL)
'15 WR Alex Ofodile (Columbia, MO)
'15 DE Terry Beckner Jr. (East Saint Louis, IL)
'17 WR Jeff Thomas (East Saint Louis, IL)
Scout $ - Harris Has Visits In Mind '15 KS OL AJ Harris
Planning visits to Ohio State, Missouri, Oklahoma State, and Kansas State...talks about his interest in each, which includes OSU's tradition and staying in contact with Coach Warinner.
Rivals $ - Spring decision for 4-star QB '15 GA QB Lorenzo Nunez
Top suitors are thought to be Clemson, Ohio State and Tennessee...recaps his junior day visit to Clemson and meeting with Chad Morris.
Rivals $ - LB has Canes in top group '15 FL LB Dominic Sheppard
High interest in Miami, Alabama, Tennessee, Louisville and Ohio State...says he grew up a Canes fan and will be at their spring game.
Rivals $ - Kirk's final five taking shape '15 AZ ATH Christian Kirk
Says TAMU and one of USC or UCLA will make his final five...has a trip to Cal coming up in April...plans to enroll early.
Rivals $ - DE Jones won't rule out Kentucky '15 OH DE Dre'Mont Jones
Plans to decide this summer...also wants to see Michigan State, Michigan, Indiana, Iowa and Kentucky and talks about Coach Marrow at UK.
Newly Offered: '17 OH OT Josh Myers
Jake Pickard Recaps "Unreal" Ohio State Visit (11W)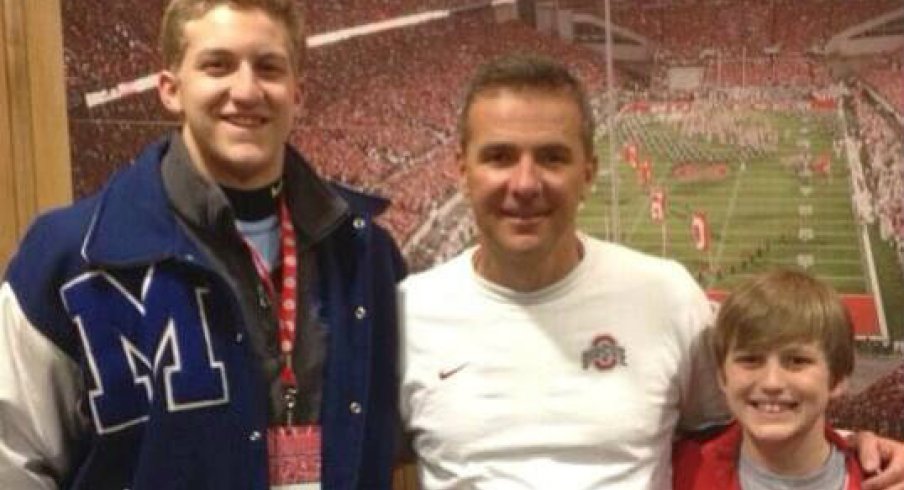 Jake Pickard, a three-star athlete from New Jersey, visited Ohio State on Wednesday. By reading his twitter, it's safe to say that he left Columbus impressed with Urban Meyer and Ohio State. Eleven Warriors was able to speak with him regarding his mid-week visit.
"I toured the stadium, indoor facility, weight room, locker rooms and met with academic advisors," said the six-foot-six prospect. "There was no practice, but I talked to all of the coaches, including Coach Meyer."
Meeting Urban Meyer is always something that prospects rave about. Pickard came away very impressed by Meyer after only their first meeting.
"He was real down to earth and an upfront and honest guy," Pickard told 11W. "We even got to talk about his family. I was early impressed by the type of coach and person he is."
After missing out on Mike Gesicki at tight end in 2014, the Buckeyes are potentially looking for a pair in 2015. Some schools are recruiting Pickard at defensive end while some are as a tight end. What position are the Buckeyes recruiting him at?
cont...
Noah Listermann Talks Recruitment and Upcoming Buckeye Visit (11W)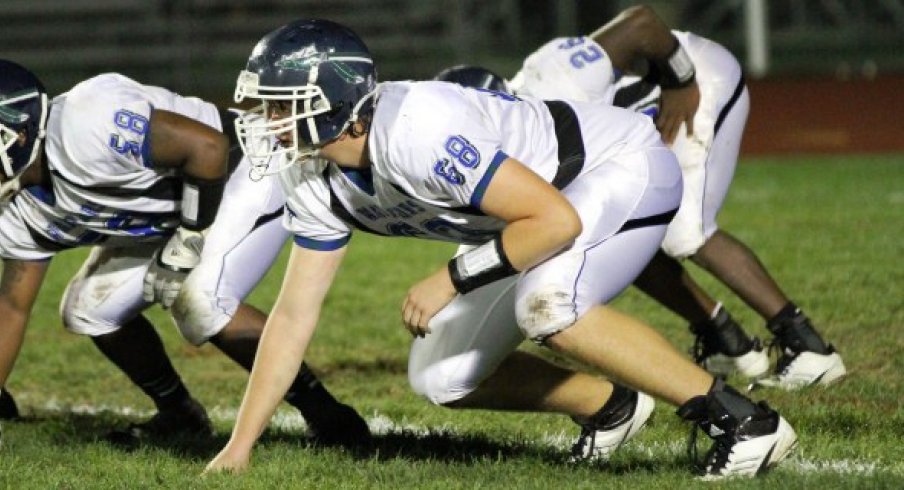 About six weeks ago we introduced you to Noah Listermann, one of the rising offensive linemen in Ohio. We told you about how he's only been playing football for two years, his high ceiling and the Buckeyes interest in him. At the time he held offers from Illinois, Indiana, Kentucky and Cincinnati. He has since picked up offers from Louisville and Georgia Tech, in addition to visiting Notre Dame, Louisville and Illinois.
Despite the recent wave of new offers and visits, Noah told 11W that Illinois and Indiana are still standing out the most of those who have offered him. Still, could Louisville be in the mix for Ohio's fifth-ranked offensive tackle?
"Louisville was great... I wish I had seen the campus more though. They practice with such intensity, I'm pretty sure they didn't stop moving the entire time. [Louisville offensive line] coach Klenakis is a very intense coach too, he made sure his men knew what was up."
Visiting Notre Dame though was quite an experience for Listermann. "The campus of Notre Dame was something I'll probably never forget. All of the coaches there are great people, they treat you like family. The whole time I was there I really enjoyed myself."
cont...
RCS Atlanta: What to watch for (Rivals)
Last year's Atlanta stop of the Rivals Camp Series Presented by Under Armour featured 16 members of the 2014 Rivals250 and 16 members of the current 2015 Rivals250. This year's event is expected to have just as much talent, if not more, at the Marist School. Here's a look at the five biggest storylines heading into one of the top camps on the entire series.
1. Will Chuma Edoga prove he's a five-star?
There's a lot of buzz surrounding Edoga, who continues to dominate marquee events this offseason. Now the question is will the 275-pound guard do it again against some of the Southeast's best defensive line prospects? Already firmly established in the Rivals100, Edoga could push his way to a fifth star with another dominating performance. Last year, he held his own against a talented defensive line group, but how will he hold up with a target on his back? If any of his other performances in big games or all-star events over the past six months are any indication, the answer is likely well.
2. Which 2015 defensive end will take the state's top spot?
There are seven four-star defensive ends registered for the event, highlighted by Rivals250 prospects Jonathan Ledbetter and Austin Bryant. Ledbetter has already committed to Alabama, while Bryant's offer list is a who's who in terms of college football. Many of the prospects at the position group are friendly off the field, but when it comes to competition, they can be as cutthroat as it comes. Also in the mix at the position is Rivals250 defensive end Chauncey Rivers, who dominated at the Under Armour Combine at the beginning of the year. He's already committed to Georgia, but that hasn't stopped him from trying to improve his stock at offseason events. Other four-stars expected at the event include Tennessee commit Andrew Butcher and Rivals100 prospect Natrez Patrick.
cont...
Ohio State recruiting: State Secrets, 3/27 - Elijah Thomas releases Top 10 (LGHL)
A rather quiet Wednesday in the world of Ohio State recruiting. However, the Buckeyes did receive good news in regards to a 5-star PF in the 2015 recruiting class. The other news that came about yesterday would be that the leader of the 2017 recruiting class will be on campus today.
Starting with the basketball Buckeye recruiting news, Ohio State made the trimmed down list of '15 PF Elijah Thomas. The Lancaster High School big-man included the Buckeyes with Florida, Illinois, Memphis, Oklahoma State, Oregon, Texas, SMU, UNLV and USC. The 6'9, 240-pounder is ranked at 11th in the 2015 basketball rankings. Thomas also stands at 4th out of all power forwards in this class and he is the 1st ranked player in the lone star state.
cont...