Visitors List (Subject To Change)
Today
'15 TE/DE Jake Pickard (Millburn, NJ)
Tomorrow
'15 OL Ian Leever (Loveland, OH)
'17 QB Danny Clark (Massillon, OH)
March 29th
'15 TE C.J. Conrad (LaGrange, OH)
'15 OL David Robbins (Glenelg, MD)
'15 OL Jake Fruhmorgen (Tampa, FL)
'15 OL Quinn Oseland (Springfield, IL)
'15 DE Darius Fullwood (Olney, MD)
'16 OL Tyler Gerald (Portsmouth, OH)
April 1st
'15 OL Gabe Megginson (Jacksonville, IL)
April 4th
'15 TE Hale Hentges (Jefferson City, MO)
April 5th
'15 OL Austin Clark (Lexington, VA)
'17 OL Emani Mason (Detroit, MI)
April 10th
'16 OL Michal Menet (Reading, PA)
April 12th - Spring Game
'15 OL Larry Wells (Kenton, OH)
'15 OL Sterling Jenkins (Pittsburgh, PA)
'15 LB Sh'mar Kilby-Lane (Hallandale, FL) tentative
'16 OL Tommy Kraemer (Cincinnati, OH)
April 18th
'15 TE Chris Clark (Avon, CT)
'15 LB Ricky DeBerry (Richmond, VA)
May 31st
'15 DB Cameron Ordway (Pulaski, TN)
June 1st
'15 RB Natereace Strong (East Saint Louis, IL)
'15 WR Alex Ofodile (Columbia, MO)
'15 DE Terry Beckner Jr. (East Saint Louis, IL)
'17 WR Jeff Thomas (East Saint Louis, IL)
Scout $ - Buckeyes Now On Top for Scott? '15 OH RB LJ Scott
Really enjoyed his visit & spending time with the staff. No favorites. Wants to visit Michigan State this weekend and Alabama & Auburn before making a decision this summer.
Rivals $ - Buckeyes offer Tennessee DB '15 TN DB Cameron Ordway
Mentions growing up an Ohio State fan again. Will visit May 31st.
Five-star and teammates set to visit #OhioState. http://t.co/yPSJ1zEMlO @alexgleitman @Bill_Kurelic #buckeyes
— Steve Wiltfong (@SWiltfong247) March 26, 2014
2017 #OhioState QB commit @DClarkQB will be at practice tomorrow http://t.co/g1Guu4AWOg
— Alex Gleitman (@alexgleitman) March 26, 2014
I thought about it & I will be committing early.
— Torrance Gibson (@quick_tg6) March 25, 2014
Per 4star Jauan Jennings' coach: "Jauan is committing on April 7 9am at Blackman. Auburn Alabama tn Ohio state miss state northwestern"
— Barton Simmons (@bartonsimmons) March 25, 2014
Orlando ATH Jalen Julius says #OhioState has offered @MarcGivlerBG
— Blake Alderman (@MistaAlderman) March 26, 2014
Ohio State recruiting: State Secrets, 3/26 - Chris Clark to visit, Torrance Gibson to announce early (LGHL)
Diving into yesterday's recruiting action, tight end prospect and current North Carolina commit, Chris Clark is set to visit Ohio State after all. Clark gave a verbal to the Tar Heels on March 16, but this recruitment is far from over. The tight end position is a must need for the Buckeyes in this year's recruiting class and Clark is near the top of the list. In all likelihood, Ohio State will need to take two at this position at the end of the day. With extremely elite size at 6'6 and nearly 250 pounds, Clark is an excellent pass catcher, but also excels in the area of run blocking. Clark holds an offer from just about every major school in the country and, believe it or not, 247Sports' Crystal Ball has him landing in Columbus and being a Buckeye when it's all said and done. Don't read too much into the early commitment to UNC, because things can change in a hurry, and most likely will. It'll be game-on for Urban Meyer and his staff when Clark officially steps foot on campus:
cont...
Anthony McKee Recaps Weekend Visit to Ohio State (11W)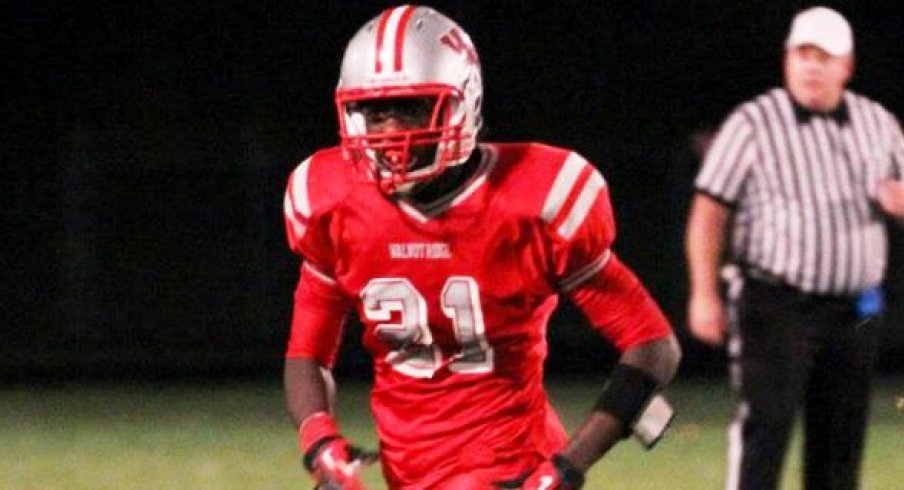 Anthony McKee, one of the top outside linebackers in Ohio and in the country, visited Ohio State this weekend. He got a chance to watch practice and came away impressed with the defense. "[The practice] was really good for the defense, love how they stay hyped. I'm a defense guy and the defense was looking good," McKee told 11W. Certainly something Buckeye fans enjoy hearing.
McKee had a good time talking with his primary recruiter, Luke Fickell, and also got to know some of the other coaches better.
While McKee had been to Ohio State several times, this visit was pretty special. "It felt good to go to a program like that and they know who you are before you speak. It let's you know something," McKee said.
The Buckeyes aren't the only big time program that knows about McKee, several of the other big boys are starting to take notice of the 247Composite 4-star. McKee says he's recently been talking with Florida State and Alabama, and he hears from Wisconsin, Syracuse, USC and the Crimson Tide the most. With 16 offers already, including those from the likes of Michigan State, Tennessee, Kentucky and Arkansas, it seems like only a matter of time before McKee explodes even further onto the national stage.
cont...
Jonathan Cooper Talks Buckeyes, Wolverines (11W)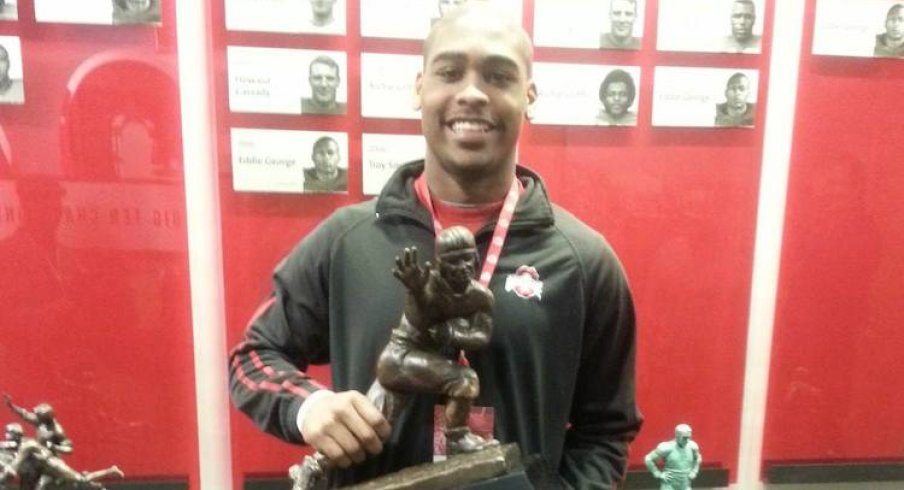 A month ago, John Brandon gave you all the heads up on Gahanna (Ohio) Lincoln sophomore star Jonathan Cooper, who had just picked up his first offers, from Illinois and Kentucky after a dynamite showing at the "Best of the Midwest" combine in Indianapolis. This past weekend, Cooper and his family were on the road again, but this time it was to check out the hometown Buckeyes and their bitter rival in Ann Arbor, the Michigan Wolverines.
"I loved them both," the 6-foot-3, 215 pound Cooper said of his visits to a pair of the midwest's most proud football programs. "Both schools had great intensity during practice and I enjoyed that a lot. It's not easy (separating being a Buckeye fan and objectively viewing both programs) but it's about what's best for my future, not just about being a fan."
cont...
One to Watch: 2016 Linebacker Ethan Tucky of Delaware Hayes (11W)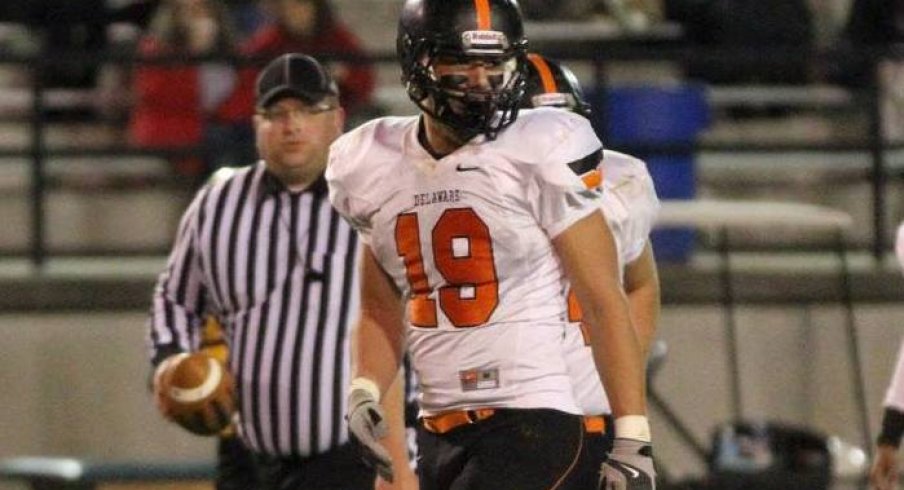 Ethan Tucky is not your normal 16-year-old and he knows it.
"Genetics have been very kind to me," Tucky said laughing, discussing his 6-foot-3, 220 pound frame. "I'm supposed to get to 6-foot-4, but I am 16 so I am getting old."
Aside from the frame of a grown man, apparently Tucky, one of Ohio's top 2016 football prospects, also has a sense of humor. This week he took his second visit to Columbus to check out his childhood favorite Buckeyes. He last visited in October when Ohio State hosted Penn State, and he says seeing them out of the bright lights helped him see the football program into a new perspective.
"It was crazy," he said of the visit. "It was my first time seeing them practice and I loved it. The coaches really bring a lot of energy."
cont...