Visitors List (Subject To Change)
Today
'15 QB Tommy Stevens (Indianapolis, IN)
'15 WR Abu Daramy (Westerville, OH)
'15 OL Rob Dowdy (Westerville, OH)
Tomorrow
'15 WR Jalen Guyton (Allen, TX)
March 20th
'15 LB Josh Barajas (Merrillville, IN)
March 21st-22nd
'15 RB Larry Scott (Hubbard, OH)
'15 WR Van Jefferson (Brentwood, TN)
'15 OL Simon Stepaniak (Hamilton, OH)
'15 OL James Daniels (Warren, OH)
'15 OL Patrick Allen (Reisterstown, MD)
'15 DT Sterling Johnson (Clayton, NC) tentative
'15 LB Bryce Jenkinson (Greenville, OH)
'15 LB Matt Draper (Cleveland, OH)
'15 ATH Jordan Whitehead (Monaca, PA)
'15 ATH Brian Cole (Saginaw, MI)
'16 OL Sean Foster (Mundelein, IL)
'16 DB Jordan Overton (Lyndhurst, OH)
March 29th
'15 TE C.J. Conrad (LaGrange, OH)
'15 OL David Robbins (Glenelg, MD)
'15 DE Darius Fullwood (Olney, MD)
'16 OL Tyler Gerald (Portsmouth, OH)
April 1st
'15 OL Gabe Megginson (Jacksonville, IL)
April 4th
'15 TE Hale Hentges (Jefferson City, MO)
April 10th
'16 OL Michal Menet (Reading, PA)
April 12th - Spring Game
'15 OL Larry Wells (Kenton, OH)
'15 LB Sh'mar Kilby-Lane (Hallandale, FL) tentative
'16 OL Tommy Kraemer (Cincinnati, OH)
June 1st
'15 WR Alex Ofodile (Columbia, MO)
Ohio State Tight End Search, Big Weekend Ahead And More (11W)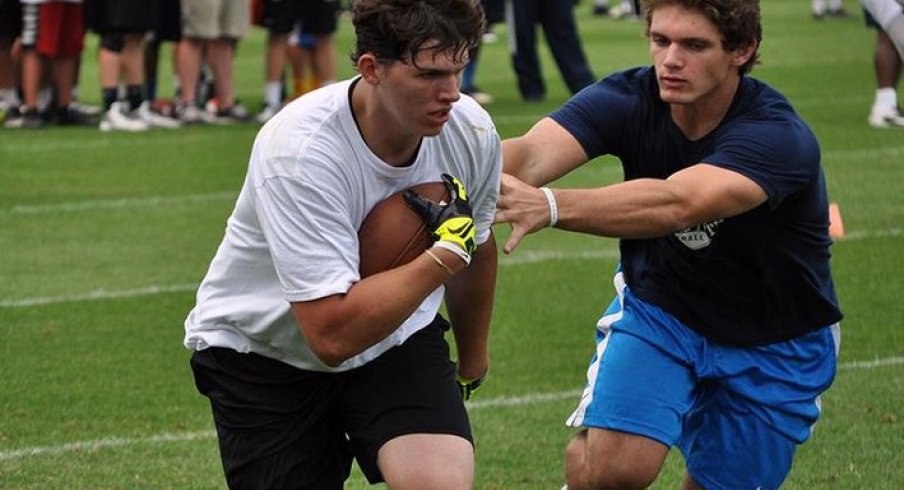 Spring break is over and the Buckeyes are set to return to the practice field. A warm front is moving in as Ohio State plans to host some of the nation's top junior prospects, and each would be welcome. Let's take a look at some news and notes from the past week, while we continue to preview the upcoming visits.
Chris Clark Commits to North Carolina
Yesterday, news of four-star tight end Chris Clark committing to the North Carolina Tar Heels surprised many. Many insiders thought Ohio State had a good chance at landing the ultra-athletic prospect from Connecticut. He was set to travel to Columbus for a visit, but that visit will not happen now that Clark has pledged to UNC.
In spite of the commitment, there has been questions about whether or not Clark's recruitment is over. The six-foot-six tight end held offers from pretty much every school you could think of and he had always planned to make a commitment early. Based on past conversations with him, I would expect Clark to be finished with the recruiting process and stick with his pledge to the Tar Heels.
cont...
Hale Hentges Talks Recruiting, Buckeye Visit (11W)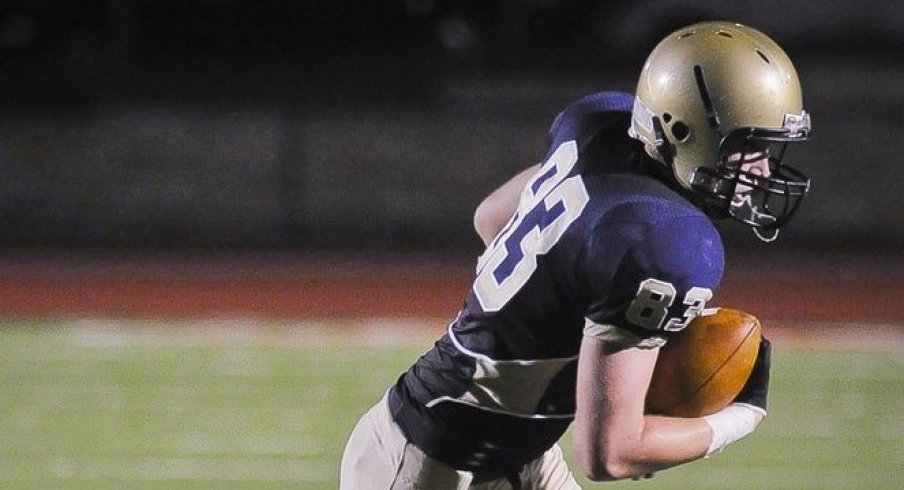 On Sunday, Avon (Conn.) 2015 star tight end Chris Clark surprised many when he ended his recruitment without making a visit to Ohio State. Clark, who had picked up nearly 45 offers in almost no time at all, was presumed to be Ohio State's primary target at the position in 2015. He held the Buckeyes in high-regard before his sudden commitment to North Carolina, and with that choice, the Buckeyes turn their attention elsewhere.
Of course, a good football team doesn't put all its eggs in one basket, and Clark has never been the only target at tight end for the Buckeyes. In fact, Jefferson City, (Mo.) prospect Hale Hentges, was offered a scholarship by Ohio State almost two months before they offered Clark. Hentges, who visited the Buckeyes on October 26th for the shellacking of Penn State, earned his offer that night from Ohio State.
On April 3rd, Hentges will make a return trip to Columbus to check out the Buckeyes again, knowing full well that he's the primary target at a position of great need for Urban Meyer and his coaching staff. What do the Buckeyes have to do in order to convince Hentges that Columbus is the place for him?
cont...
Ohio State recruiting: State Secrets, 3/18 - Darius Fullwood to visit (LGHL)
A defensive end prospect from the state of Maryland has set the date for a visit to Ohio State's campus, while another recruit has to postpone his.
Ohio State got word on Monday that '15 DE Darius Fullwood has made plans for a visit to Columbus on March 29th. The 6'4, 240-pound defensive end from the state of Maryland was offered by the Buckeyes on January 18th and has been in contact with the staff since. Ranked as a 3-star prospect, Fullwood is rated as the 21st-best defensive end in the country for the class of 2015 and the 11th-best prospect overall in Maryland.
Fullwood has already obtained some high-profile offers from across the country. Among a handful of those schools are Alabama, Florida State, Georgia Tech, Miami, Michigan State, Ohio State, Penn State, Virginia Tech, and West Virginia. Right now, the Crystal Ball has Fullwood locked in as a future Buckeye (70%) with Penn State (30%) the only other team with a chance.
Looking to the future a bit, '16 do-everything ATH Demetris Robertson has had to cancel his visit to Ohio State due to scheduling conflicts, but does intend to reschedule it for another time. Robertson is one of the most electric athletes in the class of 2016, with the ability to play a variety of positions including wide receiver and safety. The 6'1, 165-pound Robertson has drawn plenty of attention early, as he holds offers from Alabama, Clemson, Florida, Georgia, Georgia Tech, North Carolina, Ohio State, South Carolina, and Texas A&M. With such a prestigious list, don't be surprised if before long, Robertson holds offers from every top school in the country.
cont...
Standout receiver holding Clemson & USC offers (Go Upstate)
WR Van Jefferson (6-2 175) of Brentwood, TN has receiving in his genes. He's the son of former NFL star receiver Shawn Jefferson who is now an assistant coach with the Tennessee Titans.
The younger Jefferson is plowing his own trail now after a junior season of 87 catches for 1257 yards and 14 touchdowns. He has a dozen offers including Clemson and USC. The others are Penn State, Tennessee, Vanderbilt, Auburn, Ohio State, Purdue, Ole Miss, Middle Tennessee State, Mississippi State and Georgia.
At this point, Jefferson holds interest in the Tigers and Gamecocks and wants to visit both as soon as possible. "Clemson has a history of receivers," he said. "Coach Swinney and coach Morris throw the ball a lot and I know I can compete for a starting position. "
cont...
New philosophy for recruiting quarterbacks? Ohio State learns from 2014, offering quicker: Buckeyes recruiting (Plain Dealer)
COLUMBUS, Ohio – Tom Herman has no regrets with the way Ohio State recruited the quarterback position in the 2014 class.
"We had a couple guys targeted, and one of the guys we got was one of the ones we targeted," Herman said. Sounds simple enough.
But Stephen Collier, the quarterback Ohio State signed in the 2014 class, wasn't their top target. He actually was the last of six prospects Ohio State offered, and when he accepted the Buckeyes had their man.
It all worked out, but not in the ideal way Meyer and his offensive coordinator initially envisioned. The quarterback prospect they truly couldn't live without was Deshaun Watson, and he earned an Ohio State offer in July of 2012, nearly a year before the other five.
cont...