Visitors List (Subject To Change)
Tomorrow
'15 ATH Eric Glover-Williams (Canton, OH) - commit
March 7th
'15 LB CJ Stalker (West Chester, OH)
March 17th
'16 ATH Demetris Robertson (Savannah, GA)
March 21st-22nd
'15 TE Chris Clark (Avon, CT)
'15 OL Simon Stepaniak (Hamilton, OH)
'15 OL James Daniels (Warren, OH)
'15 LB Josh Barajas (Merrillville, IN)
March 29th
'15 OL David Roberts (Glenelg, MD)
April 10th
'16 OL Michal Menet (Reading, PA)
April 12th - Spring Game
'15 QB Brandon Wimbush (Jersey City, NJ)
'15 OL Larry Wells (Kenton, OH)
'15 LB Sh'mar Kilby-Lane (Hallandale, FL)
'15 DB Minkah Fitzpatrick (Jersey City, NJ)
Rivals $ - Daniels previews two trips this month '15 OH OL James Daniels
Visiting OSU and Auburn later this month...talks about the relationships he is building with both staffs.
Rivals $ - OT Christian Pellage ready to prove he belongs '15 FL OL Christian Pellage
Has been to USF, Florida State and Florida for junior days and may go to South Carolina soon...reiterates he will wait to make a decision.
Rivals $ - A memorable visit for Simmons '15 VA LB Jahvoni Simmons
Has been to UVa many times but really enjoyed his visit last weekend...talks about Coach Tenuta and about the message from Coach London...will trim his list this spring or summer before taking officials.
Rivals $ - 4-star `very serious' about Canes '15 NJ QB Brandon Wimbush
Visited Miami last week and says it was very productive...plans to come out with a top 10 soon and says OSU and PSU will likely be on that list along with Miami.
Rivals $ - Dyer welcomes recent LSU offer '15 TX OL Conner Dyer
Has visited A&M several times as well as junior days at Oklahoma, TCU, Baylor, Texas Tech and one planned for Texas this weekend...getting to know new LSU OL coach Jeff Grimes.
Rivals $ - Several schools sticking out to Taylor '15 VA DB Garrett Taylor
Has visited Tennessee several times and has gotten to know their staff...says Michigan, Michigan State, South Carolina and Stanford are also standing out and is going to junior days at MSU and UM next.
Rivals $ - Four-star defensive end recaps NCSU visit '15 MD DE Darius Fullwood
Visited NCSU last weekend and briefly stopped by UNC...PSU visit could be next.
Scout $ - Jones On The Move In Ohio '15 OH LB Jordan Jones
Early offers from Kentucky, MSU and Nebraska...grew up rooting for OSU and they have been in touch.
BN $ - WR Target Closing In On Decision '15 TN WR Van Jefferson
Wants to decide in the next month or so...favors Ohio State, Purdue, Penn State, Clemson, Ole Miss, and Tennessee and plans to visit OSU during his break.
Rivals $ - 2016 QB already a hot target '16 PA QB Brandon McIlwain
Early offers from Boston College, Florida, Auburn, UCLA, Ohio State, Penn State, Clemson and South Carolina...no early favorites.
#OhioState has offered Hubbard (OH) RB Larry 'LJ' Scott #Buckeyes
— Marc Givler (@MarcGivlerBG) March 5, 2014
Newly Offered: '15 OH RB Larry "LJ" Scott
How Could 2015 Shape Up for Ohio State? Predicting the Impossible (11W)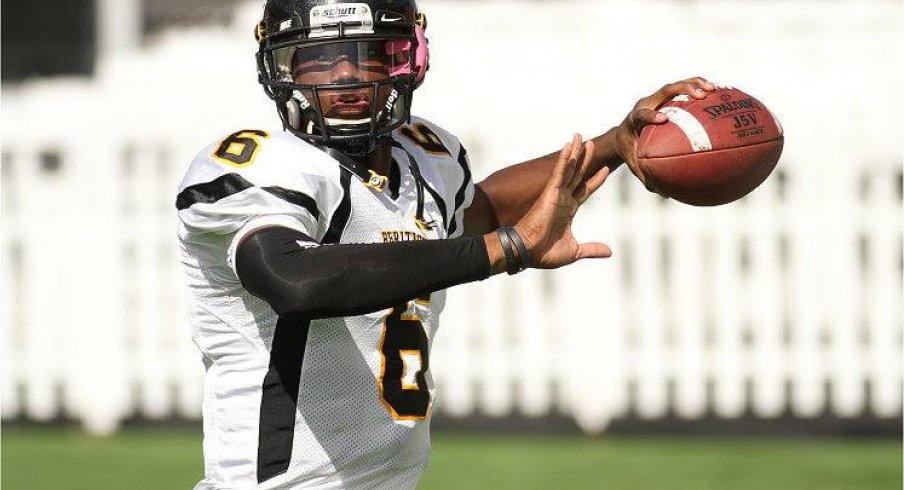 Good afternoon folks, welcome to your Tuesday afternoon dose of 'crootin. We've reached March, and with it comes spring football at Ohio State and the impending football camp season. Ahh...glorious.
If you recall, last winter we did a series of stories about who could end up in Ohio State's 2015 recruiting class. Those were initial prognostications, a far away look at a mystical place called "Guessing Land." Four months later, let's take another look but this time with a bit more knowledge to draw from.
This is Buckeye football recruiting, change is inevitable and almost constant, but we'll do our best. Let's get to it.
cont...
Ohio State recruiting: State Secrets, 3/5 - Marcus Lewis names Ohio State his favorite (LGHL)
2015 cornerback Marcus Lewis named the Buckeyes as his leader yesterday and which target will be the next to pull the trigger for Ohio State?
Kicking things off today, 2015 defensive back Marcus Lewis, who visited Columbus last weekend, came out and said that Ohio State is his new, early leader. For a cornerback, Lewis has elite size at 6'1, 187 pounds, but the trait that sticks out the most is his 4.38 40-yard dash time. From Washington, DC, the star athlete also holds offers from Clemson, Virginia Tech, Michigan, and Penn State. Though it's great news that the Buckeyes are at the top of his list at the moment, there's still a ton of time for the recruiting race to take shape. However, it does say a lot that Lewis took the time to unofficially visit Ohio State this early in his process and there's no doubt that Urban Meyer has more than a legitimate shot to land this big-time talent. When looking at the game of football, the "in" thing seems to be having huge defensive backs that can shut down the run, but also can bully receivers in the passing game. There's no doubt that Lewis looks like he fits that bill. You can view his film here.
cont...
Ohio State recruiting: Walk-on Isaiah Williams "excited for road ahead" (LGHL)
Get to know future Ohio State walk-on safety Isaiah Williams of Clayton Northmont a little better.
By now, most of you are well aware that Damon Webb, Dante Booker, Jamarco Jones, Malik Hooker, Sam Hubbard and rest of the star studded 2014 recruiting class signed their National Letters of Intent with the Buckeyes last month, inching them even closer to living out their long time dreams of playing major college football on Saturday afternoons.
Between all the breaking news, Ohio State picked up a recruit you might have missed on February 5th. D1 First Team All-Ohio selection, Isaiah Williams of Clayton Northmont, will join those aforementioned prospects and suit up for his childhood favorite as a preferred walk-on this fall.
"The chance (to walk-on) came a while back before my season started." Williams told Land-Grant Holy Land. "Coach Hinton was my recruiting coach and he told me that a preferred walk-on spot was probably going to be the best they could offer me." The 6'3 190 pound future Buckeye safety added.
cont...