Visitors List (Subject To Change)
March 6th
'15 ATH Eric Glover-Williams (Canton, OH) - commit
March 7th
'15 LB CJ Stalker (West Chester, OH)
March 17th
'16 ATH Demetris Robertson (Savannah, GA)
March 21st-22nd
'15 TE Chris Clark (Avon, CT)
'15 OL Simon Stepaniak (Hamilton, OH)
'15 OL James Daniels (Warren, OH)
'15 LB Josh Barajas (Merrillville, IN)
March 29th
'15 OL David Roberts (Glenelg, MD)
April 10th
'16 OL Michal Menet (Reading, PA)
April 12th - Spring Game
'15 QB Brandon Wimbush (Jersey City, NJ)
'15 OL Larry Wells (Kenton, OH)
'15 LB Sh'mar Kilby-Lane (Hallandale, FL)
'15 DB Minkah Fitzpatrick (Jersey City, NJ)
Scout $ - Ordway on his way, gets 9 offers in 32 days '15 TN CB Cameron Ordway
Vandy, Cincinnati, Memphis, Mississippi State, Middle Tennessee State, Kentucky, Penn State and Ole Miss had offered and now Tennessee and Alabama have offered with Auburn, Georgia and Ohio State showing interest...grew up a fan of OSU but says if the Buckeyes offer it doesn't guarantee they go to the top of his list.
Scout $ - Settle enjoys UVa '15 VA DT Tim Settle
Says he spent most of his time with Ricky DeBerry and the two of them have discussed attending the same school...claims no favorites and wants to visit Penn State, Clemson, South Carolina, Florida State, Georgia and Alabama.
Scout $ - Summer decision for Phillips? '15 TN DE Kyle Phillips
Has added offers from Cincinnati, Georgia, LSU, Penn State, and Stanford...recaps a recent visit to Alabama as well as his Auburn visit for the 2013 Iron Bowl...wants to visit Clemson, Florida, and Florida State this spring before narrowing down his list by the summer.
Rivals $ - Palmer becoming priority for PSU '15 JuCo OL Paris Palmer
Says he has talked with PSU more than most schools recruiting him...PSU is telling him he could start there right now...says he wants to make spring visits but it will be hard with his spring football schedule but it is a short trip from Scranton to PSU so they will likely get a visit this spring...will likely have two years to play two.
Rivals $ - Iowa State offers Dowell brothers '15 OH WR David Dowell
ISU offered both brothers and they will likely visit considering they have family in Iowa...had to cancel a visit to Indiana this past weekend because of weather.
Rivals $ - Harris earns Bama offer '15 TN TE Jackson Harris
Offered by Coach Saban in his office after their junior day this past weekend...says Alabama is very high on his list and plans to trim his list soon.
Rivals $ - Rivals250 TE speaks with Malzahn, plans visit '15 MO TE Hale Hentges
Planning spring trips to Auburn, Alabama, Florida, Florida State, Ohio State, Michigan and Michigan State...grew up a Mizzou fan but says he is wide open.
Rivals $ - Georgia OL offered by Spartans '15 GA OL Venzell Boulware
Was excited to be offered by MSU and wants to visit this summer...most schools see him as a guard at the next level.
Rivals $ - Two standing out to Michigan lineman '15 MI DE Joshua Alabi
Visited Tennessee for a junior day this past weekend and says it felt like home...favors the Vols and MSU and says he and Mike Weber have discussed looking at the same schools.
24/7 $ - Top247 WR Johnson has top five '15 NJ ATH Juwan Johnson
Early favorites are Penn State, Ohio State, Michigan State, Michigan and Boston College...next visit will likely be to PSU and likes Coach Gattis.
24/7 $ - Tide making move on No. 1 prospect '15 GA DT Trenton Thompson
Says the 'Bama visit had a big impact on him and is up there with his UGa visit...says UGa is still probably on top with Auburn, FSU and 'Bama all vying for his #2 spot.
24/7 $ - Five-Star Hilliard Wraps Up ND Trip '15 OH LB Justin Hilliard
Enjoyed his visit to ND as he is coming from a Catholic school...enjoyed this visit more than previous trips to ND because he spent more time with Coach Kelly and his position coach...enjoyed the basketball game and says he liked everything about ND.
Weekend Visit "Great" for Marcus Lewis (11W)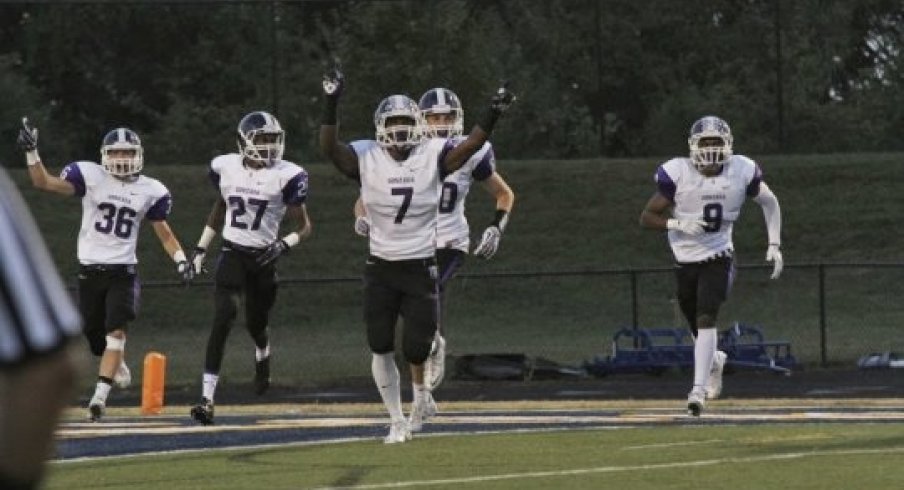 It was a big weekend for Buckeye recruiting. Birm already caught up with Arizona speedster Christian Kirk, who enjoyed himself this weekend, but Kirk wasn't the only big time prospect on campus.
Washington D.C. star defensive back Marcus Lewis made the trek to Columbus this weekend, and he was nothing short of impressed.
"It went great! I really enjoyed it," Lewis said of the visit. "All of it was awesome, I can't really say there was something that stood out [because] I liked everything."
Coming into the weekend, Lewis was looking forward to letting his family meet the coaching staff - mission accomplished. "They really bonded," Lewis said of the staff and his family. Lewis' entire family was able to make the trip, as he was accompanied by his mom, dad and brother.
cont...
Ohio State recruiting: State Secrets, 3/3 - Marcus Lewis, Christian Kirk visit (LGHL)
Ohio State had two of the top class of 2015 prospects in the country on campus over the weekend and have another out of state prospect eyeing a visit to Columbus this spring. Find out who and how the Buckeye basketball prospects did on the court.
Over the weekend, the Buckeyes played host to five-star wide receiver Christian Kirk and four-star cornerback Marcus Lewis. A former Virginia Tech commit, Lewis is a physical and tough defensive back who isn't afraid of contact. Displaying these attributes are a just a few reasons why some college coaches are believing the 6'1 190-pound Washington, D.C. native could make the switch to safety at the next level.
Lewis might have decomitted from Virginia Tech, but the Hokies are still very much still in the mix with Ohio State and programs such as Penn State and Kentucky.
Land-Grant Holy Land will have more on Lewis' visit this week.
Kirk, the 38th overall class of 2015 recruit in the country (according to the 247Composite) made his way north from warm Scottsdale, Arizona to snowy and icy Columbus, Ohio to get an up close and personal look at the Ohio State program.
Holding offers from just about every major college football program, Christian has already visited a number of schools such as UCLA, USC, and Texas A&M, but had nothing but great things to say about his trip to Columbus, telling Land-Grant Holy Land the following:
cont...
Ohio State recruiting: St. Ignatius's Dre'Mont Jones 'excited' about offer (LGHL)
Cleveland (OH) St. Ignatius defensive end Dre'Mont Jones talks about his offer from the Buckeyes, which schools stand out, and more.
One of the main priorities of the Ohio State coaching staff is to keep the top players in the state of Ohio in the Buckeye state to play their college football for the Buckeyes.
They did an excellent job of just that in the 2014 recruiting class, as they landed signatures from seven of the top 11 players in the state, per the 247Sports Composite rankings. Only two of the players they failed to land offers from the Scarlet and Gray.
The staff hopes to continue their success in the state in the 2015 recruiting cycle, and have already handed out seven offers to in state recruits. One of the most recent ones went to Cleveland (OH) St. Ignatius defensive end Dre'Mont Jones, who is coming off a strong junior season.
"I think it was a really good season for me. I did all of the right things for my self and my team to help us win," Jones said. "I felt like I had a great season overall."
The 6'5, 250-pound defensive lineman already holds multiple scholarship offers and is hearing from many other top programs.
cont...
Ohio State recruiting: Marcus Lewis recaps his trip to Columbus (LGHL)
2015 defensive back Marcus Lewis recaps his visit to Ohio State that occurred over the weekend.
It had been a long time since the Buckeyes hosted multiple top 2015 prospects in one weekend. That finally happened this weekend as they had five-star wide receiver Christian Kirk and four-star defensive back Marcus Lewis both on campus for visits.
With the coaching staff doing away with junior days, they are able to get smaller groups of recruits on campus and have the ability to spend more one-on-one time with recruits
For Washington (D.C.) Gonzaga defensive back/athlete Marcus Lewis, it was his first ever trip to Columbus. He was in town on Saturday and Sunday with his whole family.
The standout defensive back, who could be either a cornerback or safety when he arrives on the college scene in 2015. He had a great time on his first ever trip to Columbus.
"Basically, we pulled up at the Woody Hayes Football Complex and I got a tour of that; it was really nice. I got to try on a jersey, I spent a lot of time with Coach Ash, and had a meeting with Coach Meyer," Lewis told Land-Grant Holy Land. "I also got to go to the academic center, got a tour of the whole campus; we went out to lunch. I pretty saw everything and got a lot of information about Ohio State."
cont...
Wheeler Has Oklahoma on Top (Rivals)
If he uses his remaining two years of eligibility remaining Sooners linebacker Frank Shannon will be part of the completion of six straight years of a Dallas Skyline product playing a key roll in Oklahoma's linebacker corps.
The Sooners hope to see that streak continue into a decade with their recent offer and pursuit of current Raiders class of 2015 standout Anthony Wheeler. And with that end in mind brought the 6-foot-2, 217-pound linebacker to this weekend's junior day.
Wheeler, accompanied by his mother, took in Oklahoma and though he didn't catch up with Shannon the two are becoming more and more familiar with each other.
"Oh yeah, I've been talking to Frank, he gave me his number not too long ago and we've been talking for a while. He has talked about the family atmosphere, and you can go and talk to the coaches at any time. All the older players treat the new players good and help them get adapted," Wheeler said of his conversations with Shannon.
cont...