Visitor List (Subject To Change)
February 7th
'14 QB/ATH Shelby Spence (Chicago, IL) - official
February 15th
'15 LB Ricky DeBerry (Richmond, VA)
March 21st
'15 TE Chris Clark (Avon, CT)
Scout $ - Jones lands first offer '15 OH DE/TE Dre'Mont Jones
Iowa has offered...also hearing from Michigan, Ohio State, West Virginia, Illinois, Tennessee, and a few more and favors OSU.
Scout $ - Daniel looking at Ohio State again '15 CA DT Jacob Daniel
By Derek Young...previously committed to Washington but has re-opened things...starting to narrow things down and is looking closely at OSU because of Coach Meyer's coaching style.
#OhioState makes top 10 for 4* QB Jarrett Stidham http://t.co/VJQMxhj7c9 #Buckeyes
— Marc Givler (@MarcGivlerBG) February 7, 2014
Football Recruiting: Building a Fence Around Ohio (11W)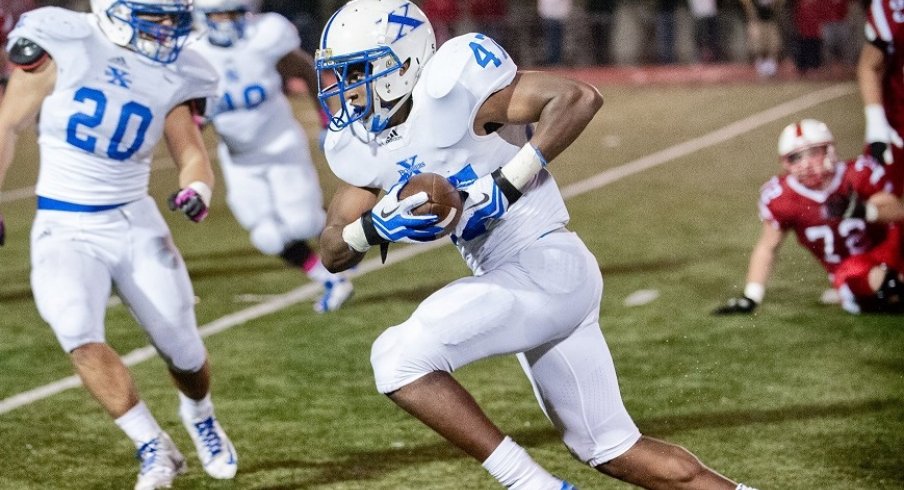 National Signing Day marked the end of the 2014 recruiting cycle, but the Ohio State coaching staff has already gotten quite a start on the 2015 class. With the Buckeyes going back to 85 scholarships in 2015 it will be important for them to take advantage of returning to full strength.
Much of the focus for 2015 recruiting thus far has been on the northeast, Texas and Florida, and for good reason. Ohio State has offered a whopping 35 prospects from the state of Florida, 13 from Texas and 15 from northeast states. There is undoubtedly a ton of talent in these regions for Ohio State to tap into. That being said, in order for the Buckeyes to be as successful as possible they must put up a fence around Ohio.
"We want to sign as many kids in Ohio as we can. That's our ultimate goal," said Ohio State director of player personnel Mark Pantoni. Ohio is the football hotbed of the midwest and historically whoever has controlled Ohio recruiting has controlled the Big Ten.
The 2014 class was an ideal example of what the Buckeyes would like to do in Ohio on a consistent basis as they landed each of the top six prospects in the state. Ohio's 2015 class might be a bit stronger than its 2014 class, boasting six Top 100 prospects in the 247Composite (as opposed to three in 2014). However, snagging the top 5-10 Ohio prospects looks to be a bit tougher.
So far Ohio State has offered six Ohio prospects and boasts one commit from the state in Eric Glover-Williams. Let's take a closer look at the top prospects in Ohio that the Buckeyes are chasing for 2015.
cont...
Two days after Urban Meyer and his staff signed, sealed, and delivered a 23-man 2014 recruiting class, it's time to start handing out positional grades for the class.
Today we're going to take our final in-depth look at the 2014 recruiting class the Buckeyes signed Wednesday by handing out positional grades for the "Dream 14".
Without further adieu, we present the Land-Grant Holy Land recruiting class positional grades:
Quarterback
Ohio State missed on its top targets Deshaun Watson (Clemson), Jerrod Heard (Texas), and Brandon Harris (LSU), but were able to secure a signature from Stephen Collier, who has already enrolled in classes. Collier is a bit of a project, but has the potential to be solid behind center and it was important just to get a quarterback in this class after missing on the guys in their top group.
Grade: C-
Running back
Just a year after taking Ezekiel Elliott, who I think is going to be a stud for the Buckeyes over the next couple of years, the staff didn't take a pure tailback in this class. They did land two speed guys who could see a couple of carries (similar to Dontre Wilson last year) in Parris Campbell and early enrollee Curtis Samuel, who are two of the most electric players in the 2014 class as a whole.
Grade: B+
cont...
Ohio State recruiting: Ricky DeBerry, '15 LB/DE, talks upcoming OSU visit (LGHL)
Ohio State is in the running for many of the nation's prospects in the 2015 recruiting class, no matter what part of the country that recruit may come from.
One of the many elite out-o- state players the Buckeyes are in the race for is Richmond (VA) St. Christopher's School linebacker/defensive end Ricky DeBerry, who is ranked as the number two player in the state of Virginia according to the 247Sports Composite rankings.
The 6'2, 240-pounder could end up playing either linebacker or defensive end at the next level, depending on his size going into college. There's also (naturally) a very good chance he could play a linebacker/defensive end hybrid role. A lot of colleges have stopped by to see the versatile defender.
"Iowa, Maryland, Virginia, Duke, Clemson, Virginia Tech, Florida, Boston College, and Michigan State," DeBerry listed as the colleges who have stopped by his school in the last week or so.
DeBerry recently set up an unofficial visit to Columbus in order to spend a weekend on the Ohio State campus and see what Ohio State is all about.
cont...
Ohio State set to invade Florida in 2015 (LGHL)
Urban Meyer and his coaching staff have landed a couple of players from that state of Florida during their first couple of years leading the Ohio State football program. Despite being relatively successful in the Sunshine State in the past, it look like they want to dominate it in 2015.
Ohio State has already landed one commitment from the state of Florida, in the form of Cocoa (FL) cornerback Jamel Dean, and they have handed out a ton of offers to players from the talent-rich football state over the last month of so.
The good news: A lot of these players are very interested in the Buckeyes early in the process. The better news might be that the staff has had just as much time as other teams to develop relationships with the recruits and will have all 85 scholarships to play with next year as the NCAA mandated scholarship limitations are about to expire. That coupled with a big senior class set to graduate, and Ohio State has all the makings of a huge 2015 recruiting class.
cont...