THE PERTINENT INFO
When: Saturday, October 23, 2021
Where: Memorial Stadium, Bloomington, IN
TV: 7:30 // ABC
Announcers: Dave Pasch, Dusty Dvoracek and Tom Luginbill
This will be the 95th time Ohio State and Indiana have faced each other in football. If the teams shared home field advantage evenly, this would be the 48th time for the Hoosiers to host. However, things aren't even and this will be the 32d game of this series played in Indiana.
The Buckeyes hold a 77–12–5* advantage in the all-time series and are 28–2–1 as the away team.
Tom Allen's team lost to No. 10 Michigan State, 20-15, last week and enters this contest with a 2–4 record. 
*NCAA sanctions be damned.
Below, you will find some interesting facts about the teams, key offensive player stats, coach information, and team stats.
THE LAST TIME...
Ohio State played IU in Memorial Stadium was 2019. The Scarlet and Gray won 51-10.

The Buckeyes played on October 23rd as the away team was 1999. John Cooper's team took on No. 24 Minnesota in the Metrodome and defeated the Gophers 20-17.

The Buckeyes lost to Indiana was 1988, 41-7.
The Scarlet and Gray lost the seventh game of the season was Oct. 22, 2016. Unranked Penn State stunned No. 2 Ohio State 24-21 in Beaver Stadium.
ON THE HORIZON​
Chris Olave is a 100-yard receiving game away from surpassing Michael Jenkins for second place on Ohio State's all-time career list with ten 100-yard games.
Olave (2,260) needs 36 yards to pass Santonio Holmes for seventh and 73 yards to pass K.J. Hill for sixth on the all-time receiving yards list.
Olave (140) is one catch away from passing Santonio Holmes for eighth, four receptions from passing Parris Campbell for seventh and six catches away from surpassing Corey Brown for sixth on the all-time receptions list.
Olave is one touchdown catches away from tying Devin Smith (30) for second on the all-time career touchdown list.
Wilson needs 68 yards to pass Parris Campbell for 16th on the all-time receiving yards list.
Jeremy Ruckert is tied with John Lumpkin for second on the all-time TE career list with 10 touchdown catches. Jake Stoneburner is first with 13.
Ohio State has reached 500 total yards of offense in five straight games, the school record is six straight.
LET'S GO STREAKING
The Buckeyes have won 24 straight conference games (including three title game victories).
Ohio State has a pick-six in four consecutive games.
The Buckeyes have won 11-straight true road games, best in the nation. 
Garrett Wilson has at least one catch in 27 straight games.
Ohio State has won 10 consecutive conference road games by double digits.
The Scarlet and Gray has won 14 consecutive regular season games with two weeks to prepare.
TreVeyon Henderson has scored at least one touchdown in every game this season.
GET TO KNOW INDIANA
Indiana University is located in Bloomington, IN.

The university was established in 1820.  

Indiana is in its 135th season of playing football. 

A bulldog named Ox was mascot of the football team between 1959 and 1965.

The Hoosiers started playing football in 1887, but didn't get their first win until 1891.

The football team is 0–3 against B1G opponents in 2021.

Since 2010, Indiana is 57–80 (.416).

Notable alumni are Mike Pence (former US Vice President), Isiah Thomas (NBA Hall of Fame) Jonathan Banks (Mike, Breaking Bad) Mark Cuban (Dallas Mavs owner), Kevin Kline (actor) Jane Pauley (CBS This Morning), Tavis Smiley (talk show host) Jimmy Wales (co-founder of Wikipedia).
STRANGE INDIANA LAWS
Liquor stores are not permitted to sell pop or water.
Alcohol, check. Do you need Coke, Pepsi, milk or Aquafina? Nope, get the hell out of here. 
You are not permitted to take a bath between the months of October and March.
Note to self, don't visit Indiana between the months of October and March.
A man over the age of 18 may be arrested for statutory rape if the passenger in his car is under the age of 17 and not wearing her socks and shoes.
It appears the people of Indiana need some sex education classes. 
Spiteful gossip and talking behind a person's back is prohibited.
TMZ is a no-go in the Hoosier state.
It is illegal to enter a movie theater or ride a public streetcar within four hours of eating garlic.
This might actually be the best of all the strange laws.
​TODAY'S TRIVIA QUESTIONS:
How many times has a ranked Ohio State team played a ranked Indiana team? Hint, it's not happening this year.
Since 1905, how many times have the Hoosiers defeated the Buckeyes in Indiana?
Who was the last Indiana player to rush for 100+ yards against Ohio State in Memorial Stadium?
Answers at the bottom of today's article.
2021 Player Comparison
 
OFFENSIVE LEADERS
C.J. STROUD

1,699 YDS // 18 TD // 3 INT

PASSING
MICHAEL PENIX JR.
939 YDS // 4 TD // 7 INTS
TREVEYON HENDERSON
612 YDS // 8.7 YPC // 9 TD
RUSHING
STEPHEN CARR
439 YDS // 3.6 YPC // 4 TD
GARRETT WILSON
546 YDS // 17.6 YPR // 6 TD
RECEIVING
TY FRYFOGLE
337 YDS // 10.2 YPR // 1 TD
DEFENSIVE LEADERS
RONNIE HICKMAN
50
TACKLES
MICAH McFADDEN
36
TYLEIK WILLIAMS
4.0
SACKS
MICAH McFADDEN /// RYDER ANDERSON
3.5
RONNIE HICKMAN /// RYAN WATTS
2
INTERCEPTIONS
RAHEEM LAYNE II /// 3 OTHERS
1
SPECIAL TEAMS
GARRETT WILSON
4.1 YPR
PUNT RETURNER
D.J. MATTHEWS JR.
20.8 YPR
EMEKA EGBUKA
34.4 YPR
KICKOFF RETURN
JACOLBY HEWITT
25.0 YPR
JESSE MIRCO
44.1
PUNTING
JAMES EVANS
42.7
8
EDGE
1
THE COACHES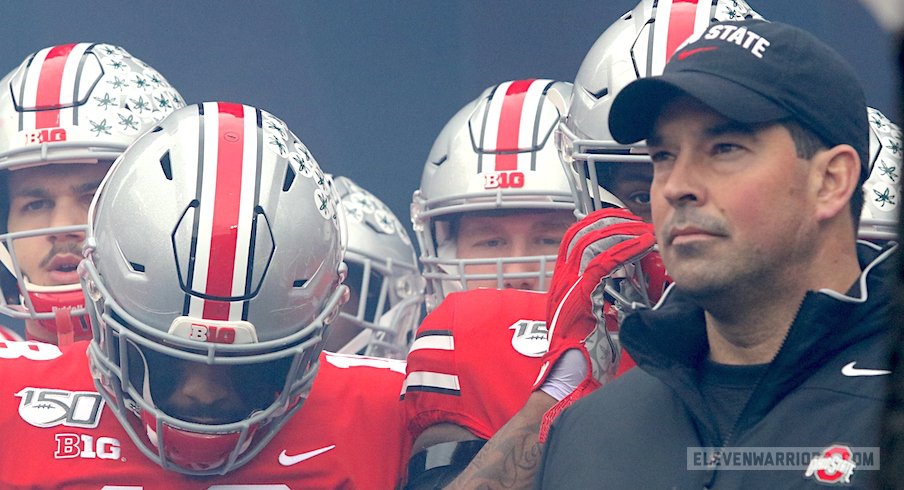 Ryan Day
28–3 (.903) at Ohio State
28–3 (.903) overall
Day's hometown is Manchester, NH. He attended Manchester High School and attended college at New Hampshire. Day has been in coaching for 20 years and is Ohio State's 25th head coach. 
Over his three seasons as the Buckeyes' head coach, Ryan Day's teams have outscored their B1G opponents 940-327. That is an average victory of 47-16. 
After 31 games with Day as head coach, Ohio State has put up a program record 1,444 points. Urban Meyer's teams had 1,306 points after 31 contests.
Tom Allen
26–26 (.500) at Indiana (5th year)
26–26 (.500) overall as a college head coach (5th year)
15–22 (.405) against Big Ten opponents
Tom Allen was born in New Castle, IN and attended college at Maranatha Baptist University and Indiana. 
Allen started his coaching career at Temple Heights High School (FL) in 1992. He bounced around several high schools until he landed at Indianapolis' Ben Davis HS. Allen started as a defensive coordinator in 1998 until taking over the head job in 2004.
In 2007, Allen made the leap to coaching at the collegiate level. Wabash hired him as a defensive backs and special teams coach. Following stops at five different schools, Allen eventually landed at Indiana as its defensive coordinator in January of 2016. After Kevin Wilson resigned on December 1, 2016, Allen was named Indiana's head coach.
In the history of IU football, only three coaches reached 20 wins faster than Allen. Who were those coaches? James Homes (1898-1904), James Sheldon (1905-13) and Ewald Stiehm (1916-21). Allen is taking the program to places it hasn't been in over a century.
CLIFF CLAVEN'S LITTLE KNOWN FACTS CORNER
0.....rushing touchdowns allowed by Ohio State since Oregon.
1.....Buckeyes national rank in total offense.
2.....Ohio State's national rank in scoring offense.
3......straight wins with 50+ points for the Buckeyes.
4......touchdown runs of 40+ yards from TreVeyon Henderson. 
5.......touchdowns allowed by the Buckeyes in the last three games.
6......B1G Freshman of the Week Awards for Ohio State this season.
7......players scored against Rutgers.
9.......interception by the Silver Bullets this season.
10.....touchdowns thrown by C.J. Stroud in the last two games.
11.....times Ohio State has scored 50+ points since 2019.
12.....tackles-for-loss by the Buckeyes' defense against Akron.
15.....the Buckeyes are 15-0 when starting the season against B1G foes.
18.....times Ohio State has finished a season with at least 11 wins.
20.....consecutive conference wins under Ryan Day.
23.....games of 500+ yards of total offense with Day as head coach.
24.....consecutive Big Ten wins for the Buckeyes.
27.....consecutive games Garrett Wilson has had at least one reception.
30.....TreVeyon Henderson has six rushes of 30+ yards.
31.....the Buckeyes average margin of victory against B1G opponents with Day as head coach.
33.....straight seasons ranked in the AP preseason Top 25.
35.....completions for C.J. Stroud against Oregon, second most in school history.
39......Ohio State's average margin of victory over unranked B1G teams under Day.
40.....the number of Big Ten titles the football team has won.
46.....touchdowns for Olave and Wilson, the most ever for a Buckeye WR duo.
49.....years Archie Griffin's freshman single-game rushing record stood.
50.....tackles for Ronnie Hickman this season.
70.....yards TreVeyon Henerson blazed for his first touchdown.
71.....yards Miyan Williams rumbles to score the Buckeyes' first TD in 2021.
85.....yards Kyle McCord and Emeka Egbuka connected for against Akron, tied for the third longest pass play in Ohio State history.
89.....Consensus All-Americans.
95......times Ohio State and Indiana will have played after Saturday.
99.....homecoming games for Ohio State.
100...this is the 100th season the Scarlet and Gray have played in Ohio Stadium.
132....number of years for Buckeye football.
152...the number of years The Ohio State University has been in the education business.
180...number of passing touchdowns since 2017 (Ryan Day's arrival).
270...rushing yards for TreVeyon Henderson against Tulsa, a freshman record.
456...victories for the Buckeyes in Ohio Stadium.
464...Ohio Stadium victories for the Buckeyes when including the 2010 season.
936...number of official wins for the program (we know it's actually 948).
941...times Ohio State has been ranked in the AP poll. 
2021 Statistical Comparison
 
OFFENSE
48.5
2nd
POINTS FOR
22.3
107th
211.0
22nd
RUSHING OFFENSE
124.2
96th
352.2
8th
PASSING OFFENSE
215.8
88th
563.2
1st
TOTAL OFFENSE
340.0
107th
.565
2nd
3rd DOWNS
.406
64th
.955
10th
RED ZONE
.792
96th
DEFENSE
20.5
40th
POINTS ALLOWED
26.8
76th
131.3
48th
RUSH DEFENSE
125.5
39th
256.0
103rd
PASS DEFENSE
209.3
49th
123.36
42nd
PASS EFFICIENCY DEFENSE
120.4
35th
387.3
76th
TOTAL DEFENSE
334.8
37th
.411
88th
3rd DOWNS
.317
18th
.800
52nd
RED ZONE
.850
81st
SPECIAL TEAMS
4.1
111th
PUNT RETURN
14.9
15th
28.7
15th
KICKOFF RETURN
23.6
34th
42.6
20th
NET PUNTING
37.5
91st
MISCELLANEOUS
+1.0
10th
TURNOVER MARGIN
-0.7
113th
6.5
71st
PENALTIES
4.7
17th
11
EDGE
7
TODAY'S TRIVIA ANSWERS
How many times has a ranked Ohio State team played a ranked Indiana team? Hint, it's not happening this year.
Answer: Four times Ohio State and Indiana have faced each other with both teams ranked (2020, 1993, 1990 and 1944). 
Since 1905, how many times have the Hoosiers defeated the Buckeyes in Indiana?
Answer: Once. In the 30 games played in the state of Indiana between 1905 and today the only win by IU was the 41-7 embarrassment in 1988.
Who was the last Indiana player to rush for 100+ yards against Ohio State in Memorial Stadium?
Answer: On October, 13, 1990, Vaughn Dunbar rushed for 125 yards on 28 carries as Bill Mallory's Hoosiers tied Cooper and the Buckeyes 27-27 in Bloomington. 
Did you know? In this series, Indiana has kept Ohio State scoreless twice. However, the Hoosiers did not win those games as the contests ended in scoreless ties in 1959 and 1929.