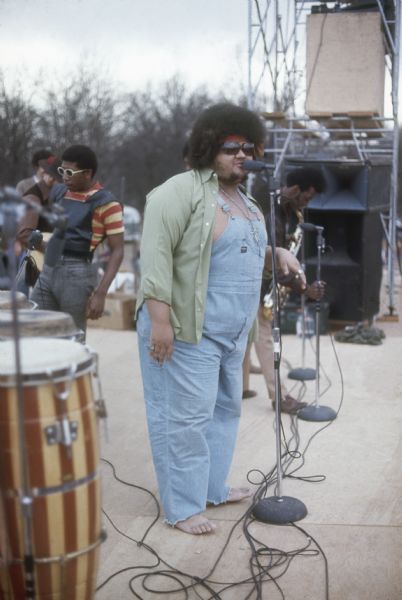 Readers of today's TIMH will fall into one of two camps. Camp one: Hell, yeah, Baby Huey! Camp two: Who the hell is Baby Huey? I have a feeling the denizens of camp two will be hanging out in camp one by the end of day.
Baby Huey was born as James Ramey today in 1944 in Richmond, Indiana. After moving to Chicago as a teenager, Ramey picked up the nickname Baby Huey, in honor of his resemblance to the fat cartoon duck of the same name.
In 1963 Baby Huey formed and fronted Baby Huey and the Babysitters and the band carved out a local following by playing rock and roll that you could dance to. As the times changed so did their sound, by 1969 the band was playing music similar to the psychedelic funky soul sound of War and Sly and the Family Stone.
At this time they attracted the attention of Curtis Mayfield's record label. The label was interested in signing only Baby Huey, leading to the band's breakup, but not before they recorded what would become Baby Huey's debut album.
Sadly, his debut would be his only album. By 1970 Baby Huey weighed over 400 pounds and was grappling with heroin and alcohol problems. Just as his career was set to launch Baby Huey began missing shows or turning in bad performances. Rehab didn't work, his conditions worsened and Baby Huey stepped off the mortal coil on October 28, 1970 due to heart attack.
A promising career was reduced to a single album and that album, the oddly named "The Baby Huey Story: The Living Legend", was released after his death. The album was produced by Curtis Mayfield's and it's got his funky fingerprints all over it. Though largely forgotten, Baby Huey's music has been kept alive in hip hop, as he has been sampled by the likes of Eric B and Rakim, Wu Tang Clan, Ice Cube, Grandmaster Flash, Lil Wayne, Swizz Beats and a bunch more.
Early single with The Babysitters:
The Roots and Springfield's own John Legend cover: